Writer Joseph J. Airdo
Photography Courtesy of Arizona Diamondbacks
[dropcap]O[/dropcap]ver the course of his career and residency here in Arizona, Mike Kennedy did not only demonstrate servant leadership but lived it.
"Mike was all about service and made it a part of his daily life — serving his family, serving his church and serving his community," says Derrick Hall, president and chief executive officer of Arizona Diamondbacks. "He was selfless."
Kennedy's perpetual selflessness was seen across his career as he steadily served several community organizations. It is difficult to imagine how such a highly successful Phoenix attorney and dedicated family man could find time to make himself available to so many serviceable projects, but Kennedy did exactly that.
He was especially passionate about youth sports and, as founding president of the Arizona Diamondbacks Foundation for nearly 25 years, he managed to have a monumental impact on the quality and quantity of athletic opportunities that children and teens have here in our state.
Although Kennedy passed away this past February after a lengthy and courageous battle with cancer, his efforts and endeavors will endure, ensuring that Arizona's youth reach their fullest potential thereby strengthening the state's prosperous future.
From the Basketball Court to the Courtroom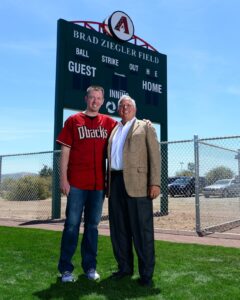 Born in 1950, Kennedy grew up in Dayton, Ohio and was a standout athlete at Oakwood High School — where he played on both the basketball and golf teams. Although he did not play in any fall sports, Kennedy loved to attend the school's football games and inspire his fellow athletes.
Kennedy later attended Duke University, where he served as president of the Sigma Chi fraternity, before receiving his law degree in 1975 from the University of Virginia. In his professional career, he first focused on civil litigation at the Phoenix law firm of Snell and Wilmer. In 1978, he joined forces with Mike Gallagher to found a new law firm — Gallagher and Kennedy.
In addition to Kennedy's professional success, which saw his firm grow to become one of the largest and most respected in the state, Kennedy consistently made it a point to give back to the community. Kennedy served as president of both the Maricopa County Bar Association and the Arizona Association of Defense Counsel and was also an inaugural member of the Maricopa County Bar Association Hall of Fame.
Kennedy's steadfast commitment to the community quickly became crystal clear. Over the years, he was a member of Greater Phoenix Leadership, the Arizona Commerce Authority, the Phoenix Chamber of Commerce's board of directors and the School of Theology at Claremont's board of trustees. He also helped lead the capital campaign for the Phoenix Zoo.
Despite his successful career and community endeavors, Kennedy always found time to dedicate to his family — especially his three children, as a member of Brophy College Preparatory's board of regents and Xavier College Preparatory's board of trustees.
Here's the Pitch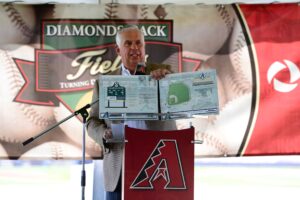 Likely spurring from his own experience as an athlete back in high school, Kennedy saw the tremendously advantageous role that professional sports play within a community and therefore devoted much of his time to leadership positions in that realm.
Kennedy served as the chairman of the Arizona Super Bowl XLII Host Committee, the Phoenix Open Golf Tournament and the Thunderbird International Junior Golf Tournament. He also served as the director of the National Minority Golf Foundation, the president of the Paradise Valley Country Club, the "Big Chief" of the Phoenix Thunderbirds Tournament and a member of the Super Bowl XLIX Executive Committee.
In 1997, before the Arizona Diamondbacks ever played a Major League Baseball game, Kennedy became the founding president of the Arizona Diamondbacks Foundation — a role in which he would have some of his most prominent and profound impacts on the community.
"Mike was a huge baseball fan," Hall says. "He rarely missed a Diamondbacks home game from his seats, which were some of the best in the house. His children grew up at the ballpark and one of his sons played college baseball. This sport played a tremendous role in his life and his family's entertainment."
Striving primarily to support homelessness, indigent healthcare and youth programs, the Arizona Diamondbacks Foundation has, since its inception, also created strategic programs to address the needs of our community's veterans, police, teachers, firefighters and first responders.
In fact, the foundation this year eclipsed $75 million in charitable contributions raised and donated to the Arizona community, proving that, under Kennedy's leadership, it has become an industry-leading sports foundation and community asset unlike any other in our state.
Jerseys and Fields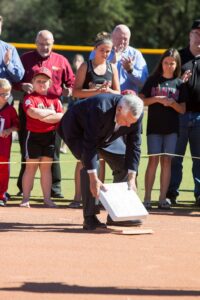 Knowing that the benefits of youth sports are indeed infinite, Kennedy served as a passionate force behind programs that made it possible for Arizona's youth to have access to athletic opportunities.
"He was a firm believer in keeping children active and balancing their lives," Hall explains. "He was also very involved in his kids' youth sports activities and saw the clear benefits of teamwork, development and adversity. He clearly brought that perspective to many of our foundation initiatives — such as our youth jersey program, that he felt was critical."
The Arizona Diamondbacks Foundation launched the Diamondbacks Give Back Youth Jersey Program in spring 2014, providing youth baseball and softball leagues across Arizona with high-quality jerseys and caps at no cost. Since its inception, the program has significantly offset diminishing resources and allowed participating leagues to reallocate funds toward equipment, registration fees and facility improvements.
Another one of the Arizona Diamondbacks Foundation's initiatives that was very near and dear to Kennedy's heart is the Diamonds Back Field Building Program, through which the foundation has built or refurbished 43 baseball and softball fields representing a charitable investment of more than $10 million.
With the aid of corporate sponsors, local businesses and monetary donations from individual players, the program allows children and teens across the state to play baseball and softball at quality facilities that feature new lights, fencing and backstops, irrigation, dirtwork, grass and electronic scoreboards.
"These fields have been credited for improving communities as beautiful and safe points of pride, as well as becoming destinations and anchors for visitors from the outside," Hall says. "We believe they bring tremendous economic and cultural value to the neighborhoods that they sit in."
Grand Slam Legacy
Kennedy's contributions to the community were as copious as they were far-reaching.
Moreover, Kennedy genuinely cared about the effects of his efforts, as he made it a point to never miss a field dedication and went to great lengths to help the Arizona Diamondbacks Foundation raise the funds it needed to reach each and every community across Arizona. He was also a passionate advocate for grants and gifts to support the most vulnerable members of our community.
The Arizona Diamondbacks this fall honored Kennedy's legacy by officially naming its field-building initiative the Mike Kennedy Diamonds Back Field Building Program. It also renamed one of the fields for which the program is responsible — D-votion Field in Goodyear — Mike Kennedy Field.
They are small-yet-significant tributes in an attempt to memorialize and commemorate the very large contributions Kennedy made upon our community. Through the newly named program, the Arizona Diamondbacks Foundation will continue to make Kennedy's vision a reality — a community in which all children and teens have the opportunities, facilities and equipment they need to participate in youth sports.
"He deserves a legacy within our foundation for all of his countless contributions since day one," Hall says. "There is no more visible program than our field building, and they are located throughout the entire state of Arizona. His impact was not just locally here in Phoenix, as he positively improved lives of Arizonans everywhere."