From Front to Back: Hidden in the Hills Celebrates Silver Year
Writer Susan Kern-Fleischer
Photography Courtesy of Sonoran Arts League
Longtime Desert Foothills art enthusiasts may recall how Hidden in the Hills co-founder Judy Darbyshire hand-drew maps during the first two years of what has since become an iconic studio tour. Those photocopied maps were then personally distributed by each of the artists as well as posted throughout the Cave Creek and Carefree communities.
As the event grew, the Sonoran Arts League invested in publishing a comprehensive four-color artist directory, with each one having become quite collectible. Each year, artists and art collectors alike wait in anticipation to see which talented artist's work will grace the directory cover.
This year, which mark's the event's silver anniversary, the Hidden in the Hills committee chose Jon Linton's "Barrio Viejo" photograph of the front entrance of a colorful adobe home to be the featured cover artwork.
Hidden in the Hills co-chair and gourd artist Jane Boggs says that the photograph beautifully captures the sentiment of Hidden in the Hills' 25th annual event, which has grown to become Arizona's largest and longest-running artist studio tour.
"After a challenging year, we are eager to welcome collectors and art enthusiasts to our studios for what is sure to be a memorable artist studio tour," Boggs explains.
The free, self-guided tour returns the last two weekends of November, featuring 191 artists at 45 studio locations throughout Cave Creek, Carefree and North Scottsdale. Some studios are off the beaten path while others can be found near familiar roads. Part of the fun is the chance to discover a diverse mix of talented artists — many of whom will demonstrate during the event.
Seeking Truth and New Horizons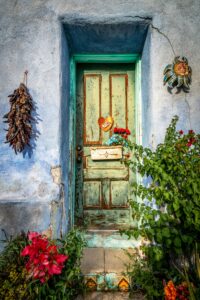 An acclaimed photographer and activist who advocates for the homeless and other underserved populations, Linton is best known for his "I Have a Name" street photography series as well as his serene and stunning black and white landscape photography.
Hidden in the Hills co-chair and mixed media sculptor Joanie Wolter says that this year's cover art selection is especially significant because it is the first time that a photographer's work has been featured on the artist directory cover.
"We had many strong entries," Wolter says. "But 'Barrio Viejo' really stood out. It conveys a warm, welcoming message that resonated with us — and we're thrilled that Jon will exhibit his new work during the tour this year."
Although the Phoenix resident has been immersed in the art world for more than two decades, this is Linton's first year participating in Hidden in the Hills. He will exhibit and sell his work at painter Stuart Yankell's Studio No. 24 in Cave Creek.
"Barrio Viejo" is atypical for the talented artist, who primarily exhibits black and white photography.
"I was reluctant to move away from black and white imagery," Linton says. "I've always felt that in the absence of color, you see a certain truth that is left behind. But 'Barrio Viejo' did not feel honest absent color — and its truth provides new horizons."
After graduating from Eastern Illinois University with a liberal arts degree in 1987, Linton went on to work for Ralph Lauren in New York City. A displaced Chicagoan, the former art magazine and book publisher says that he was surprised and humbled to be chosen as the cover artist for this year's milestone Hidden in the Hills event.
"I'm honored and also moved by having my work highlighted in such a prominent way," he says. "By virtue of being selected as the Hidden in the Hills cover artist, I am already changing the trajectory of my career. I'm now inspired to expand my body of work to include additional imagery in color, and I'm looking forward to unveiling my new work during the artist studio tour."
In Search of Peaceful Resolutions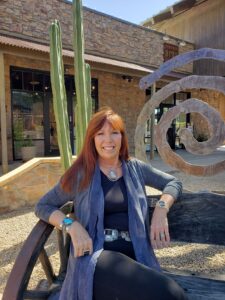 In honor of Hidden in the Hills' silver anniversary, this year's artist directory will also feature diverse art from three talented artists on the back cover for the very first time in the event's 25-year history.
Cynthia Downs-Apodaca is a talented contemporary jeweler who incorporates precious stones into her pieces to create stunning designs. While her creative process is spontaneous, she is meticulous with her constructive techniques.
A Boston native, Downs-Apodaca worked in the corporate world for 30 years before discovering her passion for metalsmithing.
"I took a class at the Massachusetts College of Art and Design to learn how to bezel a stone and my eyes opened to all types of possibilities," she says. "I felt like a kid in a candy shop."
That pivotal experience led to a move to Tucson in 1995, where her metalsmithing career took off. An award-winning artist, she designs her jewelry to engage the wearer with movement and light.
While she appreciates the beauty of diamonds and rubies, Downs-Apodaca prefers to work with unusual stones and fossils, including jasper, azurite, tourmaline and other rare minerals and gemstones.
"Sometimes when I pick up a stone, I immediately see what I will do with it or I just know I will work with it at some point in the future," she says.
To create her Lapis Royalty Cuff, which is featured on the back cover of this year's Hidden in the Hills artist directory, Downs-Apodaca manipulated delicate silver wires together to form a strong, durable cuff that features the deep blue, semi-precious stone prominently in the center, surrounded in 22-karat gold.
This is Downs-Apodaca's 22nd year participating in Hidden in the Hills. Tour guests can find her at Jane Boggs' Studio No. 30 in Cave Creek, where she will exhibit a new selection of woven cuffs alongside many other designs in silver and gold. In addition, she will showcase a new line of pendants called "Precarious."
"Each piece creates a preciously-balanced design, which finds its center in spite of itself," Downs-Apodaca explains. "The idea really springs from how unpredictable our nation's situation has been. The designs are meant to be hopeful in that all issues can find their center and be peacefully resolved."
Appreciating Forgiveness and Boundaries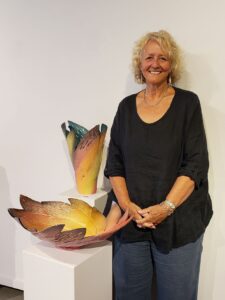 Host of Studio No. 38 in Cave Creek, ceramic artist Sylvia Fugmann Brongo finds inspiration for her vessels, bowls and wall art from Mother Nature. Each clay piece is slab-formed and she often uses natural elements — like fossils or cholla cactus skeletons — to create texture.
Fugmann Brongo grew up in upstate New York, near Rochester. Throughout high school and college, she experimented with painting, sculpture and fiber art, but she always came back to clay.
"Clay is so forgiving," she says. "And yet, I enjoy the challenges of knowing its boundaries, whether I'm waiting to remove it from a mold or I'm firing it in the kiln. If it's too stiff, it will break apart. If it's too soft, it can collapse."
In 2006, she moved to Cave Creek, where she found new inspiration for her art as she explored the Southwest. A true adventurer, she purchased a Winnebago Travato RV in 2018. Since then, she has traveled to more than 31 states, covering more than 40,000 miles.
"Blaze," her breathtaking vessel featured on the back cover of this year's Hidden in the Hills artist directory, is the largest piece that fits in her kiln. Using gravity as a tool, she created "Blaze" upside-down over a form to create a swirling effect. The one-of-a-kind vessel features soft-carved layers on the outside with subtle negative spaces that give viewers a glimpse at the bold, colorful, shiny glaze inside.
Like "Blaze," many of Fugmann Brongo's pieces have a 3D effect that captures a sense of movement. She enhances each piece with many layers of airbrushed colors to elicit thrilling or soothing emotional responses.
She fires each piece in a kiln for 8–10 hours before giving it 24 hours to cool. Sometimes she needs to go back and add more color.
"The kiln gods can take control," says Fugmann Brongo, noting that those pieces have to be fired for a second or third time.
During Hidden in the Hills, Fugmann Brongo will exhibit a new series of bold, contemporary vessels, bowls and wall pieces along with whimsical, colorful garden sculptures.
Letting Accidents Happen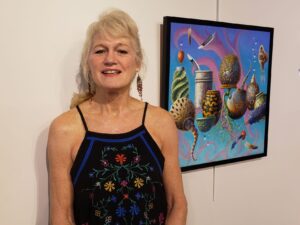 A surrealist-magic realism painter who loves to explore the mystery of the natural world, Linda Storey-London strives to convey the sense of awe and wonder that she sees in animals, landscapes, biology, astronomy and geology. She also likes to include humor in her work.
Because her father was in the military, Storey-London spent much of her childhood moving around the country. She credits her mother for igniting her passion for art.
"My mom was an amazing artist, but she was also very shy and she never exhibited her work," says Storey-London, noting that, an elective art class at Washington State University completely turned her head around. "I learned how all things are related and I became fascinated with exploring the natural world through art. After that class, I switched my major from science to fine art."
A teacher for more than 37 years, Storey-London enjoys painting with oil, which allows her to easily change direction or paint over any mistakes. She also loves that it is sensuous, rich and transparent.
"I am a spontaneous painter, and the outcome is always better when I let my muse be in control," says Storey-London, adding that some of her paintings have up to 20 paintings underneath. "I always tell my students that they may start out with an idea for the painting, but it's important to let the accidents happen. It will always be better in the end."
The back cover of this year's Hidden in the Hills artist directory features her oil painting, "Barely Able to Contain It."
"It started out as a collection of old painters' jars and pots on a bench in a studio," Storey-London explains. "I began playing with different textures, which turned into the various flora and fauna of the Sonoran Desert. Then the bench disappeared and the pots began to levitate. The painting had its own ideas and life — and it was a delight for me to play and participate in its evolution."
During her first year participating in Hidden in the Hills, Storey-London will exhibit a variety of paintings at Michael D'Ambrosi's Studio No. 39 in Cave Creek that she describes as "crazy and fun."
"My paintings are thought-provoking and uplifting," she says. "But most importantly, I hope people will be inspired to look at the world differently."
Experience
25th Annual Hidden in the Hills Artist Studio Tour // Nov. 19–21 and Nov. 26–28 // 10 a.m.–5 p.m. // See website for locations // Free // 480-575-6624 // hiddeninthehills.org