Legacy and Luxury
Writer Shannon Severson
Photography Courtesy of Grace Renee Gallery
Relationship is at the heart of Sloane Street Jewelry,  a luxury brand with the mother and daughter team of Frances and Charlotte Gadbois at the helm. The pair feels strongly about cultivating personal relationships with their customers — many of whom have supported them from the launch of their very first offerings more than seven years ago.
"Jewelry is such a personal experience and we love being a part of the joy jewelry can bring to people's lives," Charlotte says. "We are blessed to also have a few big collectors who have been such champions of the brand."
Sloane Street Jewelry's line makes its exclusive Arizona debut at Grace Renee Gallery in Carefree's Historic Spanish Village during a special event November 11 and 12, at which the talented designers will be in attendance. Extra inventory will be on-hand, including special one-of-a-kind pieces — each of which goes beyond the tangible expression of style by embodying the timeless elegance of every woman.
"We are excited to begin this partnership with Shelly [Spence] and Grace Renee Gallery and to get to know her wonderful client base," Charlotte says. "We are proud to have a new home for Sloane Street in Arizona and are very much looking forward to what the future holds. We are certain it will be bright!"
Frances and Charlotte's elegant pieces display attention to detail, express the wearer's personality and are equally comfortable as standalone pieces or casually mixed with other favorites. Colorful, classic, playful and wearable are the terms that many use to describe the unique pieces this model-gorgeous duo designs.
The Beginnings of Bling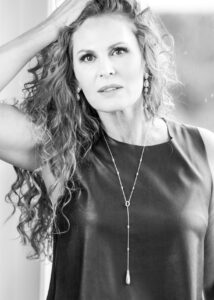 Frances and Charlotte began Sloane Street Jewelry during a poignant time. After the passing of Frances' mother, Diana Frances Margaret Hutchinson, they found themselves discussing the future and what might be next for the two of them. Unexpectedly, their next step would be together.
Charlotte was studying for a career in broadcast sports journalism. Meanwhile, Frances was considering retirement after selling her previous jewelry business to her partner.
"We talked about the possibility of working together and what that would look like and, more importantly, what we would do," Frances recalls. "We cycled through a few business ideas in the fashion space and ultimately landed back at the idea of starting a new jewelry brand."
The two knew the industry and felt pulled in the direction to start something together.
"We started scribbling a business plan on a train napkin and then realized we needed a name," Frances says. "As we were discussing names, 'Sloane' came up and I reminded Charlotte that when I was little, my mother would take me to Sloane Street in London and we had so many memories there together as a family. The name really resonated with both of us and we both thought it would be a beautiful homage to my mother, seeing as we had come together because of her."
Sloane Street Jewelry benefits from the multigenerational sensibilities of its founders. It was important to both Frances and Charlotte to have classic, timeless pieces that would appeal to a broad age demographic and be immediately identifiable.
"Something that was really important to us when we started designing the debut collection was having a recognizable product with a certain DNA that ran through every piece," Frances explains.
"My background is in interior design and there is a paint finish called 'strié' where you use a tool to comb the paint while it is still wet and it creates this beautiful ribbed texture, so we decided to recreate that in our collection. This finish created a richness in the gold that surpassed all of our expectations! The 'strié' has become our signature and you'll see it throughout the entire collection."
Charlotte adds that Sloane Street is designed to be beautiful and meaningful; pieces that will become part of a family legacy, just like she and her mother.
"We wanted to design a product that appealed to both my mom and myself," she says. "Something that would be able to be passed down through generations and still be timeless. We always say we are 'on-trend, but not trendy' and that speaks to the concept we try to bring forward in every design, of being fashionable and relevant while staying true to our traditional roots."
Process of Refinement
The pair's design process begins a year before each seasonal collection's debut. They take the opportunity to go into "lockdown" and completely immerse themselves in creativity, collaborating on ideas and each of their visions.
Frances explains that they begin by throwing all of their ideas onto their kitchen table and roughly scribbling a few of them down on paper.
"Then we grow on the concepts from there," she says. "Being English, we are very inspired by European architecture and pull a lot of inspiration from our travel experiences, which obviously was very difficult with the COVID restrictions. It has been hard to feel creative when we can't be out and seeing what is going on in the fashion world."
Every piece is carefully sketched with exacting precision and direction for the production team. Frances and Charlotte are involved in every step — from concept to the final, sparkling product.
Charlotte notes that new ideas often occur to them at the oddest of times, when they are the most exhausted.
"We will be walking through a hotel lobby or running to catch a plane and Frances will stop dead in her tracks and whip out her sketchbook and scribble down a pattern in a carpet, tile or even ironwork in a banister," she explains.
Frances' strong relationship with Sloane Street Jewelry's Bangkok-based manufacturing team dates back 20 years. Each stone is hand-cut to the Gadbois' specifications.
For the Caviar One-of-a-Kind collection, the pair travels extensively to source special stones. The collection isn't what they would consider seasonal, but it does vary because every piece is designed around the stone itself. When an especially striking stone is discovered, it ignites the creative process.
"We are loving big, heavy gold right now — specifically chunky gold necklaces and how those pieces are layering with our fall collection colors," Frances says. "We came out with black and white for fall and we love how rich it is in contrast with the big textured gold."
Beneficial Baubles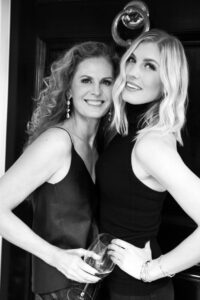 While gemstones and precious metals are the most obvious components of Sloane Street Jewelry, beneath the shimmer lies two hearts of gold.
Since Frances lost her mother to Alzheimer's disease, it made sense to use their platform to make a difference in the fight to eradicate the disease and support families in their own struggles, partnering with Alzheimer's OC based near their hometown in Southern California to create pieces that specifically support the cause.
Charlotte says that philanthropy has always been a major pillar in their family so it was only natural that those values carry over into their business.
"It was a very natural partnership with Alzheimer's, considering we had made lemonade out of lemons and found a silver lining to a not-so-positive situation," she explains. "Our main goal is to aid the efforts to find a cure for this devastating disease that affects far too many. Since partnering, we have been overwhelmed with the number of individuals we have met along the way who have had loved ones taken by the ravages of Alzheimer's. It has been such a powerful source of connection and comfort."
Sloane Street Jewelry has also created collections for CASA OC, which aids abused and neglected youth, as well as Laura's House, an emergency shelter and comprehensive domestic violence agency in Orange County where Charlotte serves on the board of directors. The causes are deeply personal to the entire Gadbois family.
"Giving back, for us, is more than just building collections for financial gifts to organizations," Charlotte says. "As a family, we have been involved in charities throughout the community for many years — specifically CASA OC.
"My dad, Richard, has been an active member of the board of directors for CASA for more than 25 years. He instilled in us at a young age to be generous, not only with finances but with your time and heart; and to not just be a part of organizations on the surface but to dig in and connect; and hope that through the work that you do, you can improve lives — even if it is just a few. That becomes a domino effect.
"So when I was asked to become a member of the board of Laura's House, it was a natural transition from CASA. There is always more that can be done. But for now, I am so fulfilled that not only are we able to aid in fundraising for these organizations, but that we are able to make a difference — even if it is just a small one — in hopes that we can leave this world a little better than we found it, in the words of the great Ralph Waldo Emerson."
Experience
Sloane Street Jewelry Debut // Nov. 11 and 12 // Thursday 10 a.m.–7 p.m. with wine and appetizers 4–7 p.m. // Friday 10 a.m.–4 p.m. // Grace Renee Gallery // Historic Spanish Village // 7212 E. Ho Hum Road, #7, Carefree // Free // 480-575-8080 // gracereneegallery.com