Writer Joseph J. Airdo
Photography Courtesy of Patricia Brusha
[dropcap]F[/dropcap]or the past two years, Patricia Brusha has been honoring the memory of her late daughter, Courtney Michaels, by championing her vision to express compassion for and uplift the many men and women who are taking the daunting-yet-crucial steps to overcome addiction and alcoholism.
What began as a seemingly small effort has grown to become a full-fledged nonprofit organization, complete with a charity boutique in Cave Creek where stories of both tragedy and inspiration are exchanged, healing broken hearts and delivering comfort and motivation to carry on to those who need it most.
And each story starts with a purse — a simple-yet-essential object that contains many of one's most treasured personal belongings, gives one something to which they can cling and says to the world, "I have value."
Mother and Daughter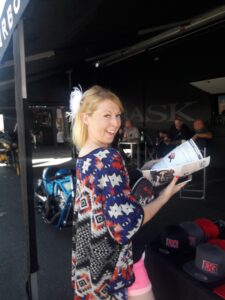 "Courtney was a bright, intelligent, funny, lively girl," says Brusha, with very obvious emotion in her voice. "She sincerely cared about the people in her life. She had a habit of just reaching out spontaneously to let someone know she was thinking about them, cared about how they were doing or just wanting to tell them she loved them."
However, Brusha adds that her daughter experienced difficult times during her life and struggled with alcoholism.
"Alcoholism does not discriminate," Brusha says. "It affects people of all ages, races, financial status, etc. And it affects the whole family."
Having seen some of her friends die of overdoses, Michaels mustered the courage to enter a rehabilitation facility for the first time at age 24.
"Over those next four years, she went to rehab multiple times and just had a very hard time beating this addiction," says Brusha, noting that her daughter spent time at the Renascent Addiction Treatment Centre in Toronto, Canada, and Aurora Behavioural Health System in Tempe in an effort to get better.
At the end of November 2018, Brusha became ill and needed to be hospitalized. She also suffered from alcoholism but saw herself as a "functioning alcoholic." However, having been told that her hospital stay would be at least a week, she knew that she would experience withdrawals.
"Truth be told, I drank every day," Brusha says. "I never really thought about what a hypocrite I was, always telling Courtney that she had a problem with drinking and yet I never sought help myself."
The day after Brusha was released from the hospital, Michaels was diagnosed with stage 4 cirrhosis of the liver from years of alcohol abuse. Both her liver and her kidneys began to deteriorate at a rapid pace and six months later, on June 4, 2019, Michaels passed away at the far-too-young age of 28.
Courtney's Angels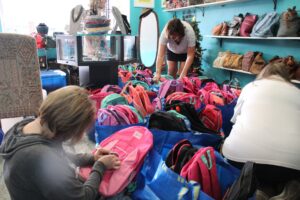 Before Michaels' passing, she told her mother about an idea that she had.
"We had both quit and were both going through programs," Brusha says. "It was during this time that she really felt that she had beat the disease. She had talked about how she did not feel dignified each time she left rehab, bringing her things out in a plastic grocery bag.
"She would call me and ask me to bring her a purse from Goodwill because she felt like she was walking out of prison instead of having just done something good for herself. So she and I started to collect purses, thinking that when people graduate, they need to carry their things out in something that will allow them to have a good first impression to the world."
Brusha explains that although a patient typically enters a rehabilitation facility with very few personal belongings, one tends to accumulate a number of different items during their stay — including prescriptions, journals, pens, workbooks and gifts from visitors.
"When you are leaving rehab, you are a different person," Brusha adds. "But the world has not changed. It is kind of scary. And when you are walking out with things in a plastic grocery bag, you feel very vulnerable."
Michaels aspired to change that, hoping that she could do something that would encourage women to hold their heads high, be proud of their amazing accomplishment and leave with something that showed their value.
Unfortunately, Michaels passed away before she could see her vision come to life. But Brusha transformed her heartbreak over losing her only biological child to alcoholism into a story of inspiration and compassion for others who are overcoming addiction in their own lives.
"At Courtney's July 13, 2019, memorial, I asked that, in lieu of flowers, people donate purses," Brusha says.
Brusha and her team of "Courtney's Angels" received 400 purses that were then donated to Renascent Addiction Treatment Centre, which has approximately 400 graduates per year.
Purse-Impressions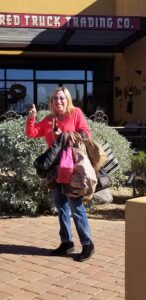 Brusha continued her efforts under the banner Purse-Impressions and, since then, has donated more than 2,200 handbags to patients exiting 11 different rehabilitation facilities across the US. Each purse — or backpack, in the case of men — is stuffed with personal hygiene items, makeup, journals, feminine products, socks, hats and a note from Michaels that reads, "In these five minutes, everything is OK."
However, as Brusha's home began to fill up with hundreds of purses at a time, she decided to open a Cave Creek boutique in October 2020 that would allow her to not only accept and store donations but also sell some of the more high-end handbags, jewelry and accessories, with proceeds going toward the purchase of the items with which each purse or backpack is filled.
It was an instant success.
"There are two things that I have learned throughout this journey," Brusha says. "Everybody knows somebody who is going through an addiction and women have a lot of purses. It really has become the sisterhood of the traveling purse.
"Women will spend a lot of money on purses so, when they are done using them, they do not want to just throw them away. They want them to have a purpose. And every purse has a story. When women bring me a purse, they share with me the story behind that purse and tell me their connection to an addiction."
Since opening Purse-Impressions Charity Boutique, Brusha has met numerous people with sad and sometimes even tragic stories — stories of overdoses, children who have passed far too soon and more.
"But they feel like there is now a place that they can talk about it," Brusha says.
One Recovering Alcoholic at a Time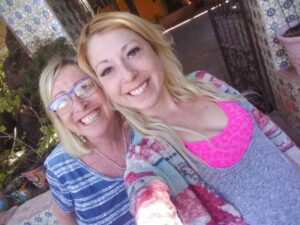 Having heard these stories, Brusha remains more determined than ever to make a difference in the lives of those affected by addiction and alcoholism and raise awareness about the seriousness of the problem — which she believes is going unnoticed.
"Cigarettes have been recognized as something that can be detrimental to your health and they have taken away advertising for those but alcohol is still everywhere," Brusha says. "Even during the COVID-19 pandemic, alcohol was designated an essential service so that people were able to get it to-go. I believe that is because if people did not have it, they would go into detox.
"There are still commercials for alcohol on TV and everything is associated with drinking — sporting events, Cinco de Mayo, St. Patrick's Day … it is something that is so accepted yet it is such a toxic, dangerous and addictive substance to so many people."
As challenging as it was to lose her daughter — someone who Brusha describes as having been her best friend — she believes that Michaels' passing has had a silver lining in that it has given her a purpose, a motivation and a drive to change not only herself but also the world, one recovering alcoholic at a time.
"It has been my therapy," explains Brusha, noting that a fundraiser is being planned for November at the Holland Center. "It has given me a way to reach other people and to do something greater than myself and greater than the tragedy. It has taken a lot of courage because it is very scary to say to the world that my daughter was an alcoholic because I feel like that is a reflection on myself.
"But that is why I am very proud to say that I am now two-and-a-half years sober. So it has helped me on my own personal journey of recovery and it has helped me to do things that give back to the world by doing something that was an idea that Courtney had, thereby keeping her memory alive.
"We have handed out 2,200 purses and backpacks in the last two years. So we have touched 2,200 different souls out there — which is what keeps me going and helps me survive."
However, it is safe to say that Brusha and, posthumously Michaels, have touched many more than just 2,200 different souls. That number only accounts for those men and women who, upon exiting rehabilitation facilities, have received purses and backpacks courtesy of Purse-Impressions. As Brusha said, alcoholism is a family disease, therefore the efforts of her and the rest of "Courtney's Angels" have touched the souls of at least quadruple that amount.
And if you take into consideration the number of people who have heard Michaels' story and consequently gained the courage to seek help for their addiction, felt good about where their purse or other donation was going or simply been able to share with Brusha their own story about alcoholism, the total number of souls touched increases exponentially to what is certain to be a staggering total — one that would make Michaels feel incredibly proud and accomplished.