Writer Joseph J. Airdo // Photography Courtesy of Mars Media and Dawnylle Kohl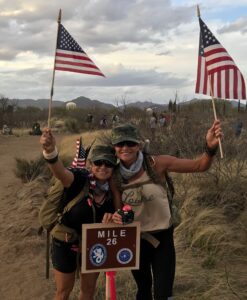 Having competed in more than 20 full and half marathons, several triathlons and numerous obstacle course races, Anthem resident Dawnylle Kohl sincerely believes that her high-intensity training and fitness are directly responsible for her tenacious grit.
"I tackle life the same way I train," Kohl says.
To say that she trains hard would be a tremendous understatement. In March 2018, Kohl completed the Bataan Memorial Death March, a 26-mile marathon through the high desert terrain of the White Sands Missile Range in New Mexico. The memorial march is conducted, annually, to honor the heroic service members who defended the Philippine Islands during World War II, sacrificing their freedom, health and — in many cases — lives.
"My friend and I carried 50 pounds on our backs," Kohl says. "We ran the first three uphill miles in the sand, then ran-walked the rest of it. That is probably the hardest [course] that I have ever completed. It was pretty intense."
Opening a new fitness center at the Outlets at Anthem, Kohl is now using her affection for fitness to inspire others to develop a similar grit so that they, too, can conquer anything and everything that life throws at them and live their very best lives.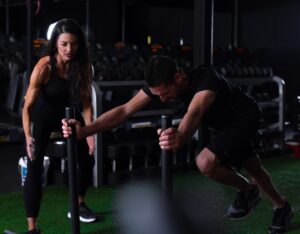 Her Happy Place
Born and raised in Phoenix, Kohl — who spent about a decade working in pharmaceutical sales — briefly left the Valley for Las Vegas before being transferred back to Arizona in 1999, at which time she became one of Anthem's first residents. In fact, she even lent a hand in Del Webb's design studio during the community's official grand opening.
She continued that role on weekends and, three months later, a prospective new homebuyer caught her eye and, eventually, her heart.
"He was adorable," says Kohl of the dental school graduate from Texas. "Three months later, we started dating. Two years later, we got married. We were the third couple to get married at Anthem Country Club."
Kohl stopped working for Del Webb to help out at the new dental office that her husband opened in the community. Over the next 10 years, she also worked in real estate as well as in a local legal office. During that time, her husband was deployed several times by the National Guard. The couple also started a family.
"That is when I started to get very passionate about physical fitness," Kohl says. "I started training for different nonprofit organizations — such as Racing for Recovery — to bring awareness to mental health and addiction issues."
Finding meaning and purpose in witnessing and helping others build confidence through exercising and challenging their bodies, Kohl became closely involved with a local fitness center.
"That truly became my happy place," she says.
At the onset of the COVID-19 pandemic, the fitness center was forced to temporarily close its doors. But that did not stop Kohl from striving to make a positive impact on people's lives.
"I began to see people succumb to addiction, mental health issues, confinement and social isolation," she says. "So, during that timeframe, I hosted donation-only boot camps in Anthem Community Park. I would bring a bunch of equipment out there because I did not want people just isolating themselves. I even called and texted them: 'You cannot be hibernating in your bedroom! Can I come pick you up? Let's do this!' I just became more and more passionate about helping people live the life that they are meant to."
Kohl became inspired and motivated to take that passion one step further and, this past summer, opened her own fitness center inside the Outlets at Anthem.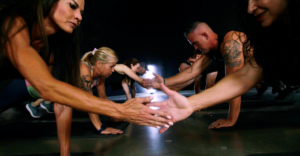 Genesis Fitness
Centered around small group training, personal training, high-intensity cardio, spinning classes, yoga, lifestyle nutrition and athlete performance programs, the heart and soul of Genesis Fitness can be found in its name.
"Genesis is a new beginning," Kohl explains. "I want our clients to feel like they are a new creation. They do not ever have to look in the rearview mirror. It does not matter if they screwed up yesterday. Today is a new beginning."
Kohl and her Genesis Fitness staff motivate clients to push themselves so that each day they become stronger people — mentally, physically and spiritually. After all, studies have repeatedly shown that physical activity and being part of an active community improve one's overall well-being and prepare them to deal with all aspects of life.
Kohl says that she has experienced this phenomenon first-hand.
"My fitness journey has helped me conquer life on life's terms," Kohl explains "It has made me the person I am today — a fighter who is not afraid to get in, dig deep and never quit. It has also given me an outlet to not get stuck in my head with anxiety or depression or any of that stuff. When you start doing this, the chemicals in your brain begin to change. That is a proven scientific fact. When you are taking care of your body, you are learning to adapt to healthier habits."
Having harnessed the transformational power of fitness herself, she has become extremely passionate about encouraging and making it possible for her family, friends and neighbors to do the same.
"I have lived here for more than two decades," Kohl says. "I am rooted in this community and I want to be rooted in people's lives. I want to give them a place to go where they can leave it all at the door and have one hour during which time they can do something for themselves and not be distracted by all those things that get in our heads."
Moreover, Kohl teaches her clients that every fitness journey begins with being healthy on the inside, hence Genesis Fitness' emphasis on not only physical health but also mental health and spiritual health.
"We can look beautiful and great on the outside, but who are we inside?" she asks. "We have to be healthy both inside and outside. Otherwise, we are just out of alignment."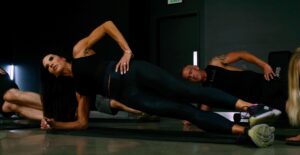 Mind, Body & Soul
Kohl acknowledges that, for many, simply starting a fitness journey can be the most intimidating factor. Therefore, she and her staff make it a point to meet each client where they are at, often taking small steps initially to counteract any hesitancy, reluctance or fear.
"It is not an all-or-nothing concept," Kohl says. "Because that can be very intimidating. So it is about taking small steps that, eventually, are going to equal consistency and habit."
Kohl adds that, once that first step has been taken, it is important to remain patient and consistent for at least six weeks — the same amount of time required for the body to become adjusted to most medications.
To help with that aspect, Genesis Fitness has been hosting five-week challenges, during which clients receive access to a food coach and weekly support meetings as well as exclusive sessions so that participants may train together. After all, a sense of community and holding one another accountable is a key piece to achieving any goal.
"Many people try to do it on their own, but when you do not have someone else calling and texting you, you slide a little bit," Kohl says. "I have two clients who have listened and followed the consistency piece with their diet and workouts really dialed in. There has been such a notable change in them within just weeks. These two clients have both lost about eight pounds. They are rocking it!"
Through Genesis Fitness, Kohl — who strives to be an example for her two children — believes that she can help many other people "rock it" as well, achieving their fitness goals and becoming healthier individuals in mind, body and soul.
"I firmly believe that we are all here for a purpose — to be in purpose, for a purpose," Kohl says. "All of my clients who I train hear me say that over and over. Because it really is true."