Writer Shannon Severson // Photography by Greg Zehe and Zee Peralta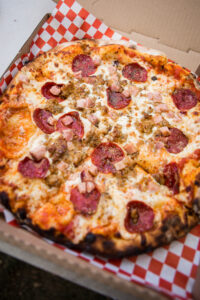 A desert metropolis may seem like an unlikely destination for pizza lovers but, over the years, Phoenix has become just that.
"I'll get some hate mail for saying this, but I truly believe that Phoenix is the pizza capitol of the U.S.," says David Tyda, co-owner of PHX Fest. "All styles are represented here by masters at their craft. And, if you notice, pizza places don't close here. As Phoenicians, we eat a lot of pizza. The pizza gods have blessed us with honestly one of the best pizza scenes in the world."
The ultimate celebration of all things pizza returns Nov. 12 and 13 to downtown Phoenix's Margaret T. Hance Park, where the seventh annual Phoenix Pizza Festival will tantalize taste buds. Live bands, a kids zone, lawn games, dessert trucks and 15–20 pizza makers will create a cheesy paradise for the whole family in the heart of downtown.
In 2021, the Phoenix Pizza Festival was one of the first events of its kind to return post-pandemic and the response was overwhelming. Hence, Tyda expects upwards of 8,000 attendees at this year's event.
"I've been producing festivals for more than 10 years and I've never seen anything like it," Tyda says. "The positive vibes were everywhere. There was this communal sigh of relief, like going to a food festival marked the turning of a corner in the pandemic recovery. So we all celebrated with a slice of 'za and cold beer."
With vendors keeping 100% of sales, it's a boon for entrepreneurs like Matthew Asaro — the chef and owner of L'Impasto Pizza Truck, which boasts a mobile wood-fired pizza oven where everything, including dough and pasta, is made from scratch.
After losing his job as a corporate executive chef for a major hotel chain due to pandemic restrictions, Asaro started his truck with a commitment to traditional Italian fare, even fermenting his dough for 72 hours to give it "depth and flavor you would typically see in Napoli, Italy."
"Events like the Phoenix Pizza Fest give small, mobile businesses like mine an opportunity to put ourselves out there in a big way; to really strut our stuff and see what other great pizza makers are doing," Asaro says. "This city has grown so much, culturally. There are so many great pizza makers here now. We plan on attending [the festival] every year that we can. It is a complete blast to be part of such an extravagant event that highlights the city's best pizza producers."
Tyda and his business partner, Lisa Duffield, have again added a charitable component to benefit Downtown Phoenix, Inc. –– an organization dedicated to community development and revitalization. The festival itself is a major factor in drawing visitors to the downtown core.
"Pizza Fest is all about simple consistency," Tyda explains. "[It's] a lot like a good pizza. It's about the quality of ingredients and presenting them in a beautiful and simple way. This event is just as much about simply enjoying a day out in a city of Phoenix park as it is about celebrating the local pizza scene.
"I think attendees should think about parking a few blocks away and walking through downtown Phoenix to see how it has grown. Hit up one of the local bars before or after, check out Sidewalk Saturdays, walk through an art space –– make a day of it!"
Experience
Phoenix Pizza Festival // Nov. 12 and 13 // Saturday 11 a.m.–6 p.m. // Sunday 11 a.m.–4 p.m. // Margaret T. Hance Park // 1202 N. Third St., Phoenix // $16 entry (online purchase only) // phoenix.pizza