Writer Joseph J. Airdo // Photography by Azy Scotten Photography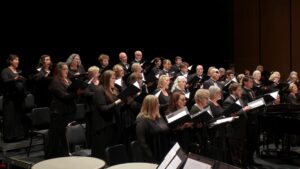 More than two decades ago, Connie Campbell Henry and her husband became two of the first 100 residents of Anthem when they moved into their home in the Anthem Country Club.
"I come from a very musical family and music has always been a huge part of my life," Henry says. "I have been singing since I was 4 years old and have sung in choirs all over the country since my husband and I have moved 17 times during our 47 years of marriage."
Therefore, one of the questions that Henry often found herself asking her new neighbors back in the early 2000s was: "Does anyone like to sing?"
"Anthem was a new community with people coming here from all over the world," she explains. "I knew that I was not the only person here who loved to sing."
And she most certainly was not, as 17 singers formed a group that would eventually become known as ProMusica Arizona. In need of a director and accompanist, Henry met piano teacher Linda Schwartz through The Wednesday Club — a social organization for residents of Anthem Country Club, who later introduced her to a new resident who was interested in starting a local choir.
Then conductor Kevin Kozacek began holding weekly rehearsals in his home in the fall of 2003 and, on Dec. 12 of that year, the group performed its inaugural concert of Christmas music on the back patio steps of Persimmon Club House.
"By the following spring, we had more than 50 singers and performed on stage at Anthem Community Park as an opening act for the Phoenix Symphony concert," says Henry, noting that Del Webb funded the first community park concerts as a sales promotion event to entice new residents. "Those concerts were a big draw and a way to bond with new residents."
They were also the impetus for local instrumentalists asking for ProMusica Arizona to also include an orchestra. One of the group's founding singers — the late Juereta Smith — encouraged her son, cellist Malcolm Smith, to join the inaugural orchestra group. He gladly accepted and ProMusica Arizona became one of only a handful of community organizations in the country to have both a chorale and an orchestra.
Now proudly celebrating its 20th season, ProMusica Arizona — comprised of nearly 100 singers and instrumentalists ranging in age from mid-teens to early-80s — has performed more than 275 times for more than 134,000 people in venues across Arizona.
Moreover, Chorus America — a national advocacy, research and leadership development organization representing more than 6,000 choirs — has featured ProMusica Arizona several times as one of the most groundbreaking and impressive community choirs in the country.
Demonstrated Dedication
"Many nonprofit organizations have not survived the financial ups and downs of the past two decades or the COVID-19 challenges of the last few years," Henry says. "The fact that ProMusica Arizona is still here as a fiscally sound, dynamic group is due to the exceptional artistic and administrative leadership that we have had to shepherd our outstanding and committed volunteers who help in every aspect of operations."
Among the members of that leadership that Henry commends is ProMusica Arizona's executive director Yvonne Dolby, who joined the nonprofit organization in 2011.
"There are so many moving parts to an organization like ProMusica Arizona," Henry explains. "[Yvonne] does an amazing job keeping our operation focused on the right issues and ferreting out grants and community partners."
Dolby says those grants and community partners have been pivotal to ProMusica Arizona's success — especially during the COVID-19 pandemic, when the nonprofit organization streamed its concert performances over the internet free of charge thereby eliminating the regular ticket revenue upon which it relies.
"We were able to get a number of grants that helped sustain us and gave us that opportunity to do those free online performances," she explains. "We are also supported by the Arizona Commission on the Arts as well as the cities of Peoria and Glendale, both of which have given us grant funds in the past to come into their communities and perform concerts for their citizens."
Some of those concerts are performed at libraries and adult centers, while others — such as those featuring ProMusica Arizona's Women in Song vocal ensemble — are performed at senior living communities and dementia care facilities.
"These are places where residents may otherwise be unable to attend a concert," Dolby says. "So so we bring the music to them."
She adds that ProMusica Arizona's musicians have also been instrumental in the nonprofit performing arts organization's success. From contributing their help with logistics and concert setup to attracting new audience members through the ever-valuable word-of-mouth, they have demonstrated their dedication over the past two decades.
"Initially, it was largely an Anthem group," Dolby says. "But we now have singers and players from all over the Valley. It is a population that appreciates good music and the arts. They are just really strong music lovers and they believe in the importance of what we are doing for the community."
Over the years, ProMusica Arizona experimented with expanding its audience reach by performing at venues such as Paradise Valley's Camelback Bible Church and Scottsdale Center for the Performing Arts. More recently, it has returned its focus to the North Valley, with performances regularly held at Phoenix's All Saints Lutheran Church — though audiences in Sun City have also widely embraced its concerts.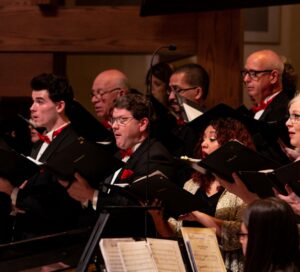 Saguaro Song
Henry adds that another one of ProMusica Arizona's leadership members that deserves adulation is the nonprofit performing arts organization's current artistic director, Patti Graetz, who she calls an outstanding teacher and a dynamic conductor.
"Each year, she takes our artistic level to new heights," Henry explains. "Patti has a fabulous season planned this year."
That season kicks off this month with a concert titled Favorites — Past and Present. The first half will feature a number of patriotic songs, including "America the Beautiful," "God Bless America," John Philip Sousa marches and "The Battle Hymn of the Republic." The second half will expand to include music by John Williams, a medley of songs by Stephen Sondheim, including "Send in the Clowns," and a Richard Rodgers medley with songs from "The Sound of Music," "South Pacific" and Oklahoma."
In December, ProMusica Arizona will present its annual holiday concert, which this year will be titled Christmas Through the Ages. It will feature new arrangements of traditional carols "O Come, O Come Emmanuel" and "The Huron Carol," as well as favorites such as "Carol of the Bells" and "Sleigh Ride."
The December concert will also feature the world-premiere of ProMusica Arizona Chorale member and professional composer Ryan Gunderson's "Jesus, Refulsit Omnium" — one of the first hymns in honor of the Nativity stemming from 368 A.D.
In March, ProMusica Arizona will host its annual musical champagne salon. Held in a private home in the Anthem Country Club, the elegant fundraising event will include musical performances by soloists and small ensembles as well as a variety of heavy hors d'oeuvres, desserts, champagne, wine and other beverages.
The season will conclude in April with a concert that will officially commemorate ProMusica Arizona's 20th anniversary. It will feature the world premiere of "Saguaro Song" — a suite of five songs composed by Arizona's Craig Bohmler with texts by award-winning Canadian author Marion Adler, who uses the iconic saguaro cactus as a metaphor for the seasons of life.
The April concert will also feature "A World Without Boundaries" — a piece by Timothy Powell that ProMusica Arizona commissioned for its 15th anniversary season — as well as Morten Lauridsen's "Sure on This Shining Night" and Ola Gjielo's "Sunrise (Gloria)" from "Sunrise Mass."
"I am so looking forward to performing in the upcoming concerts — [especially] the commissioned musical composition in the spring," Henry says. "The icing on the cake will be our tour to Salzburg, Austria next summer to sing Mozart's 'Mass in C' in the very cathedral where it was debuted in the 18th century."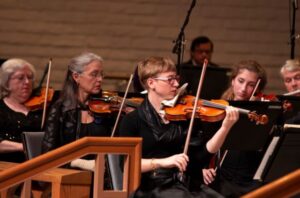 Harmonic Highlights
Smith, a North Phoenix resident who currently holds the position of ProMusica Arizona's board chair, says that the nonprofit performing arts organization has provided him with a space to release work stress.
"Playing the cello and making music with others is something that is relaxing and brings me great joy," he explains. "Playing for audiences is also an absolute treat. Playing with ProMusica Arizona has allowed me to play with incredible musicians, which has enhanced my understanding of music and impacted my own level of play."
Anthem resident Jan Sandoz, who has been singing with ProMusica Arizona since 2011 and served on its board of directors for the past seven years, agrees with Smith's sentiments.
"Shortly after my husband and I moved here from Omaha, we attended a ProMusica Arizona patriotic concert," Sandoz says. "At the end of the concert, they announced upcoming auditions for the Rolling Requiem to be performed the following November to commemorate 9/11. I felt that would be an excellent opportunity for me to meet new people and to support an important event. ProMusica Arizona has provided an outlet for my love of music and an opportunity for me to travel and perform with a great group of people."
Henry agrees, noting that singing at Carnegie Hall in April 2017 and embarking on a concert tour to Ireland in 2019 are among her many favorite highlights. Besides singing in ProMusica Arizona's alto section, Henry has also held many other roles with the organization over the past two decades — including founding board vice president, board president, fundraiser, grant writer and executive director.
She adds that one does not necessarily need to be a performing musician to get involved with ProMusica Arizona as the nonprofit organization is always seeking community members to volunteer with logistics, concert setup, ticket sales and ushering.
"It has been a pleasure to watch the talented professional staff members and new volunteer board members take ProMusica Arizona to new heights," Henry says. "I am so very proud of this organization and how it has expanded and built community through music. It will be exciting to see where it goes in the future."
Experience
ProMusica Arizona: Favorites — Past and Present // Saturday, Oct. 15 // 7 p.m. // All Saints Lutheran Church // 15649 N. Seventh St., Phoenix // Sunday, Oct. 16 // 3:30 p.m. // American Lutheran Church // 17200 N. Del Webb Blvd., Sun City // $27.50; youth, student, senior and military discounts available // pmaz.org