Writer Joseph J. Airdo
Phoenix Chorale artistic director Christopher Gabbitas strongly believes in the idea that music is the soundtrack to life.
"Music is all around us all of the time — whether we choose to have it or not," he says. "It is always there. It is playing in the restaurant, it is often in our cars, it is often at our place of work, it is in elevators, it is everywhere. I think that the idea of life without music, the idea of a sort of silence, is a really terrifying one. And perhaps we should be alone with our thoughts more often, but we do not like to be."
This month, chorale groups and orchestras across the Valley will perform concerts that reflect the thoroughfare that music has in our lives.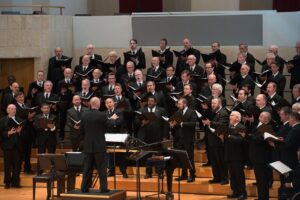 Orpheus Male Chorus of Phoenix
On April 30–May 7, Orpheus Male Chorus of Phoenix will perform a concert it calls "Songs from Home" at venues in Litchfield Park, Mesa and Paradise Valley, featuring several selections featuring the word "home" somewhere in their lyrics.
"We open with a song called 'Ad Astra,' which actually means 'to the stars,'" says Brook Larson, the ensemble's artistic director. "But there is a line in that song that reads, 'for the stars will guide you home.' Another piece in this program is called 'Like a River in My Soul' and, in it, there are the lyrics, 'let the waves bring you home.'"
Other selections include "Rocky Top," ("you'll always be home sweet home to me"), "Unclouded Day" ("oh they tell me of a home") and "Will the Circle Be Unbroken ("There's a better home awaitin'"). Other selections feature the word "home" in their titles — such as "Bring Him Home" from "Les Misérables" and "Homeward Bound" — and while others feature reflections on the idea of home — such as "Battle Hymn of the Republic," "Keep Your Lamps," "Promised Land" and traditional folk songs "Polly Wolly Doodle" and "Shenandoah."
"We close the concert with 'God Bless America,' which of course features the words, 'my home sweet home,' as its final lyrics," Larson says.
The artistic director adds that, though many of the selections are patriotic, the concept of home is a very universal one.
"We could sing many of these songs anywhere in the world — whether here in America or in Europe, Africa or South America," Larson explains "And even if someone does not understand the words that are being sung, they just speak to them. They just impact you.
"And the experience of 90+ guys singing this variety of literature and genre truly is an experience. It is the music that draws these 90+ guys together. That is the reason we are there at rehearsal every Tuesday night. We check everything else at the door and the music brings us together."
Noting that Orpheus Male Chorus of Phoenix's membership numbers had taken quite a hit from the COVID-19 pandemic, Larson says that he is hopeful of using the music to bring even more guys together.
"We did some stuff online for about a year and a half, then I got creative and we sang in a parking garage where everybody brought their own chair and was in a mask six feet apart," Larson says. "We only had 55 guys for that, but let me tell you that was a blast compared to doing things online where you cannot even hear the other singers.
"So it has taken a while for us to get our numbers back up. But this is our 94th season and I have a plan to have 200 singers by our 100th season. We have been talking about it for a while, but I am done talking about it. I hope to have a net gain of about 20 guys every year for the next five years so that we can be at 200 singers for our 100th season."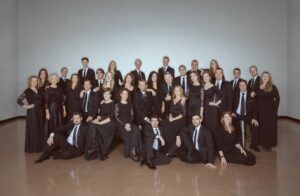 Phoenix Chorale
On May 5–7, Phoenix Chorale will perform a concert it calls "Soundtrack" at venues in Paradise Valley, Phoenix and Scottsdale, tracing a history through 500 years of song and exploring how composers throughout the ages have used music to help explain everyday life, love and loss.
"The idea of this concert is to show people how over time people have used music and song to relay stories about life," says Christopher Gabbitas, the ensemble's artistic director. "The same hopes, fears and dreams that we have now, people have had forever. Songs have been sung about love, hate, breakups, happiness, sadness, drinking, war and fights. All of the main things that we deal with in life have been dealt with in song and have been for a long time."
One of the most significant and timely aspects of life reflected in the program is womanhood.
"There is this young composer named Jennifer Lucy Cook who got her degree in musical theater and writes in a very accessible, contemporary style," Gabbitas says. "She wrote a song called, 'They are Mother' and she is flying in from Los Angeles to accompany us. It is a piece about femininity, which is in everything around us — even things that we might perceive as being male. And it is quite thought-provoking and the language is beautiful."
Another rather unfortunate but very real aspect of life reflected in the program is addiction.
"There is this song that was written by Trent Reznor for Nine Inch Nails in the 1990s called 'Hurt,'" Gabbitas says. "It was covered by Johnny Cash as the final video he made before he passed away and it is just the most wonderful song. Popular American choral composer Eric Whitacre arranged it for choral voices and we will be performing that. It is about six minutes long and is incredibly powerful.
Gabbitas has aspired to fit as many aspects of life into the concert with the hope of drawing as wide of an audience as possible, who can all identify with at least some element the chorale is communicating.
"I want to say, 'Hey, we can give a voice to your emotions,'" the artistic director says. "We really want this program to be bittersweet. We want it to feel wonderful and enjoyable, but we also want it to trigger the sort of real emotions that very often the modern world papers over. We want people to come out of the concert feeling a bit raw, but acknowledging that they actually felt something; and that can be really uplifting and cathartic."
Gabbitas adds that the most important message he hopes to relay through not just "Soundtrack" but each and every one of the concerts that Phoenix Chorale performs is that music and singing are for everyone.
"We think that in each of our performances, we create moments of real beauty," he explains. "We have a warmth of our sound because all of our singers are from the area. These are your people. Our music is for and of Arizona and we are proud of these connections. And I really want more people to come hear us. I want to have more people experiencing what we do. And I hope that their lives can be enriched by hearing us."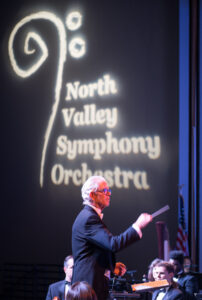 North Valley Symphony Orchestra
On Saturday, May 20, North Valley Symphony Orchestra will perform a concert it calls "Spirit of the American West" at North Canyon High School Auditorium in Phoenix.
"It features all sorts of music that centers around our wonderful American Southwest spirit," says Kevin Kozacek, the ensemble's music director and conductor. "We had never really done anything that really focused on our area specifically and we thought that it was just time for us to pick those pieces we thought the audience would really enjoy.
"We open with John Williams' overture to the movie 'The Cowboys,' which is just such a great piece. We will then play some wonderful music from various movies such as 'Silverado,' 'The Big Country,' 'The Magnificent Seven,' 'Dances with Wolves and 'How the West Was Won.'"
The concert will also feature a performance of Aaron Copland's four dance episodes from "Rodeo" — Buckaroo Holiday," "Corral Nocturne," "Saturday Night Waltz" and "Hoedown."
"The song that everybody loves which is probably the most reflective of Arizona is 'On the Trail' from Ferde Grofé's "Grand Canyon Suite," which sounds so much like a donkey going down the trail," Kozacek adds.
The music director and conductor says that North Valley Symphony Orchestra is the epitome of a community-based ensemble.
"All of the musicians — including myself — have backgrounds that are reflective of our community," Kozacek explains. "I was in the military before being a Southwest Airlines pilot for 24 years. Many of our musicians wanted to be professional musicians at some point n their lives but ended up doing other things. We have teachers, lawyers, doctors, first responders and stay-at-home moms. So I think that we are very reflective of a true community orchestra.
"And what is really great about that is that we have the opportunity to come together weekly with the community spirit and give back to our community by providing very reasonably priced tickets. Our tickets this season are still only $5. We have been able to do that for 11 years. So the entire family can come and enjoy a concert and not break the bank.
"We also have an awful lot of outreach groups that go out and serve the community at retirement homes and grand openings of various establishments. And we support three youth ensembles — beginning, intermediate and advanced. So we are a full-service organization that supports kids who are just beginning to play all the way up to kids who are getting ready to go to college. We try and prepare them and get them ready to go off and study music more seriously."
In fact, many of the kids who at one time performed as part of North Valley Symphony Orchestra's youth ensembles are now members of the adult orchestra, further demonstrating not only the community aspect of the organization but also just how significant the thoroughfare of music is in so many of our lives.
'Songs from Home'
April 30–May 7 // See website for times and locations // $25; youth, student and senior discounts available // orpheus.org
'Soundtrack'
May 5–7 // See website for price, times and locations // 602-253-2224 // phoenixchorale.org
'Spirit of the American West'
Saturday, May 20 // 7 p.m. // North Canyon High School Auditorium // 1700 E. Union Hills Drive, Phoenix // See website for price // northvalleysymphony.org