Writer Rebecca L. Rhoades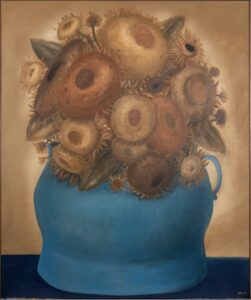 Renowned contemporary figurative artist Fernando Botero once said, "Art should be an oasis: a place or refuge from the hardness of life." Those same words can apply to nature, with studies showing that exposure to the natural environment has a calming, restorative effect.
At Desert Botanical Garden in Phoenix, fine art and flora often overlap. Here, the expressive arms of saguaros, spiky leaves of agaves and feathery petals of cactus blossoms frequently share space with highly polished glass elements, playful plastic creatures and large architectural installations in harmonious blends of color and form.
Now, the Sonoran Desert and Latin America meet, as the garden welcomes a must-see collection of paintings, drawings and sculptures by Botero — Colombia's most-celebrated artist.
A collaboration between Desert Botanical Garden and the Museum of Latin American Art in Long Beach, California, "Fernando Botero: El Maestro" marks the first time an exhibition of the artist's works has ever been shown in Arizona.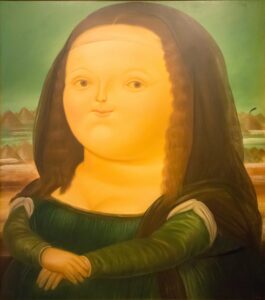 Living Large
Born in Medellín, the second-largest city in Colombia, in 1932, Botero is known for his immediately recognizable paintings and sculptures that distort volumes and question the concept of beauty. His signature style, known as "Boterismo," depicts rotund, voluminous, some may even say obese, figures, meticulously painted in bright colors, through which he ridicules the pomposities of life, art and officialdom.
"People think I am a painter of fat women, but I draw volumes," the artist is quoted as saying.
"Botero really did redefine beauty," says Elaine McGinn, chief experience officer at Desert Botanical Garden. "By using these really voluptuous and full forms, he's making us see and think about the world differently."
Laura Spalding Best, senior director of exhibits at the garden, adds that there are several ways Botero uses the exaggerated form.
"One is to celebrate beauty and push it to its full extent," she explains. "He'll exaggerate the lines of the female just as he will the lines of a vase of flowers. Then, he uses it to present satire and to represent pain and suffering. His work has all the drama of the Renaissance paintings that he always admired.
"He's able to put a lot of symbolism into his work, but there's always something you can smile or laugh at. It provokes a reaction. I don't think there's anyone who can look neutrally at a Fernando Botero painting."
Drawing inspiration from varied sources — from folk imagery to the formal portraits by the Old Masters — Botero portrays contemporary Latin American life. His oeuvre ranges from gentle scenes of everyday family life and popular Colombian pastimes, such as bullfighting, to topical issues, including political corruption and his home country's history of violence.
Like his figures, the artist's works themselves are large in scale. Paintings and drawings are wall size, while larger-than-life bronze sculptures tower upward of 15–20 feet.
Those who may not know his name will still recognize his work. Botero has exhibited in the world's best museums, and his sculptures can be found in parks and squares across the globe.
Some of his most famous pieces include "Mona Lisa," a balloonlike interpretation of Leonardo da Vinci's legendary painting; "The Death of Pablo Escobar," which shows the infamous drug lord being fatally shot; and "Dancing in Colombia," which highlights a lively café filled with music and dance. "Gato," an enormous bronze corpulent kitty cat, and "Caballo," a hulking horse, have become beloved symbols of Barcelona, Spain.
Botero is also a noted art collector. In 2000, he helped open the Museo Botero in Colombia's capital city, Bogotá. In addition to more than 120 of his own works, the artist donated 85 pieces from his personal collection, including ones by such renowned masters as Salvador Dalí, Pablo Picasso, Claude Monet, Henri Matisse, Alberto Giacometti and Joan Miró.
The museum, which is housed in a colonial mansion in the city's historic La Candelaria neighborhood, is a major attraction for tourists and locals alike, and it is open free of charge.
"Botero has been recognized across cultural and geographical borders, as has his art," McGinn says. "He changed art, and not many can say they've done that."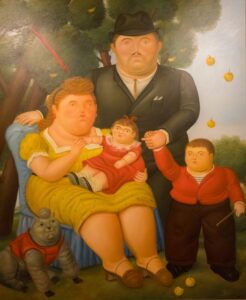 A Sonoran Success
"We have been trying to bring an exhibition of Botero's work to the garden since 2004," McGinn notes. "He's a phenomenal artist. He's one of the most recognized living artists, and he has such strong ties to Latin America and Colombia, specifically. This is a wonderful opportunity for us to celebrate the culture and aesthetics of that world."
"Fernando Botero: El Maestro" includes a selection of the artist's large-scale wall pieces, as well as two of his monumental sculptures that will be displayed within Desert Botanical Garden's landscape. The paintings and drawings will be exhibited in the Dorrance Center.
Works include "La Familia," "Sunflowers" and "Still Life with Watermelon." The star of the show is "Reclining Woman," an 11-foot-long female nude. Her undulating curves complement the exaggerated forms and volume of the desert plants.
"Botero's work is such an incredible fit with our garden because we have a curated collection of plants that sometimes feel as though they're bursting at the seams," Best says. "The outdoor placement of his sculpture within the Sonoran Desert landscape has never been seen before. To have them here, in metro Phoenix within our garden, is going to be spectacular."
Accompanying the artworks is a documentary about the artist — who, at 91 years of age, is still creating. (Editor's note: Botero passed away on Sept. 15, after Images Arizona's October issue went to press.)
"Fernando Botero is one of the most recognized living artists in the world," Best notes. "There's no denying that he's such an important artist in the way that he represents Latin America. Although he now lives in Italy, his heart has always belonged in Colombia. He's the painter of Colombia's soul."
'Fernando Botero: El Maestro'
Oct. 7–March 31 // Desert Botanical Garden // 1201 N. Galvin Parkway, Phoenix // See website for prices // 480-941-1225 // dbg.org