Writer Rebecca L. Rhoades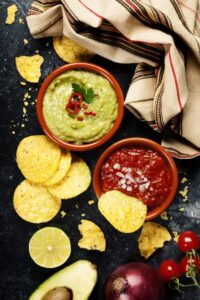 Five Cs played an important role in Arizona's development. Copper, cattle, cotton, citrus and climate were the driving force behind the state's economy. In Graham County, however, another C — chile peppers — has been attracting visitors to the tiny agricultural towns along U.S. 70 for more than 15 years.
The county in southeastern Arizona, just a short drive north of the Mexican border, is home to one of the state's most delicious attractions: the Salsa Trail.
The trail comprises a collection of restaurants that pride themselves on their unique chile-based sauces. Bowls of zesty salsa are found on dining tables morning, noon and night. And no two concoctions are alike. There's smooth, spicy salsa; intense green sauce; chunky onion-forward pico de gallo.
"We celebrate salsa," says Vance Bryce, executive director of the Graham County Chamber of Commerce. "We put it on everything — tacos, enchiladas, burritos, whatever. And you don't find it only in our restaurants. We all make it at home, as well.
"Every family in this area has their own recipe. I have an aunt who makes a chunky cilantro-heavy salsa. She also has a really nice cream tomatillo salsa. And everyone has a brother or brother-in-law who makes the spiciest sauce they've ever tasted."
The Salsa Trail was born in Safford in 2005, when former chamber director Sheldon Miller and local residents Jerome and Susie Thompson sought a way to market the region's Mexican restaurants and bring people into town. Part of their initiative was the creation of SalsaFest, a now-annual fall festival devoted to the piquant pepper sauce.
"One thing that this community does well is it comes out for different types of events, and the Salsa Trail can be included in those events," says Safford city manager John Cassella. "It also draws people in from outside of the area. We have a lot of high-quality restaurants that make their own salsa."
Bryce adds, "There's a lot you can do with some chiles, tomatoes, onions, cumin and garlic. You have some salsas that are so smooth that they're almost a sauce, while others are so chunky that they could be a garnish."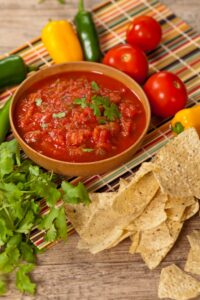 What is Salsa?
Most people associate the popular condiment with Mexican cuisine, and its roots can be traced back to the ancient Aztecs, Incas and Mayans who created their own salsa using tomatoes, chilies and squash seeds. But it wasn't until the Spanish conquered Mexico in the 1500s that the sauce became known worldwide. In fact, it was a Spanish priest by the name of Alonso de Molina who in 1571 deemed the mixture "salsa," which simply means sauce.
Today, salsa most commonly is thought of in the U.S. as a popular accompaniment for tortilla chips. In Hispanic cultures, though, is it a must-have ingredient for just about every meal. "Salsa de mesa," or table salsa, is a basic tomato-based red salsa that can be found on every table in every home. It's perfect for topping tacos and other Mexican dishes, but it's also used on eggs, meat, fish and even grilled vegetables.
Because the ingredients in salsas vary due to seasonal availability or simply personal taste preference, there's a salsa for everyone.
Red salsa (salsa roja) is a sauce made with cooked tomatoes, onion, garlic and hot peppers. Green salsa (salsa verde) typically is made with tomatillos for a more tart flavor, although it sometimes can be made with tongue-burning green chiles. Fresh salsa (salsa fresca) or pico de gallo is a chunky mixture of chopped ingredients, including jalapenos. And then there are sweet salsas made with mango, pineapple and other tropical fruits.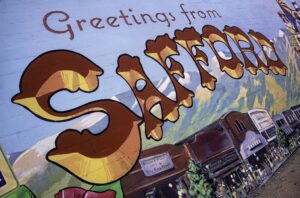 Savoring the Salsa Trail
Restaurants that are involved in the trail belong to the Graham County Chamber, and over the years, the number of participants has fluctuated. Currently, eight restaurants are on the trail. Surprisingly, not all focus on Mexican cuisine.
Start your salsa adventure at La Unica Tortilleria Toaqueria in Willcox. The perfectly blended salsa has a nice bite but is not too hot, and it's served with a basket of crisp tortilla chips. The restaurant is known for its Molcajetes — heaping servings of vegetables, steak, chicken or shrimp served in a traditional molcajete, or stone mortar. If you're getting an early start, the menu offers a selection of traditional egg-based breakfast items, including huevos rancheros and breakfast burritos.
Next, head to Safford, where the majority of restaurants are located. Two longtime Salsa Trail participants, El Charro and El Coronado, sit within blocks of each other on Main Street. El Coronado is an old-school diner that serves traditional Mexican food, while El Charro is a large family-style restaurant housed in an 1890 building. Its recipes have been handed down from owner to owner since the eatery first opened in the 1950s.
Thomas Biggs is the current proprietor. He purchased the restaurant in 2013.
"Everybody has different kinds of salsas," he explains. "We've got one that's a little bit spicy. It's filled with jalapeño, habanero and chiltepin chilies. Then the other one is a bit more mild and a little bit chunkier. As far as I know, we're the only one that puts both kinds out on the table alongside our bean dip."
Favorites at El Charro include the chalaca, a cornmeal bowl filled with beans and green or red chile; the chimichanga, a deep-fried green chile burrito; and the chile relleno, a whole green chile wrapped in egg and grilled for a healthy take on the classic dish.
On the north side of I-70 is Mechy's Mexican food. The drive-thru eatery with a small dining room has been a local favorite for almost 20 years.
The homemade salsa at Mechy's is simple and traditional, and it's sold in cups ranging from 8 to 44 ounces. But the signature dish is the chile relleno, a deep-friend Anaheim chile stuffed with sharp cheddar cheese. And on Fridays, customers line up for green chile chicken enchiladas.
While in Safford, make sure to stop at Mi Casa Tortilla, which is not on the Salsa Trail This family-owned tortilla factory prides itself in making preservative-free products. You can pick up fresh warm tortillas, containers of spicy chiltepin salsa and prepared dishes such as tamales and chile burritos. Factory tours are available.
The trail continues along I-70 into Thatcher and finishes at Meg's Place in Ft. Thomas. Opened in 2019, the 5,400-square-foot cafe with ample roadside parking offers a selection of Mexican food; classic diner options such as burgers, sandwiches and salads; and fry bread made by a member of the San Carlos Apache tribe. Can't decide? Try an Apache burger served on fry bread. And don't miss out on the fresh-made baked goods.
"A lot of visitors think there's a competition, but there's plenty of great people who support every single business here," says Mechy's manager Steven Geven. "I don't think that one restaurant stands our more than the other, because they're all so unique. How can you compare different places and different foods? You can't. We all have our unique styles and at the end of the day, we're all just trying to enjoy some great food."