Fortress of Freedom
Writer Joseph J. Airdo
Photography Courtesy of Anthem Community Council
Retired Navy Admiral Tom Fargo has had the distinct pleasure of being in close association with three generations of veterans.
"My father and stepfather both served in World War II in the Pacific and my mother was a Navy nurse, including time on Guadalcanal in the latter stages," Fargo says. "My generation spanned both Vietnam and the Cold War. And, of course, this current generation has been at war for essentially the last 20 years — and their sacrifice is clearly evident to us all."
Fargo adds that the dedication of those three generations and their willingness to give their lives for their country has provided all Americans with safety, security and prosperity.
"So it is especially important on Veterans Day that we pause to recognize not only our veterans but their families for all they have done to protect our freedom and our way of life," he says.
Fargo will serve as the keynote speaker during this year's Anthem Veterans Day Ceremony, which will be held 10 a.m. Thursday, Nov. 11 at Anthem Community Park.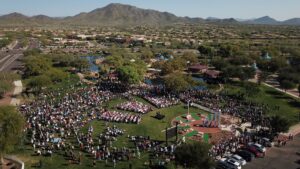 Hosted by Anthem Community Council, this year's ceremony arrives with added fanfare as the event marks a significant milestone for one of the community's most honored landmarks. The Anthem Veterans Memorial — which was dedicated on Veterans Day in 2011 and received Arizona Historic Landmark status the following year — will be celebrating its 10th anniversary.
Retired Air Force Lt. Col. Mark Clifford, who will present the Veteran's perspective during the Anthem Veterans Day Ceremony, says that taking time out of our day to remember those who fought for our freedoms — and especially those who made the ultimate sacrifice — is just one way that we can honor those who have put their country before themselves.
"The significance of honoring our nation's veterans is a reminder to all of our vets that they are not forgotten, that the sacrifices made by them and their families is deeply appreciated and that we are grateful for all that they have done," Clifford says. "We cannot thank them enough for protecting this country and our freedom."
Fargo and Clifford are just two of several special guests who will be in attendance at this year's Anthem Veterans Day Ceremony. For example, speakers from the 2011 dedication and the 2016 fifth anniversary will return to honor their service branches as they rededicate the pillars to the community.
Meanwhile, retired Air Force Lt. Col. Amber Cargile will serve as the mistress of ceremonies and Pastor Mac McElroy will provide the invocation. Both participated in Anthem Veterans Memorial's 2011 dedication. Dr. Timothy Swindle, director of the University of Arizona Space Institute and the Arizona Space Grant Consortium, will also dedicate the Space Force flag during the event, which will include special musical performances by Musical Theatre of Anthem and ProMusica Arizona.
John Sandoz, who performs many of ProMusica Arizona's production and logistics responsibilities and is an integral part of the ceremony, has a long family history of service to our nation. His grandfather served in the Army in France in World War II while both his father and his uncle served in the South Pacific — in the Marines and the Army Air Corps, respectively.
"So I expected to be called on to serve when I took the oath to defend our Constitution in 1968," says Sandoz, who is a Vietnam veteran. "My fellow troops came from states that spanned the U.S. I gained insight into and appreciation for life in other parts of our country. Our common link was our loyalty to the Constitution. By honoring our nation's veterans, our fellow Americans recognize, attest to and reaffirm that common link that is vital to our democracy."
Sandoz is therefore proud to live in a community that honors our nation's heroes.
"The Anthem Veterans Memorial and the events surrounding it are a tangible expression of the gratitude of our fellow citizens for the courage and sacrifices of our veterans 'to preserve, protect and defend the Constitution of the United States,'" he says. "The memorial is not just words. It is a monument to the determination and resilience of our veterans and the support of their families to defend our democracy."
Sandoz relays the story of a moment in history when a diplomat from the formerly communist country of Poland defected to the U.S. back in the 1980s.
"A reporter asked him why he chose to defect to the U.S. instead of to a neighboring European country like Germany," Sandoz says. "The diplomat replied that he wanted to live in the U.S. because it is the fortress of freedom. The Anthem Veterans Memorial is part of a fortress that the rest of the world looks up to and depends upon. We are the keepers of that fortress."
The Anthem Veterans Day Ceremony will conclude with a Luke Air Force Base flyover and the solar spotlight onto the Great Seal of the United States at precisely 11:11 a.m.
In addition to the ceremony itself, Daisy Mountain Veterans will once again host its annual parade 10 a.m. Saturday, Nov. 6. The parade route will run from the area near Christ's Church of the Valley and Boulder Creek High School past Anthem Community Park to Anthem Way then onto Gavilan Peak Parkway, ending at Anthem Community Center.
Clifford says that those who attend Anthem's Veterans Day ceremony demonstrate to our nation's heroes that the community supports them and their families.
"Small-town feel is full of small-town love," he explains. "Showing our veterans they are loved and appreciated is an overwhelming feeling for most [of them]. It is a sign of gratitude when the community celebrates our veterans and it is just another example of showing our vets that they are not forgotten and that we are thankful.
"Coming to a community event to honor veterans, you will see the pride among our vets and the camaraderie that they share. It is a wonderful tribute to [them]."
Experience
Anthem Veterans Day Ceremony // Thursday, Nov. 11 // 10 a.m. // Anthem Veterans Memorial // 41703 N. Gavilan Peak Parkway, Anthem // Free // onlineatanthem.com