A Symphonic Celebration of 75 Seasons
Writer Joseph J. Airdo
Photography Courtesy of the Phoenix Symphony
One century ago, Arizona was still discovering its cultural identity. Founded in 1912, the state — like most — depended on not only pioneering entrepreneurs but also innovative artists to dictate its direction and growth.
It quickly became clear that Arizona would give other arts communities across the country a run for their money as the area's first performing arts organizations began popping up around the state, including the Phoenix Theatre Company — originally founded as the Phoenix Players — in 1920.
When the Phoenix Symphony was founded in 1947, Arizona's arts community had officially hit its groove.
With a lineup that includes a robust mix of classics, pops and special performances, the full-time, professional orchestra of 63 musicians will this year celebrate its 75th anniversary season, proving that it has come a very long way since its founding as a small, part-time orchestra in a city of fewer than 100,000 people.
"We have grown up with this city," says Suzanne Wilson, the Phoenix Symphony's president and CEO. "Through the changing decades and the natural growth of a younger, western city, the Phoenix Symphony really has been a constant source of joy and respite — and a gathering space for the incomparable shared experience of live music."
A Humble History
The Phoenix Symphony performed at Phoenix Union High School for the first 25 years of its existence, coming of age in 1972 with a move into the newly built Symphony Hall and the hiring of Mexico City native Eduardo Mata as conductor. The orchestra did not achieve full-time status until 1983 — more than 35 years after its founding.
However, the next 40 years brought the Phoenix Symphony several celebratory milestones under its various music directors — including James Sedares who, in 1989, became the youngest music director in any major symphony in America. Under his leadership, the orchestra recorded a 1992 album of the music of Aaron Copland and earned many accolades from the music industry, including an ECHO Award — continental Europe's equivalent of the Grammy award.
"Our orchestra's artistic quality really benefits and mirrors the metropolitan and cosmopolitan growth of Phoenix and its surrounding areas," Wilson says. "We all know that a strong arts community attracts people from all over to live, work and play. We are excited to be a part of that community and that culture."
The Phoenix Symphony's 11th music director, Tito Muñoz, took the helm in February 2014, delivering the performing arts organization into its current era of success. National and international recognition in recent years has helped the orchestra attract a number of the world's top musicians to the Valley, performing classical, chamber and pops concerts.
That eclectic mix of music is what Wilson believes has helped the Phoenix Symphony not only sustain but also thrive over the past 75 years — and something that the performing arts organization will celebrate all season long.
A Lasting Legacy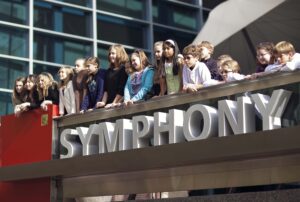 "The classics are the classics," Wilson says. "We are really celebrating the traditional hits that everybody loves to hear from their beloved orchestra."
This season's classics performances will feature guest artists such as violinist Midori; pianists Jon Kimura Parker, Joyce Yang and Stewart Goodyear; cellist Gabriel Martins; principal clarinet Alex Laing; and spoken-word artist Aaron Dworkin. Concerts will feature works by a number of noteworthy composers — including Igor Stravinsky, George Gershwin, Johannes Brahms, Antonín Dvořák and, of course, Ludwig van Beethoven.
"But there are also all of these other types of music that we are really interested in bringing," Wilson adds.
This season's pops performances will include Renée Elise Goldsberry, Mambo Kings and the music of Frank Sinatra and the Beatles as well as holiday and Broadway concerts. The season will also feature screenings of "Coco" and "Jurassic Park" during which the orchestra will perform each film's score live on stage.
"Special performances often end up being among our most popular concerts and this season offers some exciting and varied options — including a fascinating examination and combination of the music of Johannes Brahms and the popular rock band Radiohead," Wilson says. "We have really tried to build out a season for everyone. The organization is always striving to bring people together."
That is and always has been an important part of the Phoenix Symphony's mission — both on stage and off.
"During a typical season, in addition to the performances that you see on our website, our musicians are also in schools, homeless shelters, memory care facilities and hospitals," Wilson explains. "This institution is all about that shared experience and that love of music. There is nothing like unifying and bringing people together through live performance. It sounds simplistic but, to me, that is our lasting legacy."
A Prolonged Intermission
Wilson adds that the Phoenix Symphony's commitment to the community — and the community's commitment to it — has not only played a key role in the performing arts organization's sustenation and growth over the past 75 years but is also the reason it was able to survive the COVID-19 pandemic.
"We are really grateful to the community and especially its support of and advocacy for our organization," says Wilson noting that, in total, 140 performances were canceled between March 2020 and June 2021. "The global pandemic hit the performing arts [industry] very hard so we are very grateful to those who have stood by our side through this to ensure that we came out of it."
The Phoenix Symphony's musicians and audiences are eager to hit the ground running with one of the state's oldest operating — and therefore time-honored — performing arts organization's 75th anniversary season.
"Every performance is going to feel like a celebration," Wilson says. "Everybody keeps asking me what is going to be the most special moment and I tell them that every time the musicians take the stage will be overwhelming. Every performance — regardless of what we are playing — is going to be special because we have been in the midst of this prolonged intermission for so long.
"During this really isolating pandemic, the things that have been most consistent are our values and our commitment to connection, health, wellness and being a catalyst for healing and hope. And that commitment is stronger than ever."