Writer Joseph J. Airdo // Photography by Nicole Walker
North Phoenix resident Celine Enke recalls the moment she first set her mind on entering a local preliminary to Miss Arizona's Outstanding Teen competition.
"It was a very sudden decision," she explains. "I just told my mom, 'Hey, I'm going to try this.' And she was like, 'OK, go for it.'"
Little did she know that the decision would change the entire trajectory of her life.
"I actually changed all of my plans for the future," says Enke, who last year won the title of Miss Tucson Desert Rose's Outstanding Teen and went on to compete at the state level. "I remember the feeling of being around all of these amazing women and I just fell in love with it. I was originally wanting to go to college in Virginia. I had this whole plan lined out. But the spirit within the organization is amazing — so amazing that I changed my life for it."
The 19-year-old is now the very first young woman to ever hold the title of Miss Cave Creek. And with a social impact initiative of empowering other young women to achieve financial freedom and economic success, Enke is eager to see where the journey takes her.
We Are Prosperous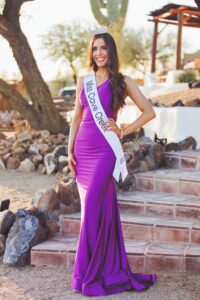 Born in Colorado, Enke moved to Arizona when she was 10-years old. She homeschooled for three of her four years of high school with the intention of having more time to explore and focus on the things that interested her — one of which is The Wishful Project, a business that she started with her mother at age 17.
"I started making and selling personalized Christmas ornaments and donating 10% of my net profits to charity," Enke says. "It has really turned into a tradition for me. Last year, I donated to Arizona Helping Hands, a local nonprofit organization that provides essential needs for children in foster care."
In addition to helping her become more involved in the betterment of her community, The Wishful Project also provided Enke with a way to experience and practice entrepreneurship at a relatively young age, which is another one of her passions that is at the heart of her run as the inaugural Miss Cave Creek.
"I have always been adamantly interested in selling and creating things," says Enke, noting that in kindergarten she would sell paper fans to her classmates in kindergarten for play money. "Economics and finances have always been a big part of my life. One of the reasons that we moved to Arizona in the first place was for jobs because my parents did not have enough money to live in Colorado."
As it turns out, The Wishful Project is just one of four businesses Enke has founded which, together, have generated more than 5,000 sales over the past few years.
"With this in mind, I was 100% confident that I had the resources and knowledge I needed to create a prosperous future for myself," Enke says. "But the older I got, the more I realized that many of my friends and peers had absolutely no plans for their future. Many of them did not have a job, had zero plans for college and had no idea what they were going to do after high school. This blew my mind. I wanted to help these girls more than anything."
Enke began interviewing women across the Valley about their careers and publishing those interviews online, hoping to uplift, empower and prepare young women for financial independence and success by providing them with online resources and a clear path to economic prosperity.
"Financial independence is so much more than having enough money to pay the bills," Enke says. "What it really gets down to is freedom — freedom to spend time with your family and friends, freedom to explore your passions and pursue your dreams, freedom to live life to the fullest."
Enke calls the project — which she would like to turn into a full-fledged nonprofit organization — We Are Prosperous.
"Every girl has a different path," she acknowledges. "Not everyone needs to go to college, start a business or become a millionaire. We Are Prosperous is designed to help every young woman develop a plan for herself that will work best with her ideas for the future, and help her prepare for a future full of economic prosperity."
We Are Inspirational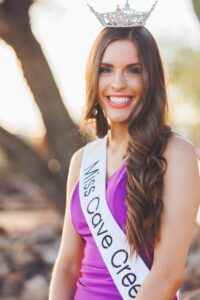 Enke is so passionate about her project that she made it her social impact initiative while competing in a local preliminary to Miss Arizona — which she was inspired to do after winning Miss Tucson Desert Rose's Outstanding Teen the year prior.
Previously referred to as platforms, social impact initiatives have in recent years become a much more prominent part of the Miss America competition and its preliminaries.
"Before, it was more about just wearing pretty dresses and things like that," Enke says. "But now there is a much bigger emphasis on things beyond just physical looks. There is a huge emphasis on getting out into the community and making the world a better place. That is what really drew me into the Miss America competition and organization because it did not feel artificial. It felt very authentic to me."
Since its inception in 1921, the historical and social significance of Miss America has evolved from a boardwalk beauty pageant to the world's largest provider of scholarship assistance for young women, awarding more than $45 million each year. Before one can compete to become Miss America, one must first win a title at the state level.
The Miss Valley of the Sun Scholarship Organization is an official local preliminary to the Miss Arizona and Miss Arizona's Outstanding Teen competition. The organization crowns title-holders for Phoenix, North Phoenix, Scottsdale, Glendale and — beginning this year — Anthem and Cave Creek.
Cait Dempsey, executive director of the Miss Valley of the Sun Scholarship Organization, says that it is her mission to educate the future women leaders of Arizona about the Miss America program.
"The addition of the Miss Anthem and Miss Cave Creek titles was to spread more awareness about our program across the Valley and to provide more opportunities for our titleholders to serve the great communities of Anthem and Cave Creek," she explains. "We are so thrilled to have these titles and look forward to building relationships with local businesses and community members."
Enke is thrilled to have been crowned the inaugural Miss Cave Creek and has already seen the positive impact that it has had on her life.
"I feel like owning a title really pushes you out of your comfort zone," she explains. "You have to really step into the role. You have to be an inspiration to the community and to the people around you."
Enke adds that, prior to being crowned Miss Cave Creek, she was somewhat introverted and tended to keep to herself.
"But having this title, I really want to get out into the community, attend different events and meet and talk with the people of Cave Creek," she says. "That is something that I am really looking forward to doing. I am not just here to wear a crown and do all of that fun stuff. I want to become very involved within the community. I want to make a difference."
We Are Sisters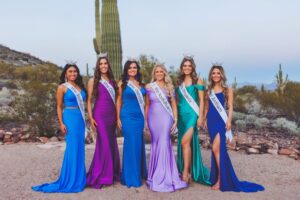 Enke would, of course, love to win the title of Miss Arizona this summer and advance to the national Miss America competition. However, the 19-year-old North Phoenix resident — who is studying to become a writer as well as a cosmetic chemist — feels as though she has already won.
"Being crowned Miss Cave Creek has really been an experience and journey of personal growth for me," she says. "One thing that I have really learned is that anything is possible.
"I want to represent all of those young women who are kind of unsure of themselves — because that is who I was just a few years ago. I used to have so much self-doubt. I did not know what I wanted to do. When I discovered the Miss Arizona and Miss America organizations, I feel like I stepped out of my comfort zone and stepped into who I was meant to be."
Enke has also stepped into a sisterhood — something that she has never had before but always wanted.
"The sisterhood is just amazing," she says. "That is something that I do not really have outside of the organization. I have all brothers and all of my cousins are boys. So that is something that I got through Miss Arizona.
"I have even been able to get together with some of the girls outside of all the pageant stuff. We will go get lunch sometimes and just talk about things. I have made so many good friendships just by being a part of this organization."
Those bonds that Enke has developed with her fellow title-holders make her more determined than ever to inspire other young women to become financially independent and reach their full potential, thereby truly making the world a better place.