Writer Joseph J. Airdo // Photography Courtesy of Matt Young Photography and Bob and Dawn David Photography and Design
The past two years have been an extraordinarily challenging time for many people. Some have been more dramatically and devastatingly impacted than others, but each and every one of us has seen life become at least a bit more lonely than it was back at the beginning of 2020.
Author and noted speaker on the subject of health and wellness Dr. Stacie Stephenson says that the mental fitness of our world has been substantially reduced as social distance has, for many, felt more like social isolation.
"I personally believe that one of the most important parts of our health and wellness is relationship," Stacie says. "And one of the ways in which we express relationship is by convening and having community with others — things that we have all been sorely lacking lately."
Stacie therefore strongly encourages those who may be feeling down or depressed to find ways to convene and have community. And one of the most significant ways that one can do that is while benefitting others whose health and wellness is far worse than their own — such as those who have been diagnosed with cancer.
"People's need to be together is intense," says Stacie, who serves as vice-chair of the board of directors for Gateway for Cancer Research. "And those fighting cancer have an intense need for the research to continue. The only way for that to happen is if we all keep working toward it."
And that is exactly what Stacie and numerous others will do Saturday, March 12 when, after a two-year absence due to the COVID-19 pandemic, Celebrity Fight Night — which is known for bringing A-list celebrities to Phoenix, including headliner Pitbull, and raising in a single night millions of dollars in charitable funds — returns to the Valley, albeit with a new name and a new mission.
Restoring Hope to Cancer Patients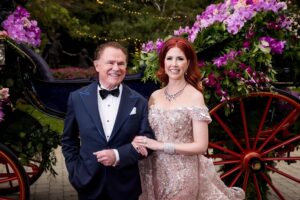 Celebrity Fight Night Foundation — an internationally recognized philanthropic organization that has generated more than $90 million in charitable funding throughout its 27-year history — last spring merged with Gateway for Cancer Research — a global sponsor of innovative, patient-centric, clinical cancer research.
The merger put Paradise Valley residents Stacie and her husband, Richard J. Stephenson — founder and chairman of the board for Gateway for Cancer Research — at the helm of the Phoenix-based organization, whose charity events are synonymous with star-studded support for advances in health and well-being.
"Celebrity Fight Night is now Gateway Celebrity Fight Night," says Stacie, noting that the organization — which has supported a range of worthwhile causes — will now focus its firepower on defeating cancer. "We think of it as two giants coming together with a new mission. And that mission is to fight cancer."
Stacie adds that cancer touches countless lives and that there are few people, if any, who do not have a friend, family member or other loved one who has been diagnosed with the devastating disease.
"One in three people will be affected themselves during their lifetime alone," she says. "So this is a very critical cause. Bringing Celebrity Fight Night into the Gateway for Cancer Research family will do much to accelerate the realization of our vision — which is to create a world in which a cancer diagnosis is no longer feared."
Gateway for Cancer Research funds innovative, breakthrough clinical cancer research that promises novel and hopeful curative options that help people living with cancer to feel better and live longer.
"We fund phase 1 and phase 2 clinical trials," Stacie explains. "When a patient is at the end stage of what is available for their treatment, it is a very scary space. Those trials have to be moved along rather quickly and rather aggressively because, quite frankly, that person is at risk of dying. They have run out of treatments. They have run out of opportunities. They have run out of hope."
And hope is something that no one should ever have to do without.
"There are researchers out there who have concept ideas that have already passed the hospital boards and simply need funding," Stacie says. "So our role is to bring that funding and those treatments directly to the bedside of the person most in need.
"If you are suffering at the end stages of some dreaded cancer and there was a treatment out there that could be available to save your life, we want to get it to you now. Not next year or two years from now or three years from now. We want to get it to you now, because your clock is ticking."
An Unforgettable Entertainment Package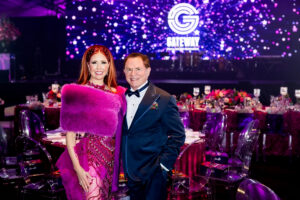 As strongly as Stacie knows that cancer patients need immediate help, she also knows that Phoenix is a very philanthropic community. She is, therefore, confident that this year's Gateway Celebrity Fight Night will be a triumphant success just as the event has in years past.
"Celebrity Fight Night is an incredibly iconic institution," says Stacie, noting that its founder, Jimmy Walker, has — after tragically losing his son, Scott, to an overdose — transitioned to a new passion of helping people recover from drug abuse. "He founded Grace Sober Living, which builds homes for those who are recovering from drug abuse as they transition back into their normal, daily lives."
Sean Currie, who has been instrumental in advancing the fundraising success of Celebrity Fight Night since joining the organization in 1997, continues to serve in his role as executive director of Gateway Celebrity Fight Night.
The organization's name and mission may have changed but the event itself will still be the star-studded black-tie gala for which it has become known since 1994, featuring a cocktail reception, elegant dinner, silent and live auctions for one-of-a-kind luxury items and experiences and an over-the-top, always unforgettable entertainment package.
"It is a passion of mine to put together philanthropic, immersive, experiential fundraising events," Stacie says. "I cannot believe that I am a physician yet I love being an event producer as well. My vision for the new Celebrity Fight Night is a world-class, jump-out-of-your-seat experience. I love to wow people. I love to do unexpected things."
Attendees can, therefore, expect at least a few changes as Stacie and Gateway Celebrity Fight Night's other organizers aspire to improve upon the formula while maintaining many of the elements that have made it such an eagerly anticipated annual event.
"My personal enjoyment of it has always been the actual production itself," Stacie says. "So we are going to do some things that you have never seen before. There will be a bit more theatrical-type performances embedded within it. We are really looking to mix and mesh. So you could see a comedian or maybe an actor or maybe a few different musical entertainers from different genres. We are bringing all of these people together in the interest of cancer research.
"We are especially interested in the celebrities who participate being willing to share their cancer journey — whether it be of themselves, a loved one, a mom, a dad, a brother, a sister or God forbid a child. We really want the celebrities who participate to lend their voices to cancer research and the fight against cancer. These celebrities and our donors have that mission in mind. And in that space, we figure magic may happen for cancer patients all over the world."
Gateway Celebrity Fight Night
Saturday, March 12 // 5:30 p.m. // JW Marriott Desert Ridge // 5250 E. Marriott Drive, Phoenix // See website for prices // celebrityfightnight.org