Writer Shannon Severson
Arizona is certainly filled with fascinating sights to behold from the ground up. Our desert is carpeted with saguaro and cacti of every sort, bright blooms in the spring and an array of wildlife amidst unique rock formations, shrubs and trees year-round.
However, a simple flip of your perspective can result in some truly unforgettable experiences and an entirely new view of our stunning state. If you're up for a bit of adventure, there are plenty of high-flying options that allow just about anyone to soar over Arizona and see its grand extravagance from the sky.
Up, Up and Away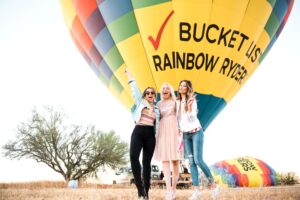 Floating above Arizona in a hot air balloon is one of the most popular adventure activities in the Valley of the Sun.
Rainbow Ryders' Scott Appelman, who has been involved in hot air ballooning for 40 years, says that Arizona's consistently fantastic weather makes the state a perfect place for the activity. Hot air balloons fly about 320 days out of the year — although safety is always a priority with keen monitoring of weather conditions, temperature and winds.
"We have more than 40 balloons," says Appelman, noting that Rainbow Ryders operates seven days a week. "We have one flight time at sunrise and one at sunset and we can fly 10–15 balloons holding anywhere from two to 16 passengers."
Rainbow Ryders has given the ultimate lift to many special occasions — engagements, anniversaries, birthdays, family reunions, bachelor and bachelorette parties and even weddings. There are about two dozen hot air balloon weddings in Rainbow Ryders balloons each year.
"We are that special occasion experience as well as a bucket list check-off," Appelman explains.
This time of year — March through May — is high season for hot air ballooning, so it's best to book early and be flexible just in case the weather interferes. If you're planning to launch with family or friends visiting from out of state, Appleman suggests that you schedule early during their stay to allow for possible rescheduling.
Rainbow Ryders' pilots are put through rigorous training and have extensive knowledge of the history, geography and nature of the area in order to provide a five-star experience.
"We take it as a privilege to be part of people's memories," Appelman says. We want to make sure that this is the best memory they've ever had."
Rainbow Ryders
715 E. Covey Lane, Suite 100, Phoenix // 800-725-2477 // rainbowryders.com
Just Hanging Around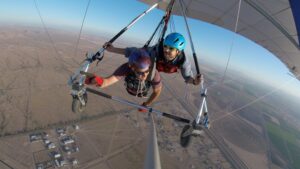 Hang gliding may sound like something that you have got to be an expert at, but Sonora Wings owner Danny Lange says that he and his crew are able to get beginners off the ground in short order when paired with an expert for a tandem ride.
"It doesn't take a lot of skill to actually fly a glider," says Lange, who has been flying since 1979. "Almost anybody can do it smoothly and learn the knack. Our discovery flights are an introduction framed as a lesson. We've had some newbies fly the glider all the way down to the point of landing, then our pilot LJ Omara does the hard part of getting it on the ground."
At Sonora Wings, Lange and his wife Karen, who have owned the business since 2018, are introducing the public to aero-towed launching — where the glider is towed aloft by a small airplane.
Sonora Wings only operates November through the beginning of April, but its discovery flights for beginners generally conclude by mid-March. Safety is key and it's a business that depends on good weather and wind speeds below 10 mph.
The time spent in the air is dependent upon altitude and conditions. Sonora Wings lifts its flyers to heights of 2,000, 3,000 or 5,280 feet. The higher the release of the glider, the longer it takes to meander back to Earth.
Lange adds that while tandem discovery flights last anywhere from ten minutes to a half-hour, solo hang glider pilots can sometimes stay aloft for hours — sometimes traveling hundreds of miles.
"People say hang gliding is awesome but peaceful," he says. "The sensation very much resembles a bird. We can't completely out-perform a bird, but we can come close."
Sonora Wings
11934 N. Russell Road, Maricopa // 480-251-1515 // sonorawings.com
Chartering Adventure
If you'd rather fly the friendly skies in a more traditional craft but still want it to be extra memorable, Westwind Air Service offers year-round tours and charter flights on their fleet of 10 planes that depart from Deer Valley Airport.
Westwind Air Service operations manager Brad Fontenot says that aerial sightseeing tours above Phoenix, Grand Canyon, Sedona, Antelope Canyon and Monument Valley are extremely popular with his clients and are often paired with other adventures like jeep rides, hiking, white water rafting, boat tours and even wine tasting.
Westwind Air Service's signature tour is a 6–7 hour excursion that includes a scenic, narrated flight over Tonto National Forest, the Verde River, Sedona's red rocks and the San Francisco Peaks.
When you arrive at the Grand Canyon, you'll spend 20–30 minutes flying over the widest and most beautiful sections. Only a few companies have permission to fly in this heavily restricted zone. Passengers then exit the plane for a tour around the canyon aboard a Buck Wild or Pink Jeep Tour.
"You land near the place you just saw from the air," Fontenot explains. "We have a professional tour guide who is truly knowledgeable about the area."
Fontenot adds that Westwind Air Service can fly private charters anywhere within a 400-mile radius of Phoenix. Utah, Colorado, Mexico, New Mexico and San Diego are all within reach without the hassle of taking a commercial flight.
Westwind Air Service charter tours have narration available in six different languages and, because the Cessnas fly at an altitude that is lower than commercial flights — 8,500 feet versus 25,000–35,000 feet — you'll get a much closer, more detailed look at the view below.
Fonentot says that you may even spot rafters paddling down the Colorado River.
"These can be once-in-a-lifetime experiences," he adds.
Westwind Air Service
732 W. Deer Valley Road, Phoenix // 480-991-5557 // westwindairservice.com