Writer Shannon Severson // Photography Courtesy of Mountain Shadows and The Abstract Athlete
It's easy to put people in boxes — a habit that, for most people, likely began in middle and high school, where jocks, loners, drama geeks and artsy kids tend to stick close to their own. Rarely do the members of any particular group mix with the others. Whether it was imposed stereotype or self-categorization, we began to accept the false notion that there was no cross-pollination between art and sport.
However, athletes and artists share plenty of characteristics and, as it turns out, the artist and the athlete are often one and the same. A new exhibition at The Gallery at Mountain Shadows seeks to tear down the walls and stereotypes, presenting the work of former professional athletes and U.S. Military veterans.
Gallery curator Cece Cole says that she is drawn to The Abstract Athlete and its aim to create dialogue in the context of socially engaged art practices.
"While demonstrating the comparisons and similarities between the disciplines of art and athleticism, they collectively offer insights that expand our knowledge and understanding of the creative process," Cole explains.
Professor of fine art at Virginia Commonwealth University Ron Johnson is one of four co-founders of The Abstract Athlete. He says that the general consensus is that artists and athletes are supposed to be separate. Being both can make one feel like somewhat of an outsider.
But retiring the cleats or hanging up the uniform can leave athletes and veterans feeling adrift. Where there was once structure, connection and daily discipline, there may be a sudden sense of solitude, less routine and sometimes even physical or mental trauma that can affect everyday function and relationships. Art provides renewed discipline, learning, accomplishment, stress release and healing.
Former college athlete and award-winning industrial designer and entrepreneur Chris Clemmer is another one of the organization's co-founders, alongside Dr. David X. Cifu, a dean at Virginia Commonwealth School of Medicine with expertise in traumatic brain injury and rehabilitation. They have collaborated with Fortune 500 marketing executive and former collegiate scholarship cheerleader Darrel Branch.
"We originally envisioned [The Abstract Athlete] as a charity to inspire kids," Clemmer says. "It began growing into a huge opportunity to tell the story in different media and product."
Today, The Abstract Athlete has expanded to include a traveling exhibition, a podcast and films as well as workshops, curriculum and classes for elementary through university students, professional sports teams, veterans and service members and corporate settings.
Tony Mandarich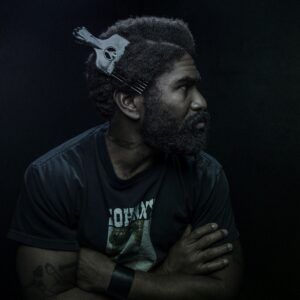 Tony Mandarich was always fascinated by photography, even serving as photo editor of his high school newspaper.
"My interest was piqued pre-digital," he reveals. "Now, the possibilities in photography are unlimited. I was amazed by what people were able to do with chemicals, dodging and burning — and I always wanted to know the why behind everything. Since art is so subjective, it was explained to me 20 different ways."
As a top football prospect, the camera took a backseat to the game as he went on to play at Michigan State University and was drafted second overall in the 1989 NFL draft as an offensive tackle by the Green Bay Packers, for which he played for four seasons. He struggled with addiction and left the sport for a time, making a strong return to the game with the Indianapolis Colts, for which he played for three years.
Mandarich has now made his mark in the world of digital photography, creating powerful portraits that often comprise up to 25 images in one single piece. The native of Ontario, Canada lives and works in Scottsdale. His photographs are striking and strong, bringing out the many facets of his subjects in a single representation.
"My work is a reflection of my life," Mandarich says. "There was a lot of darkness in my life. I'm coming up on 27 years of sobriety; I would have missed it all if sobriety didn't happen. To me, I'm living on 27 years of borrowed time. I have bad days. None of them compare to how they used to be. I would have missed the time with my photography mentors, Joel Grimes and Paul Markow, and doing photography myself and coming back to the NFL to play sober. I never thought I'd have my work in galleries."
Mandarich says his athletic background works to his advantage once people get past the idea that a former football player might not be a good photographer. It has helped him build rapport and trust. He is also served by his ability to fully devote himself to honing a skill that takes extensive practice and time — the least of which is spent behind the camera. His photos each require an average of two to four editing hours.
As Mandarich began to pursue photography full-time, he dedicated himself to constantly learning more, working as a photography assistant to Markow for 18 months and to Grimes in multiple photoshoots. He attended dozens of workshops and classes to learn everything he could about technique and composition. Mandarich brings his own personable nature to form a bond with anyone who puts themselves in front of his camera.
The photographer and subject are a sort of team. That trust shows through in the vulnerability his subjects are able to achieve, which makes for a much better end-product.
"I don't hear most photographers talk about how important it is to get your subject to trust you," Mandarich explains. "If they trust you and buy into the process, the pictures will be incredible. I explain everything that goes into the images so that they really understand it; there's a lot of preparation. I even have playlists to match the mood of the shoot and what we are trying to portray.
"The best photos are when people are just being themselves. Forget what you've seen on TV with top models. We are capturing something different — elegance and strength together. It's hard to do but it can be done and I've been lucky to work with great people."
Mandarich has also worked with the NFL's "Smocks and Jocks" program and various charity groups. He is pleased to be involved with The Abstract Athlete and its wide reach to athletes, veterans and young people.
"What they're doing is valuable," Mandarich says. "Creativity is good for the brain. It really helps people with PTSD and head injuries. I know it's helped me. What Ron and Chris and the rest of The Abstract Athlete team are doing brings so much to people. I never would have had any of this particular experience without Ron and the program."
Percy King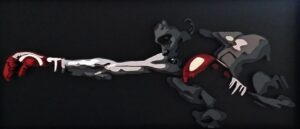 Percy King was a standout defensive back at Ohio State University and later played for the Kansas City Chiefs. As a high schooler in Canton, Ohio, he had the good fortune of being coached by a Vietnam veteran and architect who served as both football coach and art teacher.
"He was an eccentric guy," King recalls. "He helped design the World Trade Center towers. He was the first [creative] person I knew who recognized hip-hop."
Hip-hop is often a central theme of King's work, which utilizes the Shaolin wood technique to build thin layers of wood veneer to create powerful, multidimensional portraits that seem to reverberate with motion. King has two pieces featured in The Abstract Athlete exhibition — one depicting Muhammad Ali and another of Prince.
"I do mostly portraiture and I'm focusing on different techniques," says King, who began working with wood as a medium when he was learning to create inlay for some home remodeling projects. "You can really see a difference in my work from six years ago. I'm using paint, different backgrounds, using photography, lighting and digital work. I'm continuing to add all these tools to my repertoire.
"That's really what has gotten me to this point — learning all of the things that I can. Just like in sports, you can work on a catch, then try it one-handed, then alter how you turn your hips or move your feet as you move on to the next level."
And King's art certainly has reached the next level. It has been his full-time occupation for six years and his works can be found in the museum of the Harvey B. Gantt Center for African American Arts+Culture and Sozo Gallery in North Carolina, where he now lives. Six of his pieces are in the permanent collection of the Columbus Museum in Ohio. Former teammate Eddie George has a piece of his art, as well.
"It's been an amazing journey so far," King says. "The Abstract Athlete were really the first people to tell me, 'You are an artist' and show me that my work would be accepted in these spaces. Not having gone to art school or one of the Ivy Leagues, [the art world] can be very closed off; people are looking for credibility. It's intimidating. The Abstract Athlete is one of the first groups of guys to say, 'Yes. You are a part of this community.'"
King plans to continue to focus his perspective on things that inspire him — music, history, politics and other cultures such as the Dogon tribes of Mali and some of their traditional beliefs.
"I'm surprised [by] how many athletes are out there who are artists or who have done art," King says. "It makes sense. These things cross paths because of practice, discipline and the satiety of the need to have that discipline. All athletes are pursuing perfection; that desire doesn't go away."
Alicia Dietz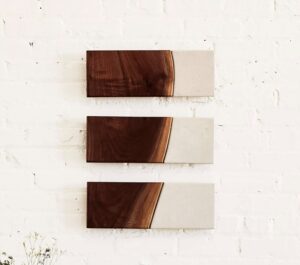 Alicia Dietz served in the Army for more than 10 years, attaining the rank of Major. She was a Blackhawk helicopter maintenance test pilot in Iraq, Germany, Alaska and Egypt. It's a career that left no room for error.
When she left the military in 2012, many called her crazy. But she was determined to do something different — even if it was for a lower paycheck. She drew upon her experiences alongside her father and grandfather, as they did woodwork on weekends. Both men were highly accomplished and built furniture and, in her grandfather's case, an entire home.
In the military, Dietz found respite in the woodshop on post as a stress reliever between intense flight school training classes. As she left the framework of military life, she drew on what she'd learned before to forge the path ahead.
"Craft, labor, dedication and learning were the cornerstones of my personal ethos in the military," Dietz explains. "These same characteristics are exemplified in my pursuit of craft. Some people find it an odd jump to go from helicopter pilot to studio furniture maker. But many of the same principles apply.
"In the military, you learn to plan in both overview and specific detail. Then you execute. Yet, no plan survives first contact. So you evaluate your situation based on previous knowledge and what your experts are advising you, make changes, disseminate that information and execute again.
"I find this to be true in my studio. This process of evaluation and action, time and time again, leads to projects and pieces more informed than the last. It is this constant cycle that allows me to evaluate what I've just done in order to produce ever-evolving work."
Having previously received a degree in advertising/journalism from Ohio University in 2001, Dietz ventured to the northeast to earn two woodworking and furniture making degrees from Vermont Woodworking School. An internship during that time with her woodworking hero, Wendy Maruyama, convinced Dietz that she had a story to tell.
"She is the one who really said, 'You have a very different story and you can use craft as a way to convey that story,'" Dietz says. "She taught me about using concept and craft, telling your story through a different medium and method — which I think is really powerful about craft and art in general. The Abstract Athlete really brings that together."
Dietz met Johnson at Virginia Commonwealth University as she completed her Master of Fine Arts in craft and material studies. In those classes, she created art as a way to convey the military experience to people who may only know civilian life, something she acknowledges can be a challenge.
Her sculptures are raw and heartbreaking. Notable among them is "Fallen Soldiers," a Battlefield Cross, which is the display of the boots, helmet, rifle and kevlar of someone who has been killed. On it, she wrote the names of more than 7,000 soldiers killed in Iraq and Afghanistan. A version without the names has traveled the United States as a memorial to lives lost. The original will soon be in a New York City exhibition.
"It was me processing that experience in the only way I knew how," Dietz explains. "I lost a friend and I was spinning my wheels as to why. I was suffering survivor's guilt. The only thing I could think of was to write her name so people knew what an incredible person she was. I started writing all of the names.
"I didn't know it at the time, but that piece was my penance for surviving. The way my hand would cramp when carving or writing names — it was a physically and emotionally weighted piece. It was something I felt like I had to go through. It continues to be my most important piece and the one that I'm most proud of."
These days, Dietz primarily works to create custom furniture and is constantly busy in her Richmond, Virginia studio. She has a passion for combining wood and concrete and some of that appears in her home decor and wall features.
Dietz's contribution to The Abstract Athlete is part of a larger, 12-component live edge walnut and artisan grade concrete work titled "In Solitary / In Solidarity" that communicates the way that, as humans, we are individuals but also part of a larger collective. It's a lot like what the exhibition communicates as a whole.

The Abstract Athlete
Through March 31 // The Gallery at Mountain Shadows // 5445 E. Lincoln Drive, Paradise Valley // 480-624-5400 // theabstractathlete.com // mountainshadows.com