Writer Rebecca L. Rhoades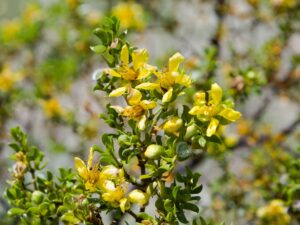 Spring in Arizona means two things: baseball and wildflowers.
As temperatures begin to rise, the Sonoran Desert's diverse flora begins to come alive with color. While the state is known for its stunning array of cactus blossoms — from the yellow, red and orange cup-shaped flowers of the ubiquitous prickly pear, to the petite clusters of fragrant blooms that blanket hedgehog cacti, and even the picture-perfect plate-size flowers of the Argentine giant that make a brief appearance as the sun begins to set — wildflowers also add dazzling drama to the desert landscape.
The first signs of color begin to appear at lower elevations around mid-February, with peak bloom viewing occurring around Tucson and Phoenix by mid-March. Park lands, botanical gardens and even roadsides explode with carpets of eye-catching beauty.
Whether you're hiking, taking photographs or just heading out for an afternoon drive, the following destinations are just a few of the many places around the state where wildflowers can be viewed and enjoyed.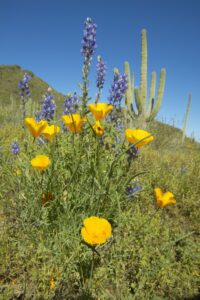 Picacho Peak State Park
One of the best spots to see wildflowers in Arizona, this Sonoran Desert destination about 40 miles northwest of Tucson offers several hiking trails lined with vibrant blooms. Vibrant yellow Mexican poppies are on full display. And golden desert marigolds, pink penstemons, white desert chicory, purple desert cosmos and yellow fiddlenecks combine with blooming cacti to create a rainbow of color that will reward visitors. Climb to the summit of the 1,500-foot-tall namesake rock formation for stunning 360-degree views.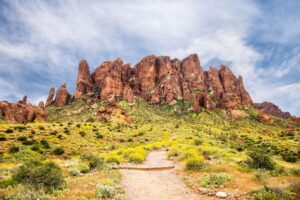 Lost Dutchman State Park
About two dozen species of wildflowers have been documented at this popular location in the western Superstition Mountain Range. Poppies and brittlebush blanket the mountain in wetter years, while desert hyacinth, chuparosa, and storksbill line hiking trails. Globemallow, scorpionweed, fairy duster, lupine and jojoba add to the painted landscape. The park offers ranger-guided wildflower hikes throughout March.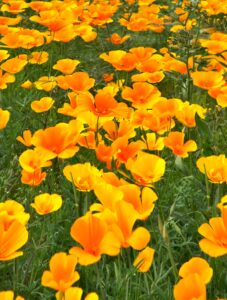 South Mountain Park and Preserve
Plenty of visitors flock to this mountainous region just minutes from downtown Phoenix for some of the most easily accessible hiking trails in the Valley. Every spring, the hills are transformed into a sea of gold that extends as far as the eye can see. Mexican poppies, small-blossomed bladderpod, creosote, fiddleneck and brittlebush climb the sloping terrain. The 7-mile-long Bajada Trail is one of the best wildflower hikes in the city, with sweeping panoramic views of downtown Phoenix and the surrounding Valley.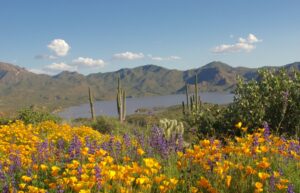 Bartlett Lake
Golden poppies and purple-blue lupine complement the sparkling azure waters of this desert mountain lake that is about 48 miles northeast of Phoenix. To see the best of Bartlett Lake's blossoms, head to Jojoba Trail, a 1.3-mile route that stretches through fields of flowering ocotillo cacti, blooming succulents, brilliant red chuparosa and Mexican poppies. Flower peepers also can drive the scenic road to Rattlesnake Cove, where rare white poppies frequently are spotted.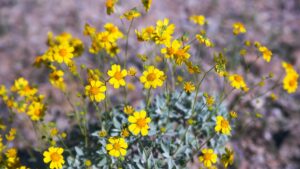 Organ Pipe Cactus National Monument
While the night-blooming creamy white flowers of the park's eponymous cactus are omnipresent in this southern Arizona biosphere reserve — it's the only place in the U.S. where the organ pipe cactus grows wild — the more than 300,000 acres burst forth with color each spring. Poppies, lupine and desert marigolds are plentiful. Also look for smaller varieties, such as purple owl's clover, yellow brittlebush, pink feathery fairy duster, and orange globemallow.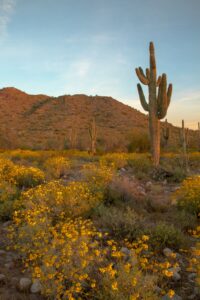 White Tank Mountain Regional Park
Peak blooming season can occur as early as the beginning March, so you may want to make this protected area in the West Valley your first stop on your wildflower tour. Poppies, lupine, desert lavender, globemallow, brittlebush, wild geraniums, buckwheat, fleabane and combseed decorate the desert floor. Rainy winters bring the rare appearance of the ajo lily, which features fragrant, large white flowers.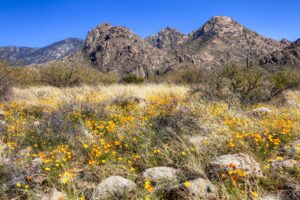 Catalina State Park
Located minutes from downtown Tucson on the northern slopes of the Santa Catalina Mountain Range, this park offers a plethora of outdoor activities, including bird watching and wildflower viewing. More than 150 species of birds call the park home. And dozens of varieties of colorful spring flowers bloom from late March into April. Poppies, lupine and desert chicory are common. They're joined by brittlebush, fiddleneck, scorpionweed, fairy duster, purple owl's clover, Parry's penstemon and many others.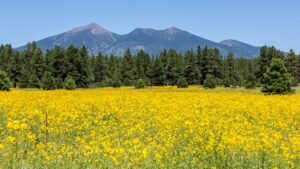 Flagstaff
At nearly 7,000 feet above sea level, Flagstaff loses its winter chill later than Arizona's southern cities. Blossoms can continue through the end of June. Late July through mid-August is peak season for prairie sunflowers. For the quintessential Instagram-worthy blanket of gold, head to the intersection of U.S. 180 and Schultz Pass Road, just north of town. The vast field of flowers is framed by the San Francisco Peaks. Also look for lupine, thistle, globemallow, red yarrow, calliopsis and fleabane.