Writer Joseph J. Airdo // Photography Courtesy of Arizona Musicfest
Four-time Grammy Award-winning artist and Nashville Songwriters Hall of Fame inductee Rosanne Cash believes that music serves a far more vast purpose than just entertainment.
"It reveals us to ourselves," she says. "It gets us in touch with our own feelings that are sometimes buried very deep. It can release heartache and even trauma. It can heal. It can provide a pathway to the future. It gets us in touch with that experience of things being bigger than us. It is all of those things. It is not just about entertainment."
Having previously headlined Arizona Musicfest in 2015, Cash will take the stage Monday, March 27 at Highlands Church in Scottsdale, performing a selection of songs from a music career that spans four decades.
"I am going to be playing a lot of songs from my entire catalog — going back 40 years and up to the present," says Cash, noting that she has developed a deeply significant long-term relationship with so much of her music. "I remember who I was when I wrote some of these songs like 'Seven-Year Ache' and 'Blue Moon with Heartache,' which was a young girl, and that is not who I am anymore.
"I remember the stages of my life in which I have sung them. I mean, I sometimes even think, 'This could be one of the last few times I ever sing this song that I wrote more than 40 years ago. And that takes on a real poignancy for me. Oddly, I am not 25 anymore and I am not going to be going on tour that much after this spring, so I am taking every moment as really precious when we are out performing. And this one is going to be really special."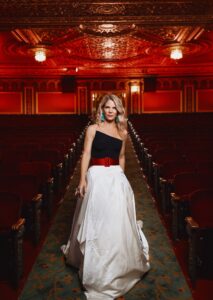 Taking the Torch
Arizona Musicfest's executive and producing director Allan Naplan is beyond thrilled to be able to bring Cash back to the Valley this spring. Citing her impressive career that transcends genres, from Americana and country to pop, he says that the artist is so much more than just the incredible music that she sings.
"Rosanne Cash is the voice of America," Naplan explains. "When she is not strumming her guitar and singing songs of deep personal reflection, she is this keep observer and thinker about the role of music in culture. Certainly influenced by the role that her father played in American culture, she has really taken the torch of being a great voice — both spoken and singing — of the role of music in America."
Cash believes that torch is simply part of her DNA and is proud of both the legacy she inherited from her father and the one she has forged for herself. Even more importantly, she is dedicated to using her voice to benefit causes that are close to her heart — such as anti-gun violence, children and artists' rights.
"To me, it all comes back to the concept of tithing," the singer-songwriter explains. "You give part of your energy, yourself, your money and your time to send a ripple out into the world that might help people and make things better."
Cash's appearance as part of Arizona Musicfest is therefore especially resonant for the performer, as revenue from ticket sales — like that of all concerts produced by the nonprofit organization — benefit a variety of music education programs throughout the Valley.
These programs, which are provided at no charge to area schools, include Musicfest Strings, Musicfest Mariachi, Musicfest Winds, Musicfest Strummers, Music and Sound/Found and Around, Musicfest Jazz and The Music of Arizona — the organization's signature multicultural program.
Meanwhile, Musicfest's Young Musicians Competitions, Young Musicians Performance Series and the Musicfest College Scholarship Program serve the finest young musicians in the Valley, while Music Alive! — a unique lifelong learning and creative aging series — features dynamic programs for the community's older adults.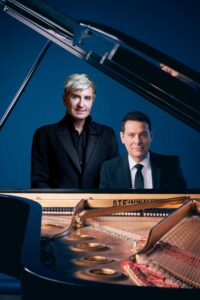 Star-Studded Spring
As if Cash's appearance were not impressive enough, the back half of Arizona Musicfest's spring season is studded with several other stars eager to entertain Valley audiences.
Naplan says that, among the most highly anticipated performers, are Michael Feinstein and Jean-Yves Thibaudet — who will be sharing the stage for the first time Sunday, March 5 in an innovative program for two pianos.
"We feel very lucky that they were interested in doing Arizona Musicfest," Naplan adds. "They will be performing songs from the Great American Songbook, including some hidden gems from George Gershwin and Cole Porter that are not as well known as some of their greatest hits.
"Michael is the dean of the Great American Songbook. Jean-Yves is just an amazing pianist of classical repertoire, but he is also a huge fan of this repertoire. So this is him letting his hair down, and really having a great time with his friend Michael.
"Having these two outstanding musicians from two different worlds coming together to celebrate some of the greatest music of all time is going to make for a very exciting concert."
Following a trio of performances featuring the Festival Orchestra — including one for which it is joined by the U.S. Naval Academy Glee Club — the acclaimed Zukerman Trio will on Sunday, March 19 present an unforgettable afternoon of musical mastery.
Broadway's leading lady Kelli O'Hara and Latin musician Tito Puente, Jr. will then separately take the stage Tuesday, March 21 and Friday, March 31, respectively, with a young musicians spring concert sandwiched in between the two on Sunday, March 26.
"On Monday, April 3, we are bringing back Chris Botti, who has been a megastar at Arizona Musicfest," Naplan says. "We have easily sold out his last two performances here, so we are expecting no different this time. He always puts on just a truly phenomenal performance for our audiences."
For more than two decades, the Grammy Award-winning master trumpeter and composer has amassed a spectacular variety of honors — including multiple Gold and Platinum albums — to become the nation's largest-selling instrumental artist.
"He first came into pop culture notoriety because he was the trumpeter for Sting," Naplan adds. "He then launched his own career and has had such a phenomenal one at that. He lives in the jazz world, but also crosses over into the pop world, so there is wonderful variety to his concerts.
"He also brings in guest soloists — such as an operatic tenor and a renowned violinist. Chris Botti could just stand in front all night long, and it would be terrific. But he showcases all of his bandmates, who are all phenomenal musicians, and that makes for a really exciting evening."
On Tuesday, April 11, The Folk Legacy Trio — featuring former members of the Kingston Trio, The Limeliters and The Diamonds — will perform a concert of beloved songs from the 50s, 60s and 70s. Tributes to Aretha Franklin and the Doobie Brothers will close out Arizona Musicfest's 32nd season on Monday, April 17 and Saturday, April 29, respectively.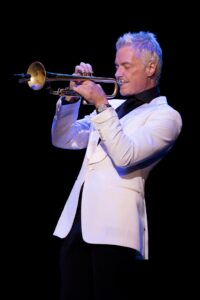 'Time is the Most Precious Thing'
Speaking about her desired legacy, Cash says that she wants to first and foremost be remembered as a good wife and mother.
"I also want to be remembered as someone with integrity; who did not just look at what the marketplace had and tried to recreate what was successful, but who kept digging, kept working and kept asking questions," the singer-songwriter notes. "I want to be remembered as someone who was curious and loved the planet, loved my life and loved the world."
She adds that her music career has given her inroads into parts of herself that she did not even know existed.
"It has given me compassion," she explains. "It has given me an understanding of what drives people. It has given me an understanding that everyone suffers — and that a lot of people hide it under a veneer of integrity and cheerfulness.
"That is deeply moving to me. I work in the public sphere. I get a lot of letters from people who share very intimate things with me. And it is humbling to realize that everyone has a story. Everyone hurts about something.
"It has also given me access to friends who I never would have had; other musicians with whom I have gotten to work. It is this whole creative realm that gives me so much joy."
Quoting her friend, visual artist Maira Kalman, Cash concludes that "time is the most precious thing."
"I am very aware that every time I step on stage with that particular audience, it will never happen again; that particular configuration on that day with that group of people and that chemistry where we are together. And I will be present for whatever that is."
Rosanne Cash
Monday, March 27 // 7:30 p.m. // Highlands Church // 9050 E. Pinnacle Peak Road, Scottsdale // $62+ // azmusicfest.org