Writer Joseph J. Airdo
Photography Courtesy of Tippi Hart
[dropcap]F[/dropcap]ountain Hills Theater's artistic/technical director Peter J. Hill knows that although Christmas is often referred to as the most wonderful time of the year, it is also among the most stressful.
"Every year, we deal with the stress of the holidays," Hill says. "This year is going to be worse than ever; well, maybe not worse than last year. But we are still dealing with a pandemic, we are still dealing with supply shortages and we are still dealing with labor shortages. If we do not laugh, we are going to cry. So we might as well laugh."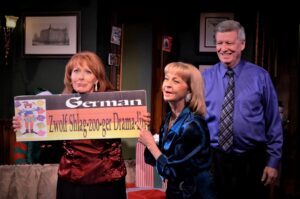 It is with that philosophy that Hill decided to revisit an original production of a show Fountain Hills Theater presented three years ago called "12 Days of Christmas," which featured a dozen comedically relatable sketches centered around the holidays. Adding a new sketch — and replacing one that fell flat the first time around — Hill's newly named "13 Days of Christmas" will play Dec. 3–19 at the theater.
"Audiences can expect a lot of fun and a lot of holiday music," Hill says. "It is a series of 13 individual scenes all tied together by holiday songs. Some of them are very familiar and some of them are wildly unique that you have never heard before in your life. For example, we all know that a young Irving Berlin wrote 'White Christmas,' which is one of the most famous Christmas songs ever written. Of course, he was Jewish — so we sing it in Yiddish."
Among the show's now-baker's dozen sketches is one in which a very nervous husband enters a lingerie store in order to buy his wife something extra special for the holidays and another that addresses the time-honored tradition of cutting down a Christmas tree.
"Everybody has that dream of how wonderful it is to go out and cut down a Christmas tree," Hill says. "But we play it more for the reality of the situation."
Hill insists that none of the sketches are autobiographical. However, audiences are sure to find bits and pieces of their own childhood scattered throughout "13 Days of Christmas," which aims to be as touching as it is humorous.
Experience
13 Days of Christmas // Dec. 3–19 // Fountain Hills Theater // 11445 N. Saguaro Blvd., Fountain Hills // $35 // 480-837-9661 // fhtaz.org