Writer Joseph J. Airdo
Photography Courtesy of Phoenix Theatre Company
[dropcap]H[/dropcap]aving last presented "Million Dollar Quartet" two years ago, the Phoenix Theatre Company found stellar success in the musical that sees icons Elvis Presley, Johnny Cash, Carl Perkins and Jerry Lee Lewis come together to cut a collaborative album in 1956 at Sun Records Studios in Memphis.
The company, therefore, jumped at the opportunity to offer Arizona audiences the world premiere of the musical's holiday-themed follow-up — "Million Dollar Quartet Christmas."
"It takes place right after the first one ends," says Michael Barnard, producing artistic director for the Phoenix Theatre Company. "They are still in the studio at Sun Records. They get to talking about the holidays, what those mean, what they meant in the past and what they mean to the future and that subsequently leads into some songs about the holidays."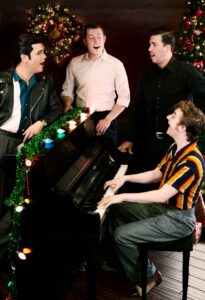 Arizona audiences will be among the first to see the sequel, which will play through Jan. 2, and the only ones who have more than a month to do so this year.
"They are rehearsing two different casts at the same time," Barnard explains. "One will go on tour and one will stay here. The theater built two identical sets and the touring company paid for both so that when we are finished with our production, they will take our set to put out two touring companies in subsequent years. After all, 'Million Dollar Quartet Christmas' can only play during the holidays therefore this will give them the opportunity to play in more markets down the line."
Barnard adds that although shows like "A Christmas Carol" and "The Nutcracker" are classics that play each year for a reason, he is overjoyed to offer audiences something new for the holidays.
"Because our subscribers and single-ticket buyers fell in love with 'Million Dollar Quartet,' there is a sense of familiarity about these characters that they are going to see," he says. "But there is also the anticipation and excitement about seeing something new. I think it is kind of a win-win in that respect, where you get a little bit of nostalgia and also get something new and exciting."
Everyone's favorite Christmas songs will be featured in the show, including "Blue Christmas," "Silent Night" and "Rudolph the Red-Nosed Reindeer" — all presented in the same style that the four music icons performed them more than six decades ago.
"I think that the audience will totally be left in the holiday spirit and really feel like they personally know Elvis, Johnny, Carl and Jerry Lee by the end of it," Barnard says.
Experience
Million Dollar Quartet Christmas // Through Jan. 2 // The Phoenix Theatre Company // 1825 N. Central Ave., Phoenix // $55+ // 602-254-2151 // phoenixtheatre.com