Writer Shannon Severson // Photography Courtesy of Keeler's Steakhouse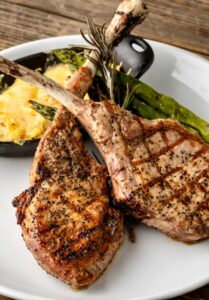 This month, Taste of Cave Creek makes its triumphant return to Stagecoach Village with a wide array of the community's best sights, sounds and flavors.
Taste of Cave Creek chairman Patty Pollnow says that she expects more than 30 restaurants and 21 local breweries to participate in this year's two-day culinary festival, making it the largest in the event's history. Although the property and events manager for Stagecoach Village has worked on the event for many years, this is the first time that the shopping and dining district will be fully responsible for producing the celebration.
"Every year we look forward to this great event," Pollnow says. "Honestly, I think my favorite part is seeing all our friends and neighbors coming out and enjoying our awesome local restaurants."
On the evenings of Oct. 18 and 19, attendees can wend their way through Stagecoach Village, enjoying the beer garden area, a live band — 3rd & Long — playing in the central gazebo, sponsor and charity booths and restaurants offering tastes of their culinary creations for $4–$6 each.
"Cave Creek is undoubtedly one of Arizona's most dynamic and diverse culinary hot spots," Pollnow says.
Those hot spots hail from the environs of both Cave Creek and Carefree, making it convenient and fun to try lots of flavors in one visit.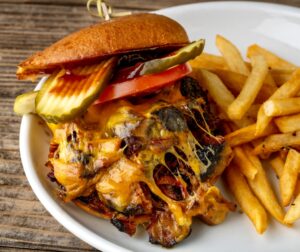 Introductions & Old Friends
With expected crowds of 4,000–5,000 guests per day, Taste of Cave Creek has proven to be a fantastic spot for longstanding favorites like The Grotto, Keeler's Steakhouse and Z's House of Thai to greet regular patrons and expand their reach to new ones. The festival is also the ideal venue for new eateries and beverage purveyors to introduce themselves with a splash.
One new addition to the community that's seizing the moment is Cryin' Coyote Barbecue, a family business that recently opened its doors in Las Tiendas on the main drag of town. Owner Cody Edgin is a native of Cave Creek and says he was excited to start a business here in his hometown with his wife and four children all working together.
"I've been in restaurants my whole career, and it was always my vision to come back to Cave Creek and open up a family-owned restaurant," Edgin says. "It was only natural that after we opened, we would be involved in the preeminent food event here in Cave Creek. We're very excited to be allowed the opportunity to be a part of this community event."
Community Support
Presenting sponsors ABC15 and Sanderson Ford and Sanderson Lincoln will lend important support to the festival as well as present their Operation Santa Claus Charity Drive.
Attendees may bring a new toy, children's clothing items, packaged food or a monetary donation on both evenings of the event. Donations will benefit several worthy local charities — St. Mary's Food Bank Alliance, The Southwest Autism Research and Resource Center, Military Assistance Mission and Special Olympics Arizona.
Locally, several teams and clubs of students from Cactus Shadows High School have volunteered to lend a hand. It's truly a community effort, and Pollnow says that involvement from the high school is always a highlight of putting together the event.
"We are enormously proud to partner with Sanderson Ford and Sanderson Lincoln to showcase a mix of the best and brightest chefs and restaurateurs," Pollnow explains. "A star-studded collection of sommeliers, wine, beer and spirits experts round out the Taste of Cave Creek. Paired with incredible live music, this unforgettable event has become a highlight on Cave Creek's calendar."
Taste of Cave Creek
Oct. 18 and 19 // 5–9 p.m. // Stagecoach Village // 7100 E. Cave Creek Road, Cave Creek // Adults $10 // Youth Free // tasteofcavecreek.com