Writer Joseph J. Airdo // Photography by Loralei Lazurek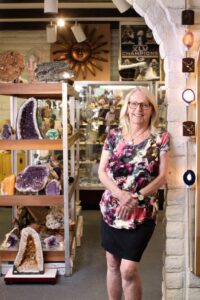 Fifty years ago, Wisconsinites Robert and Dorothy Vander Leest moved to Arizona in search of a new, warmer home. Finding this in Carefree, Robert began managing Spanish Village — one of the first buildings constructed in the small, picturesque town, on the corner of Ho and Hum roads.
"They had this empty location that was a little bit out of the way, down on the end," says Barbara, the couple's daughter who was attending graduate school in Wisconsin at the time. "My dad was an old-fashioned rock hound and had been to rock shops in his travels all over the country. They were typically dirty, crummy places, and he envisioned having more of an upscale one. So my parents decided to open a rock shop in that empty space."
The couple founded Desert Treasures on Oct. 6, 1973, with an initial inventory that consisted of pieces from Robert's own collection as well as jewelry and other desert-oriented gifts curated by Dorothy. Following Robert's passing in 1977, Dorothy continued to operate the store, becoming partners with Barbara in 1995.
"I moved to Arizona because I was unemployed and my mother had talked me into opening a store of my own," says the former archeologist. "I continued to look for work in my field, but I could not find any because there were so many qualified professionals looking for college teaching positions at that time. My mother eventually bought me out. We combined our stores and remained partners until she passed away in 2007."
Today, five decades after her parents founded Desert Treasures, Barbara continues to operate the store, which is furnished with an exceptional selection of minerals and fossils — including petrified wood, amethyst, citrine, quartz, geodes, crystals, desert roses and hundreds of other specimens. The store is also stocked with a selection of decorator minerals to accent your home or office, as well as acrylic and wooden stands for displaying them.
Other notable items among Desert Treasures' interesting and eclectic mix of inventory include an assortment of gemstone jewelry in turquoise, amethyst, amber and other semi-precious stones set in sterling silver. Earrings, pendants and pins with Southwestern motifs round out the jewelry selection in the store, which also sells T-shirts, salsas, jellies, hot sauces, decorator pieces, books, souvenirs and hand-carved ironwood sculptures from Mexico.
"Our customers include many faithful second- and third-generation patrons, as well as crowds of Arizona visitors, who flock to Desert Treasures for our excellent selection of quality minerals, crystals, fossils and gifts at reasonable prices," says Barbara, noting that the store is open every day of the year except for Thanksgiving and Christmas. "Many of our customers return year after year, knowing that our prices are fair and reasonable."
On Friday, Oct. 6, Desert Treasures will host a grand celebration in honor of its 50th anniversary in the community. In addition to sales and specials on merchandise, customers can enjoy refreshments, raffles and more.
"Back in 1973, as far as shopping opportunities, there was the Fifth Avenue area in downtown Scottsdale and Carefree," Barbara says. "There was nothing — literally nothing — in between. The area has built up and changed so much since then. So it is a lot more challenging now because tourists and visitors have many other options than they did in the past, but we're still going strong and hope to be around a while."
Desert Treasures 50th Anniversary Celebration
Friday, Oct. 6 //4–7 p.m. // Historic Spanish Village // Suite 11 // Free // 480-488-3782 // deserttreasuresaz.com