Writer Shannon Severson // Photography Courtesy of Laura Ingram
North Scottsdale resident and luxury realtor Laura Ingram has played competitive golf since the age of 9. She's represented the University of Arizona as a student-athlete and traveled the world from tee to shining tee.
The Arizona native has combined her love of golf with her desire to benefit children's charities as one of the leading organizers of the Phoenix Children's 24th annual golf tournament on Nov. 17 at Troon North Golf Club in Scottsdale, which coincides with the hospital's 40th anniversary.
"I saw a good alliance between [my background] and this invitational event," Ingram explains. "Children's causes are near and dear to my heart. I've had several close friends who have had huge journeys with Phoenix Children's Hospital, and I've seen the impact it makes on people's lives. So I married the two and figured out where my energy could fit on the committee."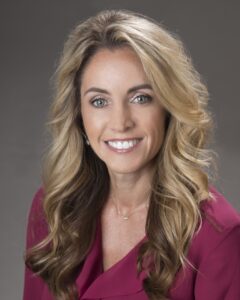 Giving On Par
The Hope Fund is this year's beneficiary; its role is to provide aid for new programs at Phoenix Children's and purchases of essential research, while addressing the needs of patients in real-time and funding pioneering research.
Over the years, the tournament has raised more than $9.3 million. Last year's fundraising total of $1.1 million has already been surpassed before the first swing is taken by one of the expected 288 participants. This year's target is $1.3 million.
Per usual, this year's theme will be a surprise, but participating golfers can anticipate early morning breakfast and drinks on the driving range, a raffle and silent auction and a shotgun start with a scramble format. Throughout the day, there will be entertainment and tastings available from local restaurants and various beverage purveyors.
An after-party rounds out the night with dinner, an awards ceremony and the announcement of raffle and silent auction winners. A mobile bidding site makes it easy to bid, purchase raffle tickets and check on the status of bids throughout the day.
"The Phoenix Children's Golf Tournament is an integral part of our fundraising events," says Tim Harrison, Phoenix Children's Foundation's vice president of corporate partnerships and special events. "Funds go directly to support our patients. With such a positive and upbeat experience, it makes sense why so many people want to join us."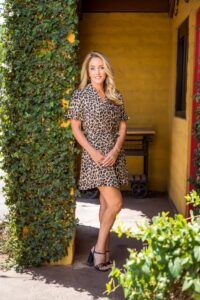 Party On The Green
When Ingram approached Phoenix Children's Foundation's senior vice president and chief development officer, Steven Schnall, about joining the 24-person committee, she had two big ideas. The predominantly male committee could use some female input, and she had some innovative ways to boost fundraising with a fun, low-pressure approach.
"[The committee was] very welcoming," Ingram says. "I presented the idea for party holes. [Arizona State University Women's Golf Coach and Arizona Golf Hall of Fame inductee] Missy Farr was great to lend us a hand. That first year, we raised over $20,000 on one hole in one day."
Farr first sent two of her players to be stationed on specific, sponsored party holes — complete with DJ, auctioneer and a celebratory atmosphere. The tradition continues with golfers donating $100 to the hospital in exchange for having one of the talented young women take the first drive on their behalf. For a $500 donation, they can skip the shot and get credit for a hole-in-one. The idea took off, the college athletes enjoyed benefitting a worthy charity and the tournament was enhanced by the new twist.
"That first year, I was able to get $500 from every foursome except one," Ingram recalls. "My partner, who was working on the other party hole, was pretty close; but we had a fun competition. The whole team we have each year is phenomenal. Everybody really chips in and does their part,"
Friendly competition, an entertaining atmosphere and a shared mission have served to raise awareness in the community in addition to needed funds.
"Laura is directly responsible for adding a party feel to the event," Harrison says. "We are endlessly grateful for the committee and all the efforts put in to make this the success it is."
There are also patient holes where golfers can interact with the young people who directly benefit from the range of services that Phoenix Children's provides.
Ingram says all the hard work has paid off — not just for Phoenix Children's Foundation, but also for her, personally.
"It couldn't go to a better cause," Ingram says. "Every dollar supports these kids and they don't turn any kids away. It's our job to give these kids the opportunity to be seen and to know the community backs them."
Her involvement with the tournament and foundation has deep, personal meaning to Ingram. She says it's been very rewarding to be involved in the cause.
"Even though I'm helping the children, this has done more for me than I ever feel I could give them," she says.
---
Phoenix Children's Golf Tournament
Friday, Nov. 17 // Troon North Golf Club // 10320 E. Dynamite Blvd., Scottsdale // pchgolf.org