Writer Shannon Severson // Photography by Loralei Lazurek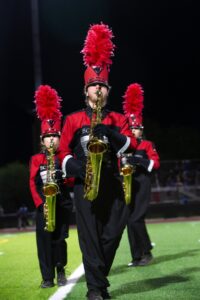 When the practicing and on-field performances of fall marching band season conclude, the hard-working students and volunteers are still going strong. This year, Boulder Creek High School Band Boosters will present its first-ever Winter Festival.
"The community is very good to us, and we recognize that," says Carrie O'Connor, Winter Festival chair and alumni band parent. "We hope this event is a benefit to the community."
Scheduled for Saturday, Dec. 2 at Boulder Creek High School in Anthem, the Winter Festival will kick off with a pancake breakfast featuring a visit from Santa Claus. Festival attendees can also check things off their holiday gift list as they peruse the offerings of local artisans, gift and craft vendors.
Musical performances will occur throughout the morning by students from after-school music ensembles, as well as by Rhapsody School of Music and Musical Theatre of Anthem ensembles. Raffle tickets will be sold for baskets of goodies and a toy drive will benefit the Salvation Army.
Boulder Creek High School Band Boosters is a nonprofit organization that endeavors to raise up to $25,000 per year to help bridge the gap between the school budget and music program needs. Among the many things this student- and parent-led group helps to fund are instruments, props, stage items, electronics, transportation, uniforms and on-site meals for the young musicians during long days.
"Our student leadership is second to none," O'Connor says. "I get emotional about them. They are fabulous children and will be great humans as they grow into adulthood. It's good for the kids to see us giving back at the Winter Festival. The students have organized food drives for St. Vincent DePaul and Christmas Angels for the last several years; they are very willing."
O'Connor's own children graduated from the program, but she and many other band alumni — parents and former students alike — have answered the call to volunteer alongside current booster parents and students to lend support.
"It's a huge undertaking and the current board and parents do so much during the competition season," O'Connor says. "I recruited a bunch of alumni parents and students, and they've agreed to join because the program is so important.
"Band is not just playing an instrument. These kids work so hard together. They learn about responsibility and teamwork. These kids are like a family."
---
Boulder Creek High School Band Winter Festival
Saturday, Dec. 2 // 8 a.m.–Noon // Boulder Creek High School // 40404 N. Gavilan Peak Parkway, Anthem // Admission Free // Pancake Breakfast $10; youth and group discounts available // bchs.band/festival