Writer Joseph J. Airdo // Photography Courtesy of Vermillion Promotions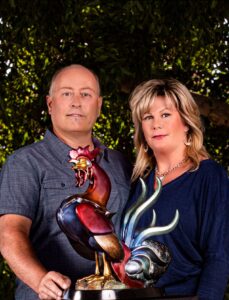 Fine art and wine connoisseurs this fall have a new festival at which they can search for their next favorite work of art while sipping the best chardonnays and cabernet sauvignons from Arizona's fabulous wine regions.
Set for Oct. 29 and 30, the inaugural Kierland Fine Art and Wine Festival will feature more than 100 world-class artists, wineries, trendy food concessions and main stage entertainment. The unique outdoor gallery will boast a collection of original art that represents a wide variety of cultures and artwork in a range of subject matter and media.
The festival is just the latest addition to a long string of Arizona events produced by Vermillion Promotions — which also hosts festivals in Cave Creek, Litchfield Park, Scottsdale, Tubac and Tucson.
Vermillion Promotions founder Candy Vermillion says that each of the festivals has become a signature event in its respective city or town, with the company's team of event professionals, artists, friends and family closely collaborating with local businesses, nonprofit organizations and sponsors to form long-lasting partnerships.
"One of the things that set us apart from other art festivals is the festival experience that we create," says Vermillion, emphasizing the excitement that comes with creating an event that transforms a city street, park or facility into a vibrant social and economic hub. "We start with beautiful venues and great artists, always striving to bring gallery-quality art along with unique affordable original works of art — so there will be something for everyone."
Vermillion believes that the new location provides the ideal environment for the caliber of festivals for which her company is responsible, as Kierland Commons artfully blends shopping, dining and entertainment. The mixed-use oasis is home to some of the most desired lifestyle brands as well as the region's most alluring restaurants and nightlife.
Attendees of the inaugural Kierland Fine Art and Wine Festival will find everything from thought-provoking paintings and spectacular sculptures to sparkling hand-blown glass and one-of-a-kind handcrafted jewelry at the event. To enhance the experience, Vermillion Promotions has invited a number of Arizona wine growers, who will be bringing their very best selections for attendees to taste and experience.
A variety of delectable sweets, trendy food concessions and refreshing beverages will further complement the festival experience, as will the upbeat sounds of live musical entertainment — including Daniel Ryan Harris, Sandra Bassett, the Motown Revue and more.
"Our events have attracted loyal patrons that follow us from event to event," Vermillion says. "I am always amazed to see familiar faces in the crowd — from Colorado to Tubac. The art community is like family, and there is nothing more rewarding than connecting artists, patrons and local businesses."
Vermillion Promotions will also host its illustrious Stagecoach Village Fine Art and Wine Festival Oct. 21–23 at the crossroads of the towns of Cave Creek and Carefree.
Experience
Kierland Fine Art & Wine Festival // Oct. 29 and 30 // 10 a.m.–5 p.m. // Kierland Commons // 15205 N. Kierland Blvd., Scottsdale // Free // vermillionpromotions.com