Writer Joseph J. Airdo // Photography and Renderings Courtesy of ICON at Silverleaf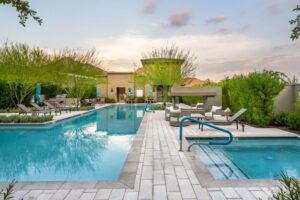 Arizona has long been known for its magnificent mountain views and warm weather that make social and recreational activities such as golfing, hiking and outdoor shopping enjoyable experiences year round. Those enviable traits have created a demand from homebuyers — especially those seeking a lavish lifestyle — that is quite possibly the strongest in all of the U.S.
"We are finding more and more clients looking for upscale properties in private communities," says Laura Lester, sales associate for Silverleaf Realty.
Tucked into the canyons of the McDowell Mountains and surrounded by the McDowell Sonoran Preserve, Silverleaf is one such private community that provides its residents with an oasis of opulent offerings — from an 18-hole championship golf course that winds along 7,322 yards of inspiring terrain to an array of health, wellness and recreational amenities.
After a successful sell-out of the residences within its first phase, sales are now underway at the second phase of ICON at Silverleaf — the newest development within North Scottsdale's renowned DC Ranch community.
Silverleaf Realty associate broker Deborah Beardsley notes that ICON is Silverleaf's last new development.
"We offer a unique and highly desirable lifestyle in a pristine desert environment," Beardsley says. "I have been a part of this community since the beginning and am excited to be a part of this final offering."
Nina Joki — director of marketing for Legacy Real Estate Partners — adds that the second phase of ICON at Silverleaf is underscored with higher quality materials and options as well as new buildings that provide premium view corridors.
"From the owners, architect and builder to the designers and sales team, the players are all different from the initial phase of this project," Joki says.
Expertly blending upscale residential services with a tranquil setting that boasts artfully designed structures harmonizing with the environment, ICON at Silverleaf will include eight four-story buildings upon its completion.
Covered parking garages — pre-wired for electric car chargers — are located on the first floors, while the fourth-floor 6,288-square-foot penthouse plan offers grandiose views of the surrounding 4,600 acres of open space that are unlike anywhere else in Arizona.
Each ICON at Silverleaf home includes a selection of carefully curated designer finishes. Buyers receive design consultation with an award-winning, published designer, who guides them through the process of selecting finishes and navigating available upgrades.
Top floor owners also have the option to finish their rooftops with their own private pool and outdoor living space. Elevators are semi-private with a designated vestibule in each plan, ensuring ultimate exclusivity and convenience.
Of course, the lavish home experience is only a part of the private community's prodigious appeal, as ICON at Silverleaf also incorporates a bevy of health, wellness and recreational amenities into its spacious setting.
In addition to its own spectacular resort-style pool and spa, ICON is within walking distance of The Village Health Spa as well as The Silverleaf Club — a golf and social membership club boasting exquisitely appointed interior spaces, wondrous outdoor courtyards, fine and casual dining areas and endlessly inviting environs for residents to gather in friendship with their neighbors.
The development also sits adjacent to the Canyon Village commercial center as well as a variety of entertainment, dining, shopping and cultural destinations.
Fresh, lively and flowing with modern layouts and expansive open spaces as well as plans designed to showcase incredible views by day and by night, ICON at Silverleaf is the type of North Scottsdale development that ensures this mountainous region we so proudly call home firmly maintains its identity as one of the most coveted places to live in the entire country.