Writer Joseph J. Airdo // Photography Courtesy of Ironwood CrossFit and Fitness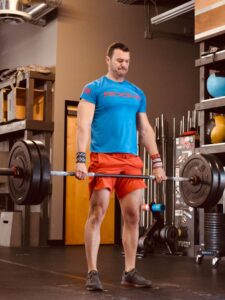 When new members walk into Ironwood CrossFit and Fitness, they expect to take part in a core strength and conditioning program designed to expose them to a broad and inclusive fitness protocol.
They expect to receive strength training, weightlifting, conditioning, gymnastics, kettlebell and many other disciplines that are combined in a constantly varied, high-intensity protocol that focuses on promoting increased work capacity through functional movement. They expect group-based fitness one-on-one personal training and habit-shifting nutrition plans. And they receive every bit of it.
However, it is what they might not expect to receive that owner Tracy Seman believes is the reason the Anthem gym has thrived for the past 10 years.
"It is the human connection.," Seman says. "You show up, you start talking to people, the coach starts making you warm up and, before you know it, you are like, 'Oh, wow! I just worked out.! That was great! I am so glad I came!' It can be the best hour of your whole day."
Though most members join with the intention of increasing their muscle strength and stamina, they leave the very first day having increased their emotional strength and sense of community. Those benefits have never been observed or appreciated as strongly as this past January, when members learned of a tragic loss to their gym family.
"We found out while we were here," Seman says. "It was impactful. We could hug and console one another. In the same week, one of our members had her third baby. She has been coming here since before she had her first — and now she has just had her third. There are highs and lows. And we go through them all together. So, yeah, we work out together; but it is the friendships and the connections that make all the difference."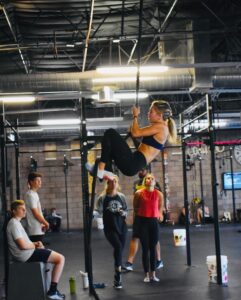 No Pain, No Gain
Having lived in Anthem since 2001, Seman was a personal trainer at another gym as well as the community center before opening Ironwood CrossFit and Fitness in 2013.
"On day one, we had 41 members," says Seman, noting that networking was key to the gym's instant success. "I had lived here for 12 years, I had been a personal trainer for many of those years, I was part of running and triathlon groups — I just knew a lot of people and I think that definitely helped me."
Over its first seven years, Ironwood CrossFit and Fitness's membership had increased to nearly 200. Unfortunately, 2020's COVID-19 pandemic halted that growth.
"But we survived those lockdowns because everyone was so supportive," Seman says. "I mean, it is not just a gym membership. It is a family. It is people bonding and connecting. And they did not want to see us close our doors. So through those lockdowns, people were amazing about paying their memberships even though we could not be together. We loaned equipment out so that people could continue to work out at home. We gave them instructional videos and did what we could to still feel that sense of community."
In fact, it was not until the lockdowns were lifted that Ironwood CrossFit and Fitness felt the effects of the pandemic.
"A lot of our members came back but there were a lot of people who were still hesitant to do so," Seman explains. "We lost a good 50 people who did not come back or are only now slowly starting to trickle back in years later. But we are finally on the upswing and currently have about 170 members. We are seeing a steady stream of new faces and that makes me feel very hopeful."
Seman also attributes Ironwood CrossFit and Fitness's success to its welcoming environment.
"When you walk in for the very first time, you are made to feel welcome," she says. "Whether it is me or a coach or just another member, people immediately notice when someone new is here and greets them. I am sure that they do that at other gyms, too, but I know that we do it really well here."
And Seman believes that a family that works out together, achieves its goals together. She says that very few people can feel genuinely motivated to work out at home. Having a community of people who rally around you and hold you accountable or ask why they have not seen you in a while is key to consistency and therefore success — whether you are just starting out on your fitness journey or training for your tenth triathlon.
"You can come in here at a beginner's level, come in here and do fitness or come in here and do high-skill things," Seman says. "Whatever you are doing, you are going to get the same great workout that someone next to you is getting. They may be doing some crazy pull-ups or heavy barbells, but you are both working out at the same time, doing your own thing but together.
"And that is another difference between working out at a gym versus working out at home — even if you are doing so over Zoom. There is constant encouragement from those around you. There are people who are proud of you and congratulating you. Nobody is high-fiving you over Zoom."
And when it comes to workouts, Seman says that CrossFit is a great place to start.
"Every day is different.," she explains. "Your coach will tell you what you are doing today and it will look nothing like yesterday. In fact, we were just joking today that I have been doing CrossFit for 12 years and I still get sore. I can barely walk because my legs are so sore. It is amazing that you can do something for 12 years and still get sore."
After all, you know the old adage: No pain, no gain.
"There is no ceiling with CrossFit," Seman adds. "I feel like there is no other way to work out. I mean, I have done everything. I have done marathons, I have done triathlons, I have done traditional weightlifting — and none of the stuff that I did could be sustainable for my life. I could not keep running marathons into my 80s without being really beaten up.
"I mean, my mom comes in here four days a week and she is crushing it at 75 years old. We also have our [group-based student CrossFit] program where these kids come in and get all kinds of confidence. From little kids to seniors, everyone can do what we are doing at their own level. And it makes you stronger, it makes you more confident, you feel more healthy, your cardio is good — it just covers everything."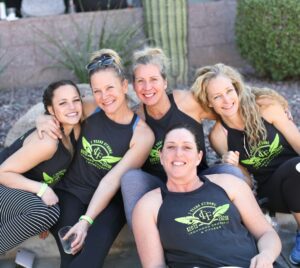 Just Get Moving
Having officially reached its decennial on Feb. 4, Ironwood CrossFit and Fitness will host an official celebration on Saturday, March 25 during which the community can gather for group workouts as well as enjoy some great food and music. There will even be a bounce house for kids.
For Seman, the past 10 years have basically flown by.
"It does not even feel like it has been that long," she explains. "But I am so grateful to all of our members and the entire Anthem community. So many of our members have been coming to [Ironwood CrossFit and Fitness] for seven, eight, nine or even the full 10 years. They are all in. And when someone new walks through our doors, they are the most welcoming people because they want that person to fall in love with what we are doing in this community as well.
"I do not really feel that this is something that I am doing. I credit it all to this community that we have built. I credit it to all of the supportive people who come in here and want everyone to love what we are doing; because it is addicting. The workouts are addicting. So come in and meet us. If you are at all hesitant, sit down and have a talk with me. I will assure you that if you come in to any class on any day, our coaches and our members will take care of you.
"If you are nervous or scared or you do not want to do something in particular or you have a prior injury, we can work around any of it and just get you moving."
Ironwood CrossFit and Fitness 10-Year Anniversary Celebration
Saturday, March 25 // 8 a.m.–1 p.m. // Ironwood CrossFit and Fitness // 41125 N. Daisy Mountain Drive, Suite 101, Anthem // 602-428-7295 // ironwoodcrossfit.com