Writer Shannon Severson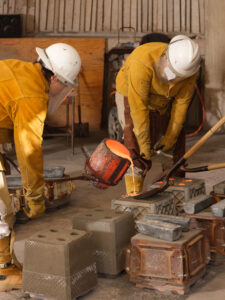 Two men — with faces shielded and bodies clad in thick leather sleeves and chaps — slowly lift a crucible from the blazing fires of an underground furnace.
It's so quiet that you could hear a pin drop; but the silence is occasionally broken by the slow, heavy breaths of the foundry workers as they carry the red hot container that holds 100 ingots of molten bronze between two giant clamps. They painstakingly pour what looks like lava into each mold. As much as caution must reign, so must speed. What begins at a liquid 2,000 degrees quickly cools and can compromise the finished product — cast-bronze wind bells that are highly sought-after.
A breeze blows through the courtyard, wending between buildings that seem like a scene from a "Star Wars" movie. The chiming of wind bells can be heard — some low and resonant, others high and tinkling, like a fairy is passing through.
This is Cosanti, an architectural treasure on the Arizona Registry of Historic Places in Paradise Valley.
The structures — including a gallery, ceramic studio and bronze foundry — are the work of Italian-born visionary architect and artisan Paolo Soleri, who first came to Arizona to study under Frank Lloyd Wright in 1947 and purchased this five-acre parcel –– the original Doubletree Ranch homestead –– with his wife, Colly, in 1955.
Today, people come from all over the world to view Soleri's work and purchase Cosanti Originals wind bells, ceramic vessels and jewelry; pieces connected to a priceless history. Fewer than 10 of Soleri's projects still survive today.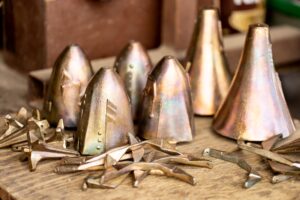 Reforming Design
The term "Cosanti" is an amalgamation of two Italian words; "cosa," which means "things," and "anti," which means "against." Soleri's movement "against things" encompassed a rejection of hyper-consumerism, a pursuit of experimental architecture and the creation of earth-cast ceramics, bronze casting, hands-on learning opportunities for students.
The couple founded the Cosanti Foundation in 1965 to advance their philosophy of "forming communities focused on living more fully with less … and with a less detrimental impact on the ecology of the Earth."
The unusual architecture at Cosanti was created by "earth-casting." Soleri, often with the help of architecture students who came from around the world, built the structures in unusual and even counterintuitive fashion: from the roof down and from the outside in.
A thin layer of concrete was cast directly onto a mound of dampened desert soil. Once the concrete was strong enough, the earth was dug out, mostly by hand with picks and shovels, but occasionally using a small-scale bulldozer. The resulting spaces make efficient use of passive solar heating and cooling, keeping the spaces relatively comfortable in all seasons.
Canvas awnings are also used throughout the property. Of course, they offer shade from the Arizona sun. But when sprayed with water, they have an evaporative cooling effect in summer and, during winter, they create a warming greenhouse effect that makes outdoor spaces more comfortable for working.
The studios, tunnels, apses, courtyards, dwelling spaces and even a pool are expressions of "arcology," another term Soleri coined to encompass architecture and ecology. Many repurposed materials, including concrete sewer pipes, were used in the construction.
The Cosanti Foundation and its contributions to the community are primarily supported by the sale of the wind bells made at the site.
"Cosanti's involvement and support of the Arizona arts community is extremely important to our mission," says Mark Johnson, the general manager of Cosanti Originals. "Since 1955, Cosanti has supported The Cosanti Foundation and other worthy organizations through the sales of our iconic bronze and ceramic wind bells."
Johnson says that Cosanti contributes to numerous Arizona nonprofit organizations annually from proceeds generated from a special line of "Cause Bell" wind bells. These bells are different from the rest in that there are additional bronze sculptures that top each bell and reflect the cause — an oak leaf for the Nature Conservancy, a whale arching its back for Save the Whales and children held in the palm of an outstretched hand for Our Children Our Future.
The causes are both worldwide and local.
"Our contribution to the Arizona Community Foundation this past year exceeded $20,000," Johnson says. "Additionally, Cosanti has supported and partnered with numerous public art groups (ie. Scottsdale Arts, Town of Paradise Valley, Phoenix Art Museum, Scottsdale Museum of Contemporary Art) and other organizations (ie. Taliesin West, Music Industry Museum)."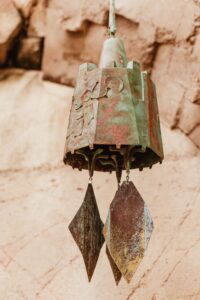 Endangered Legacy
As one might imagine, maintaining the architectural treasures at this historic site can be a challenge. There is constant — and expensive — maintenance. As the Phoenix metro area grows by leaps and bounds all around it, Johnson says the significance of the experimental architecture at Cosanti is more important today than ever before.
"Hundreds of thousands of visitors and architects from Arizona and around the world visit the site yearly," he explains. "The challenge in the coming years will be to maintain the historic structures and property while expanding access to visitors through guided tours and educational programs."
Johnson, who began his career in the corporate world and has now dedicated himself to nonprofit work, has endeavored to find new revenue streams and engender public support to prevent the historic site from falling into disrepair.
"Cosanti has been blessed by an amazing and loyal customer base," Johnson says. "However, funding our programs and maintaining our historic property through the sales of our wind bells is not a sustainable business model.
"Traditionally, The Cosanti Foundation has been reluctant to accept in-kind gifts or donations. However, Cosanti accepted its first-in-kind gift from the Carlisle Company to remediate and replace the roof on the original Doubletree Ranch homestead.
"Continued financial support is needed to update our facilities (including ADA restrooms, walkways, parking and structures) allowing more access and introducing the arts to the next generation. It is these types of partnerships that are critical to our continued success."
Open seven days per week, with the exception of major holidays, visitors to Cosanti can schedule guided tours of the site and observe live bronze pours at the foundry several times per day.