Writer Joseph J. Airdo
In the early 1950s, Ed Winkler was playing outside the front of his house as a little kid and suddenly found his attention drawn to the black 1940s-era MG TC that was cruising down the street.
"It was absolutely beautiful," Winkler recalls. "I fell in love with it and thought to myself, 'I have got to have one of those.' Well, one of them is in my garage right now."
That brief encounter jump-started Winkler's obsession with automobiles.
Chuck Stanford shares that obsession, noting that he can still remember standing knee-high to a 1957 Buick Roadmaster and being in a state of complete awe.
"Most of us are car guys from birth," Stanford says. "I studied engineering to get into the automotive business and ended up in finance, working with cars and airplanes. I have always had a love for classic cars — for their design, for their engineering and for their beauty and romance."
That design, engineering, beauty and romance will be on grand display Sunday, Jan. 22 when the Arizona Concours d'Elegance returns as the highlight of Arizona Car Week, bringing some of the world's rarest and most valuable collector cars to Scottsdale Civic Center.
The concours will invite about 90 select automobiles to be exhibited and judged, with the best among them awarded class prizes and the coveted best of show.
"We believe Scottsdale is the perfect home for this event and a great compliment to the internationally recognized auctions happening the same week in Scottsdale," says Winkler, who serves as co-director of the Arizona Concours d'Elegance alongside Stanford.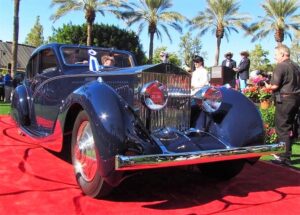 Automotive Aspirations
Ten years ago, Winkler received a call from a friend and fellow classic car enthusiast who suggested that a group get together to plan a concours d'elegance — a French term meaning "competition of excellence." The idea quickly materialized into plans and, in 2014, the first of what would become an annual event.
For four consecutive years, the Arizona Concours d'Elegance was held at the Arizona Biltmore Resort and attracted a passionate group of participants and attendees — albeit from a relatively niche segment of the community. However, resort expansions over the years led to a decrease in available space for the showcase.
In their search for a new venue, Winkler and Stanford met with representatives from Scottsdale Arts, the nonprofit organization tasked with managing and programming facilities on behalf of the city of Scottsdale. Recognizing the artistic value of the Arizona Concours d'Elegance, Scottsdale Arts invited the pair to hold their next event at the newly renovated Scottsdale Civic Center, bordered by Scottsdale Center for the Performing Arts and Scottsdale Museum of Contemporary Art.
"This partnership has really opened up our event to the entire community," Winkler says. "We have the perfect meeting of two organizations and are now able to get the word out about our event to the entire Valley of the Sun. People who have never heard of it before will come, see and understand the kinetic artistic component of automobiles — especially older automobiles."
Scottsdale Arts' director of events Jamie Prins agrees, noting that art takes many forms.
"How we experience and appreciate art is a very individualized thing," Prins explains. "If you are a person who is designing an automobile — especially a classic automobile or a collector's automobile — then your design and your dream of what that automobile will become is an art form for you. The concours folks are curating a very specific group of cars and Scottsdale Arts is curating how those cars are going to be showcased in this newly renovated space."
Stanford adds that Scottsdale Civic Center truly is the perfect place for the event.
"They have got a wonderful renovation going on that will create stages and large plots of grass," he says. "It will be a very luxurious, extravagant setting to put these beautiful cars on and give people a chance to see these them laid out in a very artistic fashion."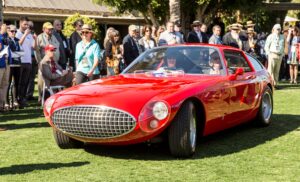 The Art of Aerodynamics
Arizona is known by car enthusiasts around the world as the place to be each January, with auctions like Barrett-Jackson attracting a lot of attention and large crowds. However, while those events are certainly exciting, the Arizona Concours d'Elegance is perhaps where the most passionate autophiles can be found.
"At auctions, cars trade hands among collectors," Stanford explains. "The Arizona Concours d'Elegance is a curated and judged show of classic automobiles. It is a celebration of the engineering, design and creativity that has gone into building these cars. It is an opportunity for people to show the love that they have for a car by putting it out in the field and be willing to have a bunch of judges with white gloves go over it and pick out everything that they find wrong."
Judges consider the authenticity, correctness, condition, rarity and beauty of each car and award extra points for style. Winkler adds that another primary distinction between the two types of events is that owners always accompany their cars at a concours.
"You can walk up and talk to these people," Winkler says. "They love to talk about their cars. We even have some people who come in period dress. They will wear the kinds of clothes that were worn when these cars were driven. They want people to understand the environment that those cars were in and try to judge them from a spectator standpoint."
Speaking of earlier eras, Stanford says that this year's theme is "The Art of Aerodynamics."
"We are tracing the development of the automotive industry from the early 1900s, when aerodynamics did not exist, through the 20s, 30s and 40s, when it started to become a big part of a car's design," Stanford explains.
"In the 50s, as cars got faster and racing had more influence on the design of passenger cars, aerodynamics became very important. It drove cars to be much more beautiful, too. We are going to have some extraordinary cars this year in terms of aerodynamic design and engineering."
Among this year's entries is an SS 90 — the prototype for a British sports car built in 1935 by SS Cars, a company that would eventually change its name to Jaguar.
"It is a spectacular car that has been perfectly restored to glorious condition," Stanford says. "We have also got a 1956 Mercedes-Benz 300 SL Gullwing that is one of only 29 ever built. A lot of people have seen Gullwings but this one is special because it has an alloy body, meaning it is made of aluminum instead of steel."
Another notable entry is a 1913 car that is documented as the world's oldest-running Bugatti.
"This is a car that a fellow right here in Scottsdale has restored to drive," Stanford says. "He has actually driven it 10,000 miles over the last couple of years in races all over the world to demonstrate its outstanding durability and performance."
Perhaps the greatest examples of the event's theme lie within the beautiful European coachwork of vehicles from the 30s and 40s.
"They are just extraordinary to look at," explains Stanford, likening their designs and finishes to those of fine jewelry.
The Arizona Concours d'Elegance will also showcase a collection of racecars and sports cars from the 50s, 60s and 70s.
"There will even be a few current 2020 hypercars — the most extraordinary cars on the market today that every teenage boy has on a poster hanging on his wall," Stanford says.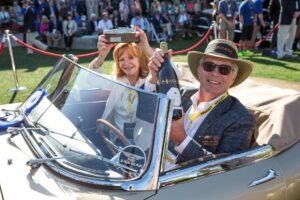 Car Culture
When asked why Arizona is such a hub for car collectors, Winkler says that — like most things — it is all about our state's wonderful weather.
"It is dry here, which is easy on metal," he explains. "It is kind of hard on fabrics, but people who live here all seem to take really great care of their cars. Transportation is important to them. They need it to get around the Valley. We just have an infatuation for automobiles, both new and old, here in Arizona. I really believe that we have some of the best cars in the entire country."
Stanford agrees, noting that Arizona has a truly tremendous car culture.
"I grew up in Buffalo, New York," he adds. "I could never own the cars that I have today if I still lived in Buffalo because there is such a short season to enjoy them. But there are some outstanding collections here in Arizona. And there are also some terrific people who really look for any opportunity to share their passion with the general public.
"It is wonderful to be able to put on a show like this and invite collectors not only from Arizona but from across the country to bring their cars and exhibit them in such a beautiful environment as Scottsdale Civic Center. We are very blessed to have some very generous collectors here who support the event, support the culture and support the opportunity to get out and contribute to the community."
Arizona Concours d'Elegance
Sunday, Jan. 22 // 9 a.m. // Scottsdale Civic Center // $75+ // arizonaconcours.com