Writer Joseph J. Airdo // Photography by Andrew Pielage
Photographer Andrew Pielage believes that architects are artists — no different than painters, photographers and sculptors.
"I think that it is that same wiring of the brain that has got this creative juice or energy to it," he says.
The greatest example of the artistry in architecture lies within the works of Frank Lloyd Wright, who is responsible for several sites in Arizona that tourists travel from all around the world to see and explore.
"When you step into a Frank Lloyd Wright site, it is not just something that you see," Pielage explains. "It is something that you feel. And sometimes that feeling is hard to define. Frank Lloyd Wright curates your experience through his architecture.
"He had a concept called compress and release, where you walk into a space that is very low and compact. You feel kind of claustrophobic in that space. Wright pushes you through that space into a big living room with big windows. That is just one example of how he curates your experience."
Recalling a quote that states, "A good photograph you see; a great photograph you feel," Pielage aspires to capture on camera the experience that Wright has curated through his architecture. He has spent the past decade doing so all around the world, but will always hold the strongest affection for Wright's architecture in Arizona — such as Taliesin West.
"Taliesin West is such an incredible space," Pielage says. "It is an Arizona gem. I have been going up there consistently since 2011 and have taken the tour at least 20 times but I always seem to find something new.
"It is especially interesting to see it throughout the day. His shadow play up there is unparalleled in the 115 Frank Lloyd Wright sites that I have photographed. Every minute is different with the way that light bounces through the architecture and even in the public spaces and pathways. And it is important to remember that Taliesin West was his home, so he was experimenting all the time in that space."
This month, Images Arizona is honored to showcase just some of the sights and feelings that Pielage has captured through Wright's works here in our beautiful state. Representing a collaboration of two remarkably creative artists, these photographs provide unprecedented insight into not only architecture as an art form but also the stunning singularity of Arizona's natural desert environment.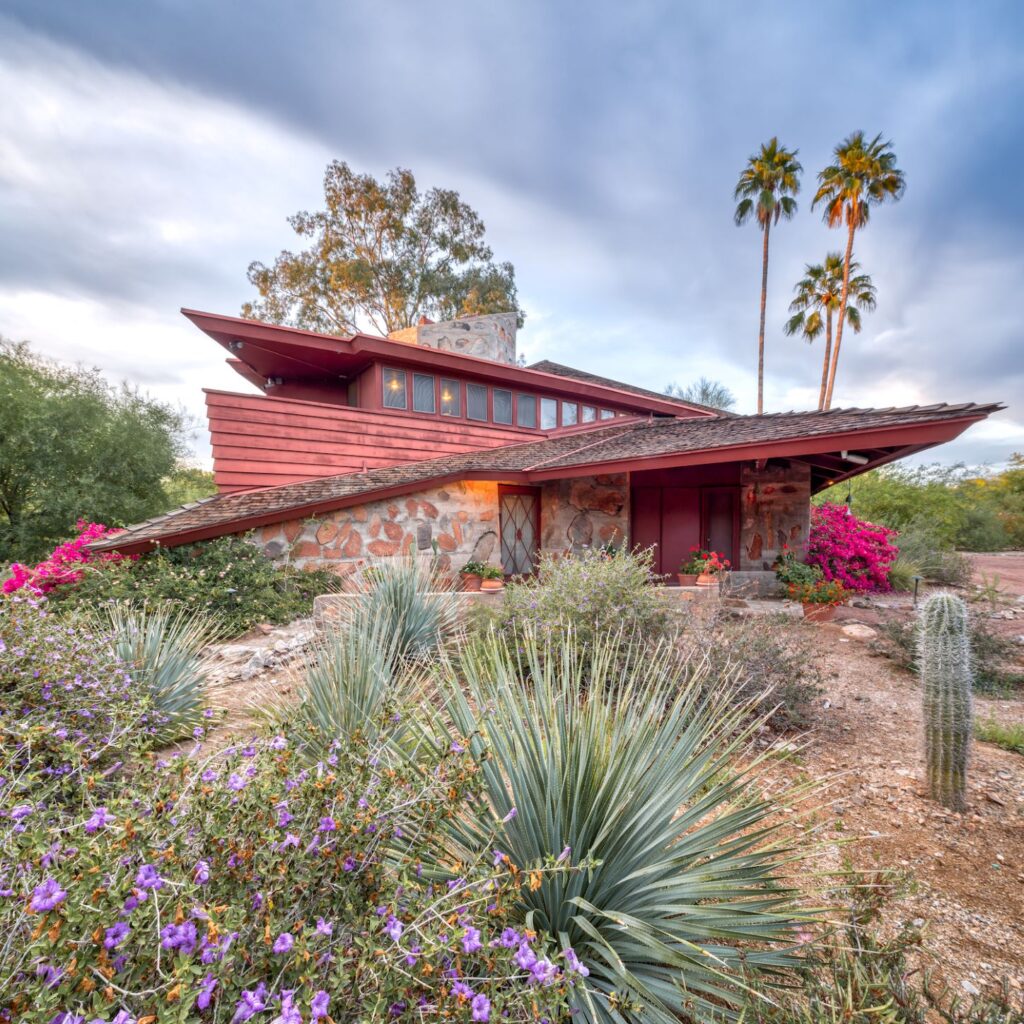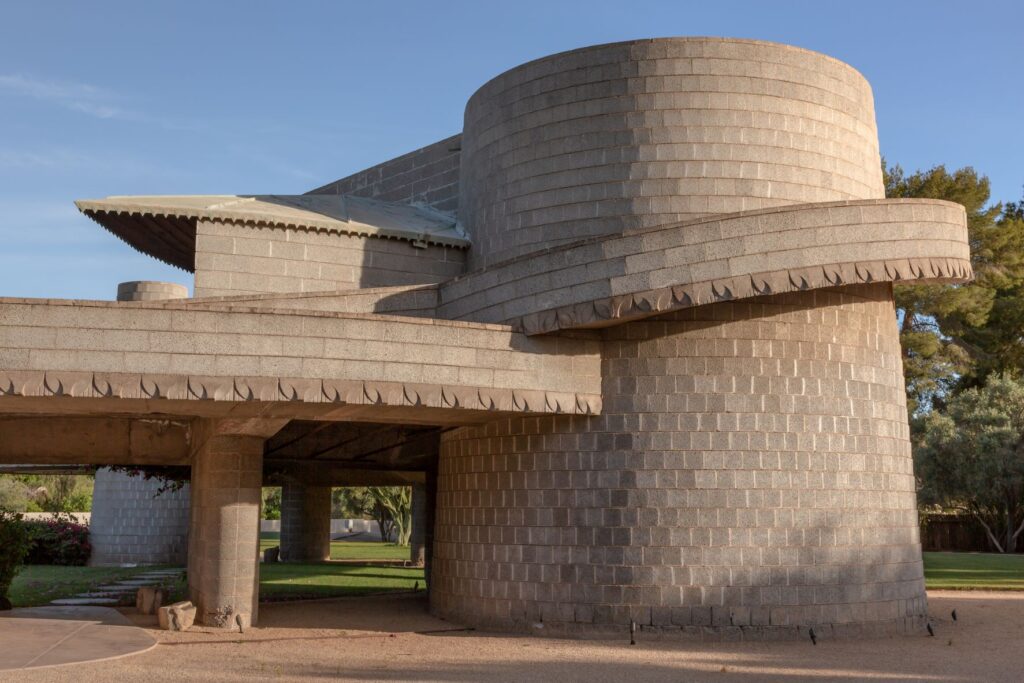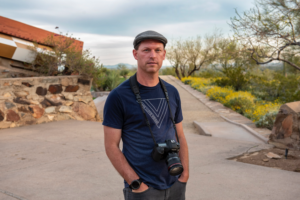 About the Photographer
Born to an adventurous mother and a geologist father, Andrew Pielage's childhood was spent exploring the dusty backroads of the American Southwest. This constant desert travel rooted his artistic soul in landscape photography.
Pielage fondly remembers when his mother bought him his first single-use, disposable camera, with which he captured the gorgeous landscapes of the areas he visited with his parents.
"I think that it was ingrained in me from the beginning as my parents took us out to all of these beautiful places," he says. "When I turned 16 and got my own vehicle, my exploration continued as I visited national parks and backpacked on my own. I think that I have been to the bottom of the Grand Canyon at least 20 times."
In 2011, Pielage paid his first visit to Frank Lloyd Wright's Taliesin West.
"As I drove up the windy road to Taliesin West, I was reminded of the desert travel with my parents," he adds. "I was immediately struck by the desert beauty and, after connecting with the Frank Lloyd Wright Foundation, was permitted to photograph a sunset there. Luckily, Mother Nature was really good to me and provided a beautiful sunset."
Foundation representatives loved the photos that Pielage shot so much that they invited him to teach youth photography workshops at Taliesin West. Those offerings have since expanded to include workshops for adults not only at Taliesin West but also at Falling Water and Wright's other iconic sites across the country.
"I have a passion for photography, but I also have a passion for other people," Pielage says. "I am grateful that the foundation has given me the opportunity to combine both of those passions through the workshops."
With more than 20 years of experience — including international ad campaigns and publications, television features, exhibitions, workshops and more — Pielage continues to do what he loves: capture the soul of his subjects and inspire imagination through photography and education.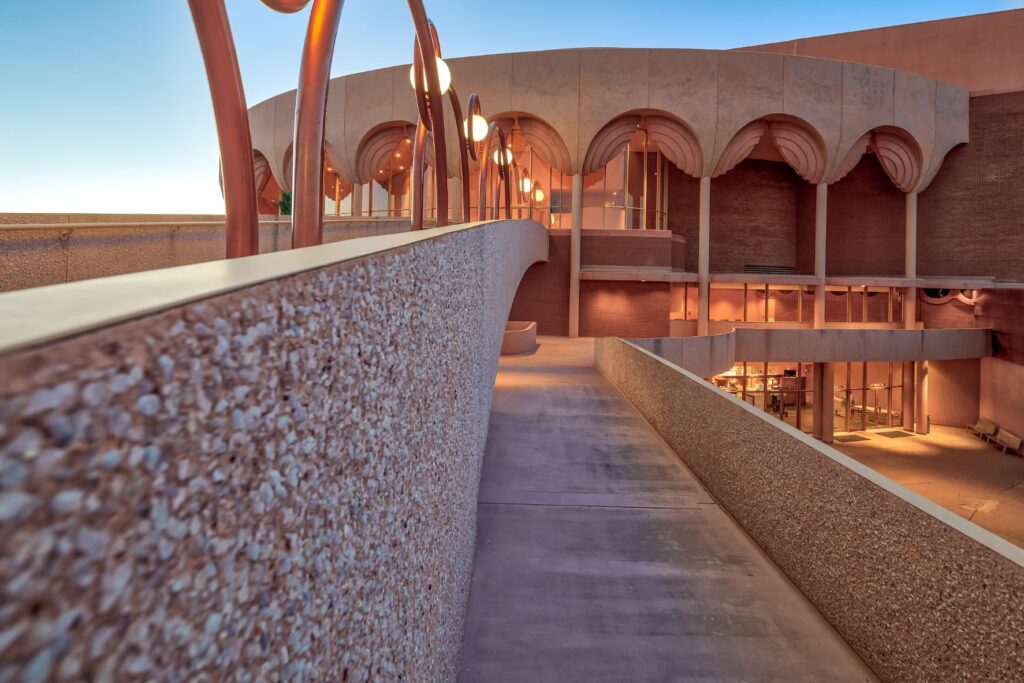 The Wright Stuff
After visiting Taliesin West in 2011, photographer Andrew Pielage fell in love with Frank Lloyd Wright's architecture. Inspired, he set out to visit, explore and photograph Wright's other masterpieces that we are fortunate to have here in Arizona — including Grady Gammage Memorial Auditorium, the Price House, the David and Gladys Wright House, First Christian Church and the Arizona Biltmore Resort.
During an interview on KJZZ, radio host Lauren Gilger asked Pielage, "How many Frank Lloyd Wright sites do you want to photograph?" The photographer admits that there is only one answer to that question: "All of them!"
"I honestly do not even know if I knew how many Frank Lloyd Wright sites were out there," says Pielage, noting that he later learned that the architect designed more than 1,000 structures, out of which 532 were built and, of those, about 430 are still standing around the world. "I have now photographed 115 Frank Lloyd Wright sites. So I am about a fourth of the way there. I have only got about 315 more to go."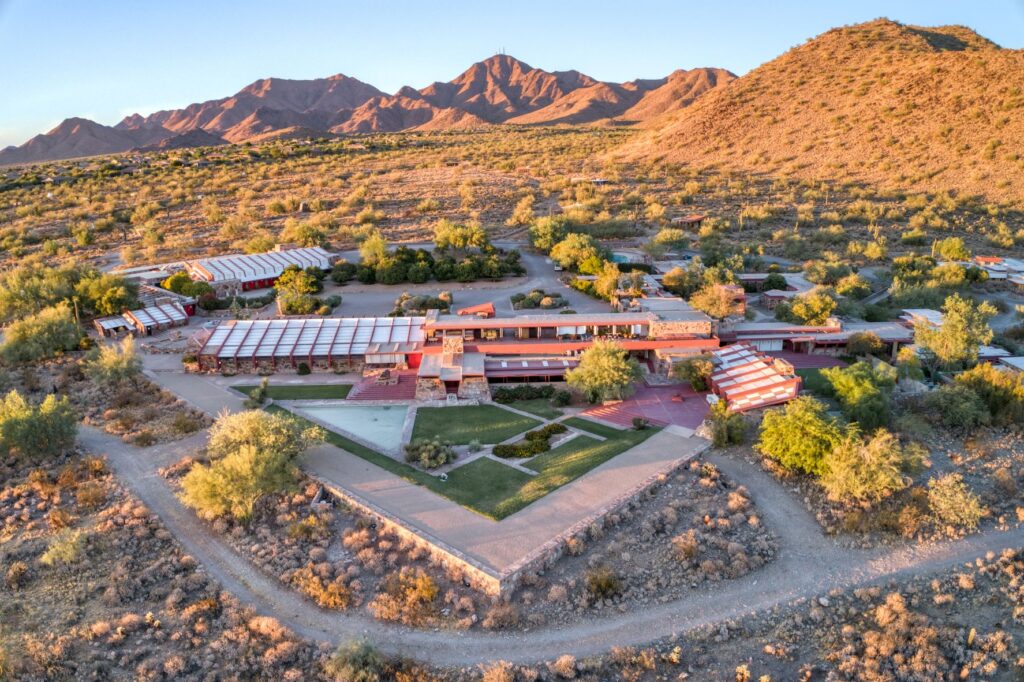 Sacred Spaces
This past fall, Taliesin West debuted an exhibition of 32 large-scale photographs of 13 examples of architecture designed by Frank Lloyd Wright that all share a sacred aura through their masterful use of light and connection to the surrounding landscape.
"This photo exhibit explores what sacred meant to Frank Lloyd Wright as well as what it means to me," says photographer Andrew Pielage. "When we think of sacred spaces, we typically think of churches, synagogues and temples. And while those spaces are certainly sacred, Frank Lloyd Wright also regarded the landscape or nature as sacred as well.
"This exhibit showcases my photography of not only some of the churches, synagogues and temples that Frank Lloyd Wright designed, but also some of the better examples of him blending architecture into the landscape — such as Taliesin, Taliesin West, Falling Water, Guggenheim Museum and Marin County Civic Center."
Offered through Jan. 29, the exhibition explores not only how spaces affect us emotionally, but also the role that architectural elements play in creating those feelings, inspiring questions around light, design, shape and the influence of the landscape.
Prints are available for purchase with a portion of proceeds going toward educational programs at the Frank Lloyd Wright sites that are hosting the traveling exhibition.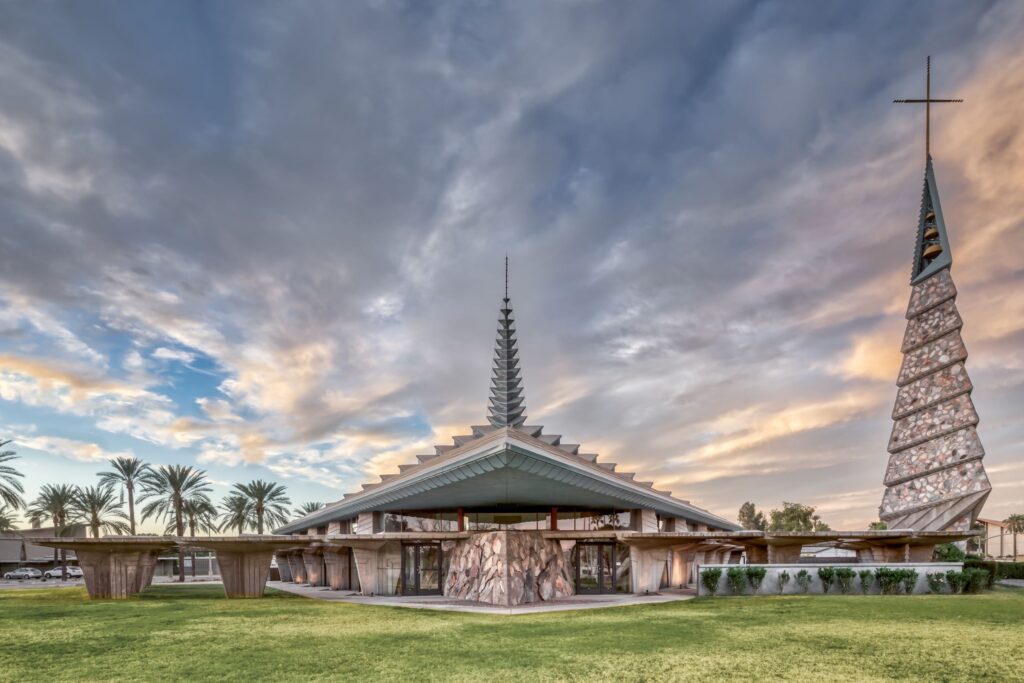 Sacred Spaces
Through Jan. 29 // Taliesin West // 12621 N. Frank Lloyd Wright Blvd., Scottsdale // Free with paid tour admission // 480-860-2700 // franklloydwright.org