Writer Rebecca L. Rhoades // Photography by Loralei Lazurek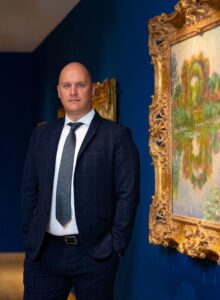 We all remember a time when, as young students, we visited a local museum, science center or historical site as part of a school outing. For most kids, a field trip simply is a fun day away from the classroom. For others, it's a way to see and experience elements of history and culture that they might not otherwise have a chance to on their own.
For Jeremy Mikolajczak, a tour of the Detroit Institute of Arts Museum as a child started him on a path that eventually would take him through some of the greatest art institutions across the country.
"That transformative moment was seeing Diego Rivera's Detroit Industry Murals," Mikolajczak recalls. "You know that chill you get when you see something of that magnitude for the first time? That piece really did it for me. It's fascinating. And I wanted to be a part of that world."
That experience fostered a love of art that influenced his life and his career. This past April, Mikolajczak was named Phoenix Art Museum's new Sybil Harrington director and CEO, bringing with him 20 years of experience.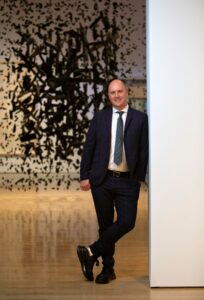 A Life in Art
Born and raised in central Michigan, Mikolajczak studied painting and printmaking at West Virginia University.
"I started out as a visual artist and took some art history courses, and I found this really interesting balance between wanting to know the history of where we've come from and understand what goes on in an artist's mind as they start to create," he explains.
After graduation, he returned to the Great Lakes State, where he got a job as the curator of a community arts center.
"I got to think about the other side of the art world," he says. "You're working with artists and negotiating people's perception of art. What would excite the community? What would challenge them?"
Two years later, Mikolajczak returned to school, studying for a year in Italy, before receiving his master's degree from the University of Florida. As an alumni fellow, he was able to work with leaders in the art history and visual arts department, experiences that continued to shape his career and his approach to art.
"I learned that I did not want to be a visual artist full-time," he explains. "I was more interested in contemporary theory, museum work and gallery work. I have a little bit of a different brain. I have a right-left brain, so I can be incredibly creative, but I also can be incredibly pragmatic. The museum world really fit that niche. I can still flex my creative side, but I also understand the business applications that need to happen."
Mikolajczak's professional path has crisscrossed the country. It's taken him from Chicago, where he ran a commercial gallery space that specialized in Danish ceramics and furnishings, to Missouri, where he taught at the University of Central Missouri and served as curator of the school's art gallery, to Florida, where he was the executive director of the Museum of Art and Design at Miami Dade College.
"I didn't have the traditional trajectory," he notes. "Typically, the museum story is you get your degree in art history, you go into a curatorial role, then you move up to a deputy director position, and finally, you get a museum directorship. That's changing in today's world. A lot of [directors] started out as visual artists and moved into these particular roles."
In 2016, after almost a decade of working in university settings, Mikolajczak joined the Tucson Museum of Art as director and CEO. During his six-year tenure, he spearheaded the development of the museum's 7,000-square-foot Kasser Family Wing of Latin American Art.
"Moving to Tucson was a great opportunity," he says. "I had been in academia for a long time. Even though academic centers are public, there are still some barriers and some closed systems. I really wanted to work with an institution that would allow me to have a greater impact within the community. I wanted to continue the conversation that began for me in the Detroit Institute of Art.
"In addition, I fell in love with Arizona. I fell in love with the region. I love the multinational nature of this land that we're on."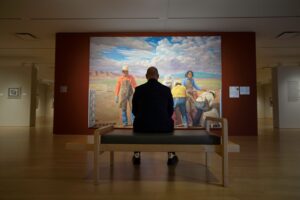 Art for All
Sitting on a sofa in his office at Phoenix Art Museum, Mikolajczak comes across more as your friendly neighborhood dad than the stereotypical museum director often portrayed in movies and on TV.
There's nothing stuffy or formal about Mikolajczak. He's dressed stylishly but casually, in an Oxford shirt, jeans and chunky black-and-silver Alexander McQueen high-tops. His blue eyes sparkle, and he laughs wholeheartedly when the subject of approachability is brought up. It's a term he hears frequently.
"When you think about where society is going, it's about being approachable, and I believe the museum world also is changing in that direction," he says. "Through some of those older models, we've lost a lot of connectivity with our communities. We have to break that cycle.
"Art is a way we can communicate and connect. It's one of the few areas where it doesn't matter if you're 8 or 80; you can still have a valid conversation about a piece of art, and both perspectives are equally as important. Art transposes time. It's not linear.
"I spend a lot of time walking through the galleries and just watching people — what they look at, how they interface with art. Sometimes I'll listen to their conversations. What you see and experience is really about your personal interpretation."
Like many art museums around the world, Phoenix Art Museum continues to work hard to overcome the misconception that fine art is pretentious, boring and unrelatable.
"When we're talking about contemporary dialogues and where museums are going, it has to be done with a thought process around who is in the community, who's interfacing with the museum," Mikolajczak explains. "What is our purpose? What is the impact we want to have?
"The Phoenix Art Museum has an incredible collection. We have some incredible works of European art that are of the highest caliber and canon, but we also have one of the few galleries in the world that's dedicated to Sikh art. Somebody from the Sikh community can come in and see themselves in this institution. That's what's important, that diversity, equity and inclusion. Phoenix is a mix of cultures, so we have to think about our museum in the same way.
"I want people to know that this is a place for them. It's a place where you can escape, travel, experience, communicate and connect. I want everyone to come in and have a great experience — to have the same experience that I was afforded as a child."