Writer Joseph J. Airdo // Photography by Loralei Lazurek
The Carefree and Cave Creek area is home to some of the most remarkable restaurants in all of Arizona. Regardless which corner you find yourself on, a mouthwatering meal is merely a stone's throw away.
However, the most fantastic feast — one with tastes that transport you to other countries around the world or even back in time — is not served in a restaurant at all. These delicious dishes can only be found at Desert Foothills Library, each prepared and presented with a side of knowledge by members of a local book club.
"There is an immense amount of really excellent food writing out there," says Dana Rakinic, who founded Literate Foodies more than six years ago. "We like to choose books that cover a variety of topics — some technique, some international, some regional, some history. They really have a lot to do with culture, ingredients and influences."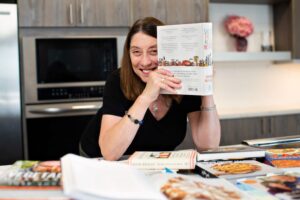 Having spent 38 years as an attorney in Pennsylvania and New Jersey, extensive research has always been a big part of Rakinic's life.
"I was used to reading a lot," explains Rakinic, noting that she and her husband owned a house in Arizona for many years and, upon her retirement, decided to make it their primary residence. "I had wanted, for a really long time, to put together a supper club or a book-oriented dinner group, but I never had time to organize one while I was working full time and before my kids went off to college."
While looking for ways to fill her time that simultaneously satisfied her intellectual curiosity, Rakinic approached Desert Foothills Library with her idea of starting a club in which community members could come together to discuss topics at the intersection of food and literature.
"Suddenly, it was all systems go," Rakinic says. "We had more than 30 attendees at our first program in March 2016, during which we discussed all things Julia Child."
Serving madeleines and macarons, Rakinic could never have foreseen what Literate Foodies would quickly become. At the next meeting, attendees discussed author Jose Garces' "The Latin Road Home: Savoring the Foods of Ecuador, Spain, Cuba, Mexico and Peru." She and guest chef Carmella Diamond prepared a tapas menu of olives, croquetas, meatballs with almond sauce and tortilla española.
During its first year, Literate Foodies discussed Joanne Harris' "Chocolat" while tasting an array of artisanal chocolates; Roy Blount, Jr.'s "Save Room for Pie: Food Songs and Chewy Ruminations" while sampling a selection of pies; and Nancy Pickard's "The 27 Ingredient Chili Con Carne Murders" while devouring — you guessed it — bowls of chili made with 27 ingredients.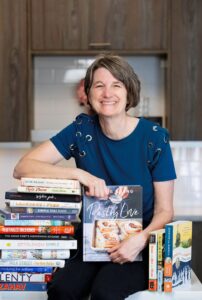 Coming to the realization that Literate Foodies had naturally evolved into a much more extensive endeavor than she first envisioned, Rakinic convinced Jan Kruse to join her as co-facilitator. Trained as a speech therapist, Kruse taught individuals with disabilities nonverbal ways to communicate before spending 20 years as a technical writer.
"We had a good group of skills between the two of us," says Rakinic, noting an inordinate amount of planning and organization goes into each month's program, which is sometimes supplemented with group outings.
"We went to see [Israeli-born British chef, restaurateur and food writer] Yotam Ottolenghi at Scottsdale Center for the Performing Arts; we went up to Winslow and received a tour of La Posada by one of the descendants of the original Harvey Girls; we went to Mekong Market and ate Thai food and went shopping. We have also gone to a number of different restaurants."
Kruse adds that Literate Foodies also occasionally has the privilege of interviewing authors of the books they discuss. However, the group often finds that experts exist among its own members.
"One of our members had spent quite a bit of time in the Peace Corps in India," Kruse says. "She talked about what that was like as well as brought several dishes and talked about them. We also had a home coffee roaster who taught us about cupping as well as someone who is an excellent baker who demonstrated how to make an easy pie dough."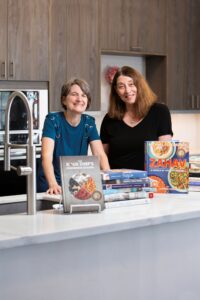 With more than 150 people on their mailing list, Rakinic and Kruse have discovered that the community is filled with people who have, like them, spent their lives satiating their intellectual curiosity and are eager to continue doing so. However, that also means that the co-facilitators have had to limit the number of attendees. RSVPs are required.
Meeting the first Monday of every month, Literate Foodies has become quite the hot commodity. After all, as Rakinic says, each program is served with the most incredible $10 lunch you will find in a 50-mile radius.
"We set up each program like a meal," she adds. "There are some appetizers or starters and a main dish with a salad or vegetable dish as well as some kind of sweet — all of which are prepared by our volunteer cooks, some of whom have spent time in the food service industry, restaurants, cooking schools or food science careers."
The program begins with an interactive discussion that is often supplemented with presentations by members who have expressed a particular interest or insight in some aspect of the topic. Members will even sometimes bring in related artifacts that they have collected from around the world.
The members who volunteered their cooking skills then discuss their dishes as well as what went into the preparation of each of them. After that, everyone enjoys all of the delicious food as well as one another's company — which Kruse says is what sets Literate Foodies apart from other book clubs.
"We have 30 people together who are all continuing to talk about the book as they enjoy and talk about the food," she explains. "That social aspect at the end really clinches a lot of concepts. That is also how a lot of friendships have developed."
Rakinic agrees.
"There is a real aspect of community to our meetings," she adds. "We then follow up each meeting with photos, recipes and other information that we send out to everyone. We always have way more information than we can possibly get to."
Of course, if satiating intellectual curiosity is the appetizer and cultivating long-lasting friendships is dessert, then expanding palates is most definitely the main course.
"We have all learned things [from Literate Foodies] that we have put to use in our own kitchens," Rakinic says. "These are things that we all now incorporate into our cooking in a lot of different ways.
"The independently funded Desert Foothills Library has been a supporter and generous host throughout our existence — and we are grateful for their continued willingness to have our group meet in the conference room/kitchen."