Writer Shannon Severson // Photography Courtesy of Grace Renee Gallery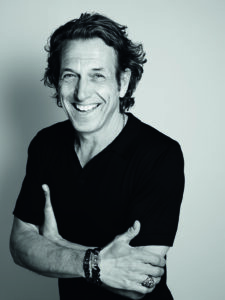 The British monarchy has garnered many headlines this fall and, along with all the pomp and circumstance, the image of the royal family is intrinsically tied to its famous Crown Jewels.
In use since approximately 1660, the regalia is symbolic of more than 800 years of monarchy. So it's no secret that jewels and the craftsmanship required to present them in most spectacular fashion are a highly treasured part of British culture and tradition.
Stephen Webster may not be in line for the throne at Windsor Castle, but he is absolutely jewelry royalty. His designs marry traditional craftsmanship, innovation, fair trade and a decidedly rebellious rock 'n' roll spirit, earning him scores of devotees — from musicians and actors to collectors who may not be in front of cameras but are nonetheless dedicated to his unique pieces.
Most recently, he's been in the headlines for making a glittering set of diamond and emerald rings that cling together with magnets for the engagement of rapper Machine Gun Kelly and actress Megan Fox.
"As you put them on, the two rings cleaved together with magnets embedded in the gold, creating a heart," Webster says. "It was my most talked about ring."
Arizonans will have the chance to make his work their own this month when Webster's pieces are displayed at Grace Renee Gallery in Carefree. He's looking forward to having his pieces in the gallery, which presents a mix of paintings, sculptures and remarkable jewelry.
"I like galleries operated by their owners," Webster says. "Like my business, you never leave and you stand by everything you produce. Owner-operators are passionate about what they present."
Along with operating his own extremely successful jewelry brand, Webster also serves as chairman of Garrard & Co. — a jeweler that occupies a place in history as the first appointed crown jeweler circa 1843.
In 2012, he was honored for his contribution to the United Kingdom by King Charles III, who awarded him a Member of the Order of the British Empire medal in recognition of his outstanding achievement and positive impact on his industry and the wider community. Webster is known for pioneering Fairtrade gold and establishing mentorship programs for aspiring young jewelry designers through his Rock Vault program.
"I met the king when he was Prince Charles," Webster reveals. "He gave me my medal for my training and the skills I pass on to younger people in my industry. I look forward to meeting him as king someday."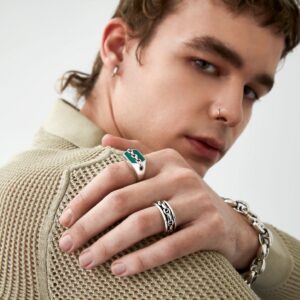 Acorn to Oak
Webster's 46-year history in the jewelry industry is truly an acorn-to-oak story and is fully detailed in his autobiography "Goldstruck: A Life Shaped by Jewellery," where he details his journey from a small jeweler's bench in England to global travels and worldwide fame. His love for rock 'n' roll and fashion were early inspirations and he was heavily influenced by the iconic David Bowie.
"He impacted me and so many people I know," Webster says. "He was a revolution in himself. I've managed to twist an aesthetic into jewelry and it's probably a reason I was able to develop this jewelry that is part of rock 'n' roll royalty. It felt a bit like glam rock — it definitely got noticed and suited that crowd. I'm very lucky that, even now, I deal with a fair amount of people in that world –– even the younger ones."
Webster has taken the best of traditional British craftsmanship and — with the creation of new cuts and the use of non-traditional stones — fashioned an entirely new genre in jewelry.
"I bought rough material [at the Tucson gem show] and fashioned it how I wanted," he says. "In the 90s, I experimented with what I could do with a gem that hasn't been done before. I created my iconic Crystal Haze, which is an extreme doublet — a heavily faceted piece of clear quartz over a layer of opaque material like turquoise or obsidian. All that I'd buy in Tucson I'd cut and make into Crystal Haze.
"As far as England was concerned at the time, it wasn't considered the sort of thing you'd put in fine jewelry but I'd set it in 18k gold. I experimented with what I could do with a gem that hadn't been done before. It took a while for people to accept it."
Webster says that time was also on his side. His rise in success coincided with the shift of jewelry not just being purchased for women by men. Women were buying their own jewelry to express their own personal style. People were becoming more adventurous and self-expressive.
There's also a lore to Stephen Webster jewelry. In every piece, he is sharing an entrancing tale.
"I'm always looking for the story behind something that I can tell as jewelry — a song, a poem, the ocean, a country," he says. "As long as I feel there's a reason, I can translate that and tell a story in jewelry. I've never done anything else. I've got to be creative and I have an amazing team around me."
These stories told in precious metals, shimmering gems and bold, eye-catching lines are a reflection of how Webster creates in his own voice; it's different from all the rest but based in the skills he's mastered and the risks he's been willing to take.
"If everyone is doing flowers, I'm making a rose with thorns," Webster says. "There is a ring that Liz Taylor bought from a Santa Barbara shop I worked at in 1984. I phoned my mum back in England and she honestly didn't believe me. It helped my confidence, which I probably needed at the time. That kind of motif — its roots are there for me; it's still something we can return to as a motif."
An American Accent
As much as he is an Englishman by birth, his time in America and the early embrace of his designs by Americans played a key role in his journey to renown.
"My style and success were very much driven by my American clients," Webster says. "So much of the roots of independent jewelry originated in America; Native Americans are adorned with jewelry, that idea of the flamboyant Western cowboy with big belt buckles, silver, boots — all that is part of this independent spirit."
His stand-out, avant-garde designs attract both men and women.
"I think the thing that completed the circle to date is that we launched a focused, gender-neutral collection," he says. "20 years ago, it was quite hard to know where you put a jewelry collection for men in a store — it used to be only watches and wedding bands. Now, we put out a collection not for him or her, but for everybody. Find what you like and wear it."
Webster's independent streak delivered his biggest break in the industry in the late 90s when Madonna purchased one of his rings, wore it on her index finger and propelled his career into the stratosphere. He later made the rings for her marriage to Guy Ritchie.
"Madonna being Madonna, she didn't give a shit about what was considered fine jewelry," Webster recalls. "It became 'the' ring and people began to wear it on the index finger. That really kicked off my career. Everyone wanted it because she was wearing it."
Scores of celebrities have adorned themselves in his creations ever since — among them Elton John, Taylor Swift, Christina Aguilera, Machine Gun Kelly, Megan Fox, Ozzie Osbourne and Jennifer Lopez.
Today, Webster continues to push the envelope of design while bringing to the fore traditional methods used to make painstaking handmade chains, intricately carved knives and striking multifaceted gems.
He has always worked with his brother, David, and his daughters have recently joined the business — an unexpected yet delightful development as they bring their creative DNA to his projects. His daughter, Amy, is a filmmaker who is documenting her father's work on his jewelry and homeware line and the relationships that he has built over many years with talented craftspersons across the UK. His younger daughter, Nika, is working and studying to be a jeweler.
Looking forward or back, it's the relationships Webster has cultivated — paired with his talent and vision — that have cemented his place in the world of jewelry.
"[Jewelry] has taken me all over the world –– down mines in Peru, Africa and India and to the most glamorous places on the planet," Webster says. "It's a thing you could never imagine when you sit down at a jeweler's bench, which is a small space. You never imagine where a jewelry life can take you."
Experience
Stephen Webster // Dec. 9 and 10 // 10 a.m.–5 p.m. // Grace Renee Gallery // 7212 E. Ho Road, Carefree // 480-575-8080 // gracereneegallery.com