Writer Shannon Severson // Photography Courtesy of Comfort Bears in a Catastrophe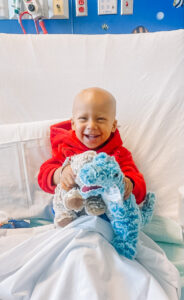 When hurricanes, fires, tornadoes and other natural disasters ravage a community, many families lose everything. Charities and government agencies step in to help repair the damage and replace the essentials — housing, clothes, furniture and food — but the smallest victims, the children, often lose something that adults don't give a second thought to: a favorite stuffed animal or doll.
Comfort Bears in a Catastrophe was founded by Anthem native Mimi Hymel out of her own experience with tragedy. When she was just 3 years old, her family's home was ravaged by the flood waters of Hurricane Katrina. Along with all the big stuff, she lost her favorite teddy bear.
"People often donate essential items, leaving kids with no comfort items and confused," Hymel explains. "This leads to a decrease in their mental health and [causes] long-term impacts in social skills, education and more."
Hymel can relate to every child who receives a Comfort Bear. She recalls her desire for a new teddy bear to comfort her in the face of the trauma and disaster she experienced back in those tough days of Katrina. This core memory inspired her to found the charity when she was still an undergraduate at Arizona State University's Walter Cronkite School of Journalism. She is now pursuing a Master's in Public Administration at Grand Canyon University.
It has been a grassroots effort and a labor of love. Hymel worked to code her own website, post on social media and pitch stories to the press, getting her mission off the ground and increasing community support. She procured fiscal sponsorship from an established nonprofit organization, the Institute for Education, Research and Scholarships.
To date, Comfort Bears in a Catastrophe has gifted more than 1,000 teddy bears to children impacted by natural disasters in five states. More than 150 volunteers help to distribute the bears and have handmade more than 1,250 cards with messages of encouragement and love for each child who receives a bear. Comfort Bears in a Catastrophe hosts public and private Tag-A-Bear events so that adults and kids can get involved and learn more about this real need.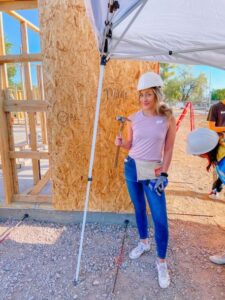 A key partnership that Hymel made early on was with the Phoenix chapter of Habitat for Humanity in 2021.
"We gave 50 bears to families impacted," Hymel recalls. "A lot of times, after a disaster, much like my family, you end up displaced and still need a home to live in. It can be a struggle for families to afford all of the essential items and comfort items for their children on top of that.
"Habitat for Humanity helps to build homes in a more accessible way for these families. I've found that displaced families are often the hardest to find and provide support to after a disaster. People don't think about families who have left [the disaster site] but they still need support and comfort."
While some have asked Hymel if she has considered expanding her reach to sick children in the hospital or foster children through already-established charities, she says those sentiments highlight why Comfort Bears in a Catastrophe is so necessary.
"Children impacted by disasters are typically forgotten about when thinking of where to donate comfort items," Hymel says. "They are handed essential items which, as a child, you don't miss. You expect there to be a house or food on the table like there was every other day. You're really missing those comfort items and that's what you want.
"To know that very few organizations provide this kind of support to children was heartbreaking and I experienced it first-hand as well. While organizations like the Red Cross have some teddy bears on hand, they don't typically have more than 50 at a time for storage purposes. This means when a big disaster like Hurricane Ian hits, they don't have the output for comfort items to provide.
"That was a leading reason I wanted to create a nonprofit solely focused on providing those comfort items to children impacted by disasters specifically. With that as our sole mission, we are able to give out and store a much higher number of stuffed animals."