Writer Joseph J. Airdo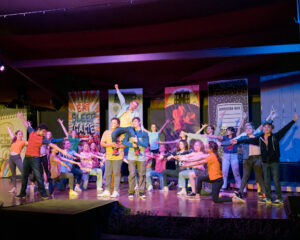 It is often said that spring is all about new beginnings and transformations; a season that symbolizes starting fresh and starting over.
"Spring really is all of those cliches," says Lynn Kough, who sings with and serves on the board of Sonoran Desert Chorale. "The flowers are appearing, the trees are leafing, the grass is greening — what little there is where we are, but it is maybe appreciated even more because of that. You see the little baby quail following the mama quail. It paints such a sweet picture."
Salt River Brass music director Julie Desbordes agrees, noting that her favorite thing about spring is the sensation of hope that it brings to people.
"I mean, we live in Arizona so we see that almost every day," Desbordes explains. "It is a proven fact that sunlight has fantastic effects on everybody's health and mood. And I love that, because I can tell that when the warmer days come, everybody is a little bit happier. I like to think of spring as new possibilities and regrowth."
Those possibilities begin to bloom this month in the form of concerts and performing arts productions that reflect all of those sensational things about the season that reinvigorate us with a sense of hope, wonder and imagination.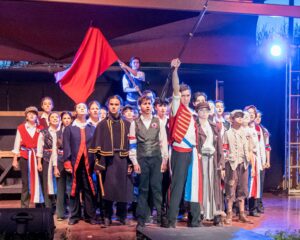 'The Secret Garden'
Desert Foothills Theater producing artistic director Sandi Carll's favorite musical of all time is "The Secret Garden." Based on the 1911 novel of the same name by Frances Hodgson Burnett, the musical opened on Broadway at the St. James Theatre on April 25, 1991, and played for a total of 709 performances before closing on Jan. 3, 1993.
"The perception is that 'The Secret Garden' is a kids' show," Carll says. "But there are some very serious grown-up themes that surround this story of this wounded little girl who has lost her family in India and travels to England to be cared for by her uncle — who is grieving, in his own way, loss in his life.
"And it is all about how she finds light and a 'bit of earth,' which leads her to find this secret garden — which is dead and neglected. Through her tenacity for life and the people who come to her in this story, she is able to bring not only the garden back to life, but also redefine the concept of family. So it is a story of finding hope and inspiration in the unlikeliest of places."
Having last season staged "Les Miserables" as Desert Foothills Theater's spring production, which went on to garner 10 ariZoni nominations, Carll collaborated with music director Ken Goodenberger to select another big, powerful musical through which the nonprofit performing arts organization could fill audiences' hearts.
They both agreed that "The Secret Garden" was the perfect choice.
"We wanted to do something challenging, emotional and complex," explains Carll, noting that Desert Foothills Theater's production of "The Secret Garden" will run March 30–April 8.
"It is fun for kids because they can relate to the lightheartedness of this little girl. But it is also very powerful. It will spark conversations of hope and inspiration with adults and families and is a very touching mix of loss, humor and heart. And it has also got a sweeping, Tony Award-winning musical score. So it is just the full package — especially for this time of the year, as its story relates to coming out of a dark, cold winter and into spring."
Perhaps most significantly of all will be the production's setting — which, for the past two years, has been outdoors at Sanderson Lincoln Pavilion, adjacent to Carefree Desert Gardens.
"The pavilion is such a very special place," Carll says. "Mounting a production outdoors presents its own set of challenges. But, at the same time, it just lends itself to being a magical experience for audiences. First of all, it is right in the center of town, a beautiful little spot surrounded by elements that are especially gorgeous for this show in particular. I mean, it could not be any more perfect.
"You are outside, under the stars. It provides this beautiful sound quality and the optics of the lights just come alive on the stage. And this show is very interesting in that it takes us from darkness into light through the natural elements of this secret garden. So to be mounting this show in the middle of this garden in our backyard… it is just the perfect venue."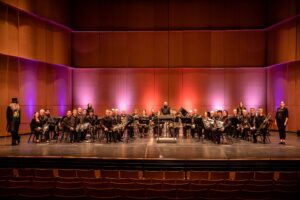 'Spring Has Sprung'
On April 2, Salt River Brass will perform a concert designed to make audiences feel as though they are picnicking in the park on a beautiful Arizona day. The ensemble's music director Julie Desbordes says that "Spring Has Sprung" will feature an exciting program filled with expressive melodies.
"It is very diverse," says Desbordes, noting that the concert will include music from iconic composers Igor Stravinsky, Leonard Bernstein and George Gershwin. "I think that it embodies spring by the excitement and enthusiasm in the way that the pieces were written and are performed. It is all very upbeat. They are bubbling and, together, will feel like a sonic, melodic celebration of spring."
Desbordes reveals that selections will include "Candide Overture," "An American in Paris" and — perhaps one of the most spring-sounding songs of all time — "Over the Rainbow."
Though the ensemble is set to participate in a tuba-centric program at Arizona State University's Gammage Auditorium in June, the spring concert at Mesa Arts Center is the official closer of Desbordes' first season as music director for Salt River Brass.
"I am so grateful, honored and proud of how we have grown," Desbordes says. "There has been a crescendo of growth throughout the season. Each rehearsal has been better than the last and we have produced some really high-quality concerts. We have gotten better in skill set, quality, harmony between the players, communion with the audience, ease on stage and just all of the ways that we communicate musically and humanly. I am just thrilled and cannot wait to see where we go from here."
One place that Desbordes knows she would like to go is back into the pool of young, aspiring musicians.
"I am working on an effort to revive the Salt River Youth Brass Band," she explains. "Hopefully, we will be able to recruit enough young, aspiring brass players in the Valley to create a little youth ensemble that will open our spring concert for us as well as perform one piece side-by-side with our professional musicians."
It has been several years since Salt River Brass has had its own youth ensemble.
"I feel that it is time for [the youth component] to come back because a lot of our musicians are actually mentors or educators and have a lot to give to younger brass musicians," Desbordes continues. "And when you are in middle or high school and are just starting to play your brass instrument, it is very inspiring to be able to sit beside the top brass players in the region — even for just one piece.
"And they are literally blossoming players — so that fits right in line with our spring theme."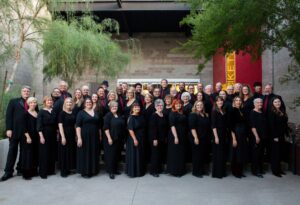 'A Bouquet of Flowers'
On May 6 and 7, Sonoran Desert Chorale will perform a concert it aptly calls "A Bouquet of Flowers," featuring a program that the ensemble's board member Lynn Kough says could not be more perfectly timed.
"It falls just one week before Mother's Day," Kough says. "[Artistic director Craig Peterson] conceived it as kind of a tribute and a gift to mothers but also a celebration of spring. Flowers represent new beginnings and strength. And we associate both of those things with mothers."
Acknowledging that our world and our lives are enriched by the glory of flowers, the chorale aspires for its spring concert to embody a bouquet of flowers in song — bright, colorful and full of promise and delight.
"Flowers have a language all their own — in terms of color but also in terms of fragrance," Kough explains. "Several of the pieces will come from Morten Lauridsen's 'Les Chansons des Roses,' which is a collection of compositions based on the poetry of Rainer Maria Rilke. We will also be performing Eric Whitacre's 'With a Lily in Your Hand,' which talks about how the lily captures the feeling of the stars and how bright they are in our lives."
Another piece that Sonoran Desert Chorale will perform as part of the program is "Mo Li Hua" a Chinese folk song about jasmine — a flower that is especially significant to Kough.
"When our family moved to Arizona from the East Coast, the house that we moved into had a jasmine bush outside its door," Kough explains. "Come May, just going in and out of that door is the most wonderful, refreshing experience because the jasmine is in bloom and its fragrance is so clean and sweet.
"We will also present some pieces by a Swedish composer that deal with a flowering almond tree, which I believe requires more water than Arizona can provide. Another very famous piece that we will be performing — James Mulholland's 'A Red, Red Rose' — takes its text from the Robert Burns poem that reads, 'O my Luve is like a red, red rose, that's newly sprung in June; O my Luve is like the melody, that's sweetly played in tune.'"
Noting that she has been singing since she was just a child, Kough adds that performing with Sonoran Desert Chorale has been one of the three greatest joys of her life — the other two joys being her husband and her children, of course.
"I have now been singing with the ensemble for 22 years," she says. "And it is the most interesting, talented and supportive group of people. I just think that our chorale is truly a wonderful example of what a community chorus can be."
'The Secret Garden'
March 30–April 8 // See website for times // Sanderson Lincoln Pavilion // 101 Easy St., Carefree // $20; student discounts available // dftheater.org
'Spring Has Sprung'
Sunday, April 2 // 3 p.m. // Mesa Arts Center // One E. Main St., Mesa //$19+; youth, student and senior discounts available // saltriverbrass.org
'A Bouquet of Flowers'
Saturday, May 6 // 7:30 p.m. // First United Methodist Church of Mesa // 15 E. First Ave., Mesa // Sunday, May 7 // 3 p.m. // La Casa de Cristo Lutheran Church // 6300 E. Bell Road, Scottsdale // $25; student, senior and group discounts available // sonorandesertchorale.org