Writer Joseph J. Airdo
Photography Courtesy of Hall of Flame Museum of Firefighting
[dropcap]W[/dropcap]hen you look at all of the dates and details, it is almost as though Chuck Montgomery and the Hall of Flame Museum of Firefighting were destined for one another.
"This entire museum started four days after I was born almost 60 years ago," Montgomery says. "Through a weird coincidence of nature, I moved to Arizona from the Midwest around the same time these folks moved to Arizona from the Midwest. Then, 60 years later, we find each other."
The Hall of Flame Museum of Firefighting hired Montgomery, who lives in Anthem with his wife Holly, as its new executive director last January. The former Glendale fireman of 37 years is exceptionally passionate about the museum and all of the unique historical treasures it contains.
Coincidence or Destiny?
The story of their meeting begins way back in 1955, when Olive Atwater Getz gave a 1924 American LaFrance fire engine to her husband, George F. Getz, Jr., as a Christmas present.
"That pumper accumulated what became an incredible obsession of collecting fire trucks, fire apparatus, fire memorabilia and fire everything," Montgomery says. "Within five years of being entranced by the history of the fire service, [George F. Getz, Jr.] had enough items to start the first Hall of Flame in Lake Geneva, Wisconsin — which is a very wealthy area outside of Chicago that is kind of the equivalent of our Sedona."
On Dec. 23, 1961, Montgomery was born in a small town outside of Cincinnati, Ohio called Lawrenceburg, Indiana — roughly 350 miles away from the Getz's summer home. A few days later — on Dec. 27, 1961 — George F. Getz, Jr. founded the Hall of Flame Museum of Firefighting He also organized the nonprofit National Historical Fire Foundation to promote the museum's programs.
A few years later, the Hall of Flame Museum of Firefighting moved to Kenosha, Wisconsin, where it remained until 1970 when the Getz family moved — with the museum and all of its artifacts — to Scottsdale, Arizona.
Montgomery, who had never heard of the museum at the time, coincidentally moved to Arizona shortly thereafter.
"[George F. Getz, Jr.] continued to expand the museum and eventually relocated it in 1974 to its current residence across from the Phoenix Zoo," Montgomery says. "Over time, the viewership diminished and it became an unknown, taken-for-granted type of place."
Meanwhile, Montgomery embarked on his firefighting career. He visited the museum multiple times with his children, who are now grown, as well as during retirement functions, so he had at least some sort of familiarity with it throughout every level of his career — from firefighter to fire captain to battalion chief.
"I always had a reason to swing by and have some momentary involvement in the museum, but I never really dove into what was there," Montgomery says. "I had always had an interest in fire service history. But once I retired, sat down and actually looked at what the museum was about and how it had come together, it really spurred my interest and passion in how fire services work worldwide."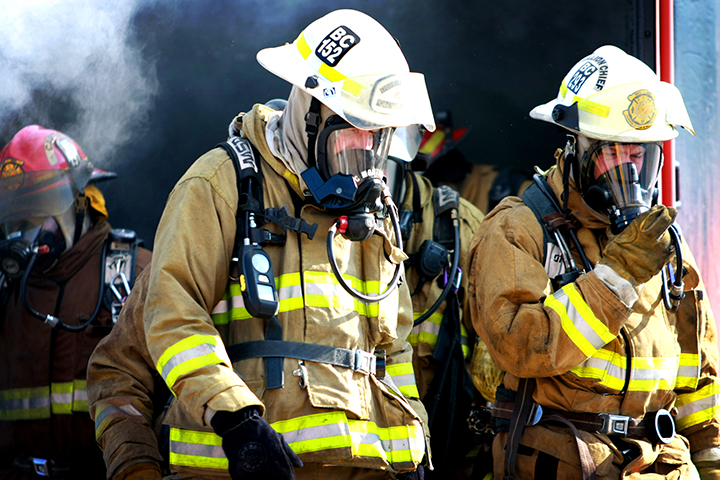 Almost Sacrilegious
Upon his retirement in 2019, Montgomery began a conversation with the Hall of Flame Museum of Firefighting's board and was eventually named the museum's executive director. He aspired to increase its viewership and strengthen its notoriety.
"We have more than 100 pieces and span 300 years of time with literally millions upon millions of dollars spent on the restoration of each piece," says Montgomery, noting that the museum's artifacts have all come from barns, old firehouses and other wreckage and were painstakingly restored to their current grandeur. "This is the largest firefighting museum in the world. And it is right here in the Valley. For it to be virtually unknown is almost sacrilegious."
Montgomery went right to work, increasing the Hall of Flame Museum of Firefighting's social media presence and fueling its website with educational resources. He also reinforced the museum's presence in the community, hosting a blood drive and lending a 1957 fire truck to the Phoenix Zoo's holiday ZooLights event.
Since his hiring, the Hall of Flame Museum of Firefighting's website has seen an exponential increase in page views, suggesting that people are finally beginning to take notice of it again.
And for good reason. The 70,000-square-foot museum features five exhibit galleries (totaling 35,000 square-feet) that contain more than 130 wheeled pieces and thousands of smaller artifacts.
Firefighting Artifacts
As one strolls through the first gallery, they come face-to-face with more than 30 manual and horse-drawn pieces of apparatus dating from 1725 to 1890. A wide variety of engines, ladder wagons, parade carriages, hose wagons, chemical wagons, a fire sled, an aerial ladder wagon and steam-powered engines are on exhibit.
The second gallery contains more than 20 motorized pieces dating from 1897 to 1930. Among the rarest pieces are a Champion water tower that was motorized with a Christie tractor, a Waterous gasoline-powered pumper, a Brockway chemical car and a pair of elegant American La France Type 400 senior fire engines.
The second gallery also houses a children's play area as well as a fully functional 1952 American La France Model 700 fire engine from Miami, Arizona — which visitors may actually board.
A rotating exhibit of restored motorized pieces comprises the third gallery. But on permanent display are a 1951 Mack Model A fire engine, a 1955 American La France aerial truck, a 1955 Seagrave Quad Anniversary Model engine and a 1967 ERF/HCB-Angus "pump/escape" fire engine from the Nottinghamshire Fire Brigade.
The fourth gallery contains three aerial trucks made by American La France, Seagrave and Pirsch, as well as a fully restored 1930 Ahrens-Fox Quad fire engine that is driven annually in the Fiesta Bowl Parade. A fully restored 1935 Ford/Pirsch flathead V-8 fire engine from Slinger, Wisconsin is also on exhibit.
More than 4,000 arm patches from fire departments all around the world also make up the fourth gallery's collection, as does a large fire safety learning area consisting of a mini-theater, a two-room safety house and a large practical application area.
The museum is also home to the National Firefighting Hall of Heroes, a 3,000-foot gallery that addresses the human element of firefighting. Having opened in 1998, the gallery honors American firefighters who have received a national award for heroism as well as those who have died in the line of duty.
The National Firefighting Hall of Heroes also contains exhibits that describe the history of the volunteer and paid structural firefighters and wildland firefighters. A special display honors the firefighters, police officers and Port Authority officers who lost their lives on Sept. 11, 2001, at the World Trade Center.
Shocking and Somewhat Humbling
The Hall of Flame Museum of Firefighting affords Montgomery much more than just a seemingly serendipitous way for him to continue in the fire service without actually delivering emergency services.
"I have a complete and utter appreciation for this place that keeps expanding my knowledge," Montgomery says. "I graduated from Columbia Southern University with a degree in fire science but I had no idea how much I did not know until I worked at this museum.
"Our most original piece is from 1725 — 51 years before we became a country. When you can actually put your hands on a piece of equipment that is 300 years old and, if given a water supply, could still pump out fires today, it is kind of shocking and somewhat humbling."
Hall of Flame Museum of Firefighting
6101 E. Van Buren St., Phoenix
602-275-3473