A Glorious Quest TV's Peter Scolari Sets Out for 'La Mancha'
Writer Joseph J. Airdo
Photography Courtesy of Scottsdale Musical Theater Company
The last time that actor Peter Scolari sang "The Impossible Dream"—the principal song from the musical "Man of La Mancha"—he was in elementary school.
"It would have been when I was about 10 or 11 years old in 1965 or 1966 that the song made the rounds in public school assemblies and musical concerts across the nation," says Scolari, noting that he recalls being very moved by it. "It is an extraordinary song."
Now, more than 50 years later, Scolari will sing the song in a professional capacity during Scottsdale Musical Theater Company's production of "Man of La Mancha."
"When you just hear the song as an anthem, it is stirring," Scolari says. "But in the play, it lives in a much more complex way. When you experience it during the show, there are two or more things going on. Don Quixote does not know what he is talking about. He is in an altered state. The magic of the play is that, by the time he sings it for the last time, the world around him has changed."
Scolari, who is probably most prominently recognized for his role as Henry Desmond opposite Tom Hanks's Buffy Wilson on television's "Bosom Buddies," is the latest celebrity guest star to grace the Scottsdale Musical Theater Company stage. The organization has carved out a niche for itself in the Valley by presenting shows that feature widely known actors, some of whom come from other performing arts genres.
Last year, "Days of Our Lives" and "The Nanny" star Charles Shaughnessy appeared in both "42nd Street" and "A Christmas Carol." Earlier this year, "A Different World" star Dawnn Lewis appeared in "Thoroughly Modern Millie," while meteorologist and television personality Cory McCloskey appeared in "The Pajama Game."
Scottsdale Musical Theater Company has 10 performances of "Man of La Mancha" scheduled for Sept. 26–Oct. 6 at Tempe Center for the Arts, a venue that accommodates national tour sets and technical capabilities that allow the company to fully reflect the vibes of the show's Broadway roots.
"Man of La Mancha" tells the story of a failed author and tax collector who, charged with foreclosing on a monastery, is thrown into a dungeon by the Spanish Inquisition. Unpopular with some of the other prisoners, he puts on a play based on the novel "Don Quixote," in which a crazy old man sets out as a knight-errant—righting all wrongs while battling giants, ogres and windmills.
Scottsdale Musical Theater Company Executive Producer David Hock says that the story of Don Quixote is one with which most people are familiar in either literary or theatrical form. He believes that the show will resonate with audiences because of the moral high ground that its lead character represents.
"It has stood the test of time because of its various messages," explains Hock, noting that "Man of La Mancha" is his favorite musical of all time.
"There are so many ethical standards that Don Quixote brings out—courage, morality, treating a woman right, treating people with honor and treating people with respect."
To Dream the Impossible Dream
Hock selected Scolari to play the lead in his production of "Man of La Mancha" because he believed it would be fun for Arizona audiences who are familiar with his television work to see a different side of the actor. In addition to his role on "Bosom Buddies," Scolari has starred in several other television series, including "Newhart," "Honey, I Shrunk the Kids," "Girls" and "Gotham."
The actor also has quite the impressive theater resume, having appeared in Broadway musicals "Wicked," "Hairspray" and "Lucky Guy." Scolari believes that his training and experience as a stage actor is at the core of his work.
"There is the granddad for me as an actor, which is being a stage actor," Scolari says. "And it has been my experience that from that everything else springs."
Scolari notes that he does not consider himself to be a great singer, but instead, an actor who can sing. He believes that the acting component must always come first when approaching a role in a musical. He recalls seeing some great singers switch the order in musicals with disastrous results.
"When a song begins, they completely exit the acting and it comes apart," Scolari says. "The play has come to a stop, and we are having some other experience. We are suddenly in a concert. I come from the school of snobby stage actors who admire actors who are great singers, but insist that they maintain the integrity and flow of their acting as they enter into a song."
It is that technical insight that made Hock believe that Scolari could meaningfully tackle "The Impossible Dream," one of Broadway's most famous musical numbers and one that requires more vocal power than most other Broadway shows.
"Whether somebody wants to be a doctor or a writer or whatever, anybody who has ever done anything in life can relate to dreaming the impossible dream," Hock says. "There is a higher purpose in life and you simply strive to do your best. It does not make a difference whether you win or lose; only that you follow your quest. I think that everybody can relate to that."
To Reach the Unreachable Star
Hock also selected Scolari for his production of "Man of La Mancha" because he believed that the role of Don Quixote would challenge the actor—an aspect that the executive producer says is key to drawing celebrities to theater productions in the Valley.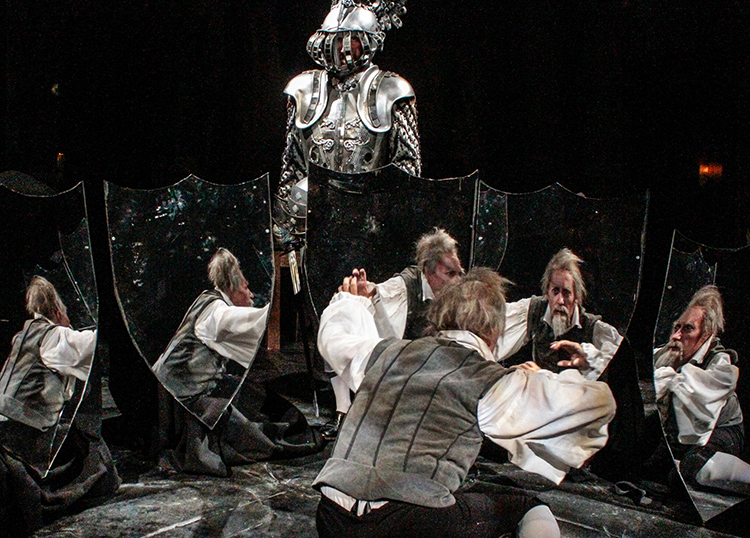 Scolari acknowledges that playing Don Quixote is indeed a challenge—perhaps the biggest challenge that he has faced in at least a decade. However, that is what excites him about the opportunity.
"This is a real stretch for me," says Scolari, noting that the role differs from those he has played in other musicals. "This requires a real tragic performance that has to be figured out, so I have my hands full. I think that my preparation has to be at about 150% on the material and the songs so that the showmanship can sort of lead us into the more intricate aspects of the story."
Scolari calls the role—which, due to the play within a play component, is actually divided amongst three distinct characters—a "legit acting role." That is to say, his responsibility as an actor is to be the dramatic foil to Don Quixote's sidekick Sancho Panza, who is the true comic lead in the show.
"The energy that goes into Don Quixote's state of delusion supports Sancho Panza the way a straight man supports a comic," Scolari explains. "It requires the actor playing Don Quixote to be extremely generous with everyone else in the cast because they pick up his delusion and make it meaningful."
Hock adds that Scolari is quite an unconventional choice to play Don Quixote—a character that has traditionally been portrayed by taller actors. Scolari is 5 feet 6 inches tall. However, the executive producer believes that he has found a way to turn the actor's height to the show's advantage in terms of the story and the character.
"'Man of La Mancha' is about an old guy who goes crazy and thinks he is a young knight," Hock explains. "He just does not see reality. So now here is this smaller man and everybody else around him is bigger. Yet he defeats them anyway because it is not about size or stature. It is about what he believes in. It never crosses his mind that he cannot do it."
Scolari agrees, calling attention to the dynamic between Jackie Gleason and Art Carney in the classic television show "The Honeymooners." Although one thinks of Carney's Ed Norton as the little sidekick of Gleason's Ralph Kramden, Carney is in fact at least a full 3 inches taller than Gleason.
"It is the acting that creates that feeling and that is what we will do here," Scolari says. "The piece itself is so powerful that it sort of commands the actor to find an emotional core, and even a psychological core that carry the language and the story along."
The challenge of the role, the significance of the story and the many nuances contained within the material all helped convince Scolari to join the production. Ultimately though, the biggest draw was the opportunity to experience something intimately ephemeral.
"I like getting out into the real world and having experiences, particularly locally, where theater is being supported by a subscription or resident audience," the actor says. "There is something that gets very personal there.
"I may have some great shows but there will be no recordings of them and no proof that I ever did them. It will only continue, if at all, in the memory of the people who saw it."
Scottsdale Musical Theater Company
"Man of La Mancha" | Sept. 26–Oct. 6 | Tempe Center for the Arts | 700 W. Rio Salado Parkway, Tempe | $48+
602-909-4215 | scottsdalemusicaltheater.com