Writer Amanda Christmann 
Photography Courtesy of Modern Phoenix
[dropcap]D[/dropcap]riving through historic neighborhoods of downtown Phoenix, the slump block houses and low-slung rooflines may seem unremarkable upon first glance, especially compared to the expansive newer homes found in the suburbs.
Look a little closer at the otherwise non-descript homes and you'll see historical gems that not only provided housing for thousands of post-war families, but that defined the way Valley residents lived, worked and played. 
Haver Homes and so-called "Haverhoods" sprung up-sometimes nearly overnight-in Phoenix over a 30-year period, beginning in about 1945. Behind them was a man named Ralph Haver, whose firm would become responsible for the design of about 20,000 tract homes and hundreds of buildings. 
Together, Ralph Haver, his partner Jimmie Nunn, and a short list of other partners made major contributions toward the surge of growth in Phoenix that would lead it to become the nation's sixth largest city by the end of the 20th century. 
Throughout the 1950s, Haver and Nunn went it alone. In 1961, their firm was renamed Ralph Haver & Associates. Two years later, when Ross Jensen joined, it became Haver, Nunn & Jensen. As third partners came and went, it became Haver, Nunn & Nelson, then became Haver, Nunn & Collamer in the 1980s. All of these changes led their contemporaries to humorously dub it "Haver, Nunn-the-less." 
Nunn's contribution was primarily in the many civic and commercial buildings, including the Revlon factory in South Phoenix and the transformation of the Phoenix College campus in the 1960s.
Though Haver had his hand in commercial development projects, his passion was for creating residential designs. 
His designs would fill a much-needed hole in affordable housing, and would form the foundation of an aesthetic that can still be appreciated in the Valley of the Sun.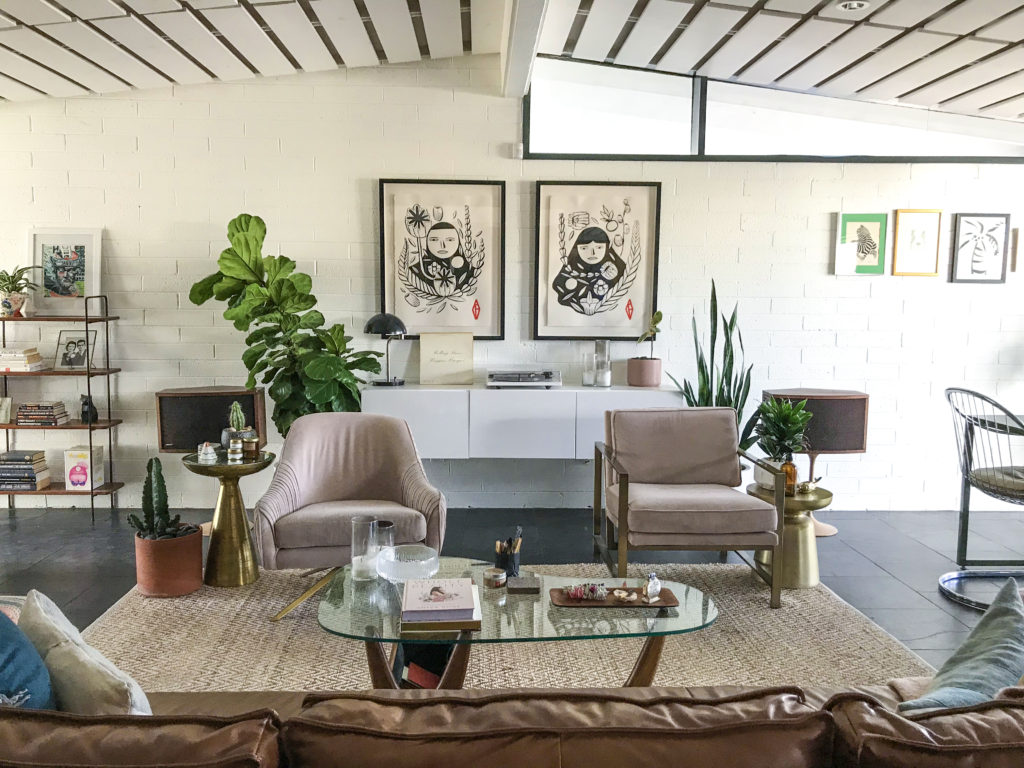 All in the Family
Haver was born in 1915 in Pasadena, California to working-class parents-a background that would provide him with insights into the needs of the changing American family. 
Haver's father, Harry, was a mason, and mother Alice was a former teacher before her children were born. Young Ralph worked alongside his father and recognized early on that he wanted to be an architect. He earned his degree in architecture from University of California at Pasadena before joining the war effort as an Army engineer.
Haver met his wife, Millie, at an Ohio USO dance in 1943. According to an interview with his son published by Modern Phoenix, he told Millie that the Army engineering castles on his collar were churches, and that he was a chaplain. Unflustered, Millie asked if it was standard for an Army chaplain to put his hand on a girl's thigh. They were married within the year.
By early 1944, the newlyweds were expecting their first child. Later that year, they decided to follow Haver's father, who had been hired by Del Webb as a mason for Luke and Williams Air Force bases a few years earlier, to Phoenix. His brother Robert, who was a building contractor, had also relocated to the Valley, in part because federal dollars aimed at building the city made it an easy place to find work.
The couple got as far as Oklahoma before Ralph Jr., or "Bucky" as he would later be called, made his appearance. Bucky was the first of three sons, and he was born at Tinker Air Force Base, where Ralph Sr. had been forced to pull over the car before resuming their long trip west. 
Once in Phoenix, Haver resumed a mentorship under architect Ed Varney, whom he had worked for before the war, and developed a life-long friendship that lasted even after Haver started his own firm. 
Haver's brother, Robert, was busy building his construction brand. He purchased land in South Phoenix and enlisted his help in designing a planned subdivision. The unpretentious red brick, 900-square-foot homes that became the Southdale neighborhood sold for approximately $5,000 to $7,000, and would be among the first of tens of thousands of utilitarian, straightforward homes designed by Ralph Haver.
Mid-Century Ideals
Haver and Nunn were influenced by great mid-century builders and designers, including Mies van der Rohe and other Bauhaus designers and architects, and by the work of Frank Lloyd Wright. 
The concept of "form follows function" had been established in the 1930s, and Haver wasn't the only residential architect who embraced that philosophy. Designer Joseph Eichler, who was making a name for himself in California, and Al Beadle, who was also changing design in Phoenix, were among his like-minded contemporaries.
Haver's niche was in homes a bit smaller and more homey than the more ultra-modern designs that Beadle and Eichler were coming up with. His market was the "everyday man" and his family, and his average three-bedroom, two-bathroom, 1,500-square foot homes were in high demand.
Haver homes would soon become iconic for their signature single-story, red brick construction and plaster walls, low-pitched rooflines, angled gable beams, floor-to-ceiling windows and clerestory windows, or angled windows just above eye-level. The bathrooms became more than just a functional room with elegant frameless shower doors and gorgeous vanities. The kitchen also became a statement room in the home, rather than just a place where food was prepared. When Superlite concrete masonry block was introduced, he embraced that trend, reserving red brick for his more expensive projects.
As a departure from tradition, Haver's beam construction meant that there were fewer load-bearing walls in his homes. He preferred a more open concept than in homes of the past so that families could interact and move freely.
Another standard in Haver homes were carports. For the first time in history, the automobile was becoming part of American family life. Though many of his carports have now been modified to fit modern car sizes, they were a first for many families.
Sidelight windows flanked entrance doors, and those doors were placed in unconventional places, such as in carports or on the side of the house. 
Rather than placing picture windows in the center of the front of the house, as was common at the time, Haver preferred to offer families their privacy by placing them on the side or rear of the house. Windows were often incorporated over the kitchen sink so that mothers could keep an eye on their children as they made dinner at night.
Built-in cabinets were another Haver standard. They eliminated the need for working class families to buy additional furniture, and the need to dust. Bedrooms, kitchens and other living spaces often had them. This idea very well could have been a contribution of Haver's wife, Millie, who is said to have had significant influence on the designs.
Modern Phoenix's Alison King carefully studied Haver in an effort to preserve his influence on Phoenix architecture. In an interview she conducted with Jimmie Nunn, who now lives in Flagstaff, Nunn said that Haver homes were designed to be added onto. In fact, Haver added a bedroom on to his own modest first Phoenix home as his family grew. 
Once building material restrictions were lifted in the late 1940s, that's just what people did. In fact, many Haver homes that remain have been modified in one way or another.
Today's revival of mid-century design and architecture has brought a renewed enthusiasm for Haver homes. Though many have been demolished through the years, these desert gems are now being renovated and sold at prices hundreds of thousand of dollars more than their original cost. 
Janet Manor, Starlite Vista, Marlen Grove, Town & Country Manor, Mayfair Manor, Town & Country Paradise, Northwood Homes and Town & Country Scottsdale are some of the neighborhoods where homes remain.
It's difficult to imagine what the Valley would have looked like had Haver's influence not been part of it. Without the practical, affordable housing he created for the middle class, it's possible that an entirely different demographic would have settled here. 
Says noted Cave Creek architect Michael P. Johnson, who, at 80 years old, has an historical perspective of Haver's work, "The important thing about Haver was that he made very affordable houses for middle class families. There was no innovation in his architecture; his homes were just beautiful. They were economically efficient, efficient to build, and they made good architecture for the common man."
Haver retired in 1980, and died in 1987. He and his firm's significant influence on both the residential and commercial landscapes set precedents and created a unification of the overall ascetic of Phoenix for many years, and through rehabilitation and revitalization, continue to set trends and to remain a significant part of our Arizona history.