Writer Joseph J. Airdo
Photography Courtesy of Carson Gillespie/CSG Visuals
[dropcap]W[/dropcap]hen Brian Sheehan was in his late teens, he was what he would call "a highly delinquent speeding offender." Rather than fighting what was quite likely an uncontrollable battle with a kid who had always been crazy about cars, Sheehan's parents steered into the skid and enrolled him in Bondurant High-Performance Driving School.
Sheehan was instantly hooked on the hobby and ended up racing semi-professionally for about 20 years. However, as with most things in life, he eventually had to hang up his driving gloves so that he could get behind the wheel of a vehicle with enough room in the back for car seats.
Although his family became his new primary passion in life, Sheehan never lost his automotive appetite and continued expressing his enthusiasm for the industry by attending car shows almost every weekend. However, upon arriving at one particular event in Scottsdale, he was disheartened when officials refused to allow his beautiful BMW M3 convertible in the show.
Having been a self-proclaimed "car guy" throughout his entire life, Shelby is extremely proud of all five vehicles that he owns but holds a special fondness for his show-worthy BMW M3 and Shelby CSX-T. Therefore, he took the rejection quite personally.
"They told me that I needed a Lamborghini or a Ferrari," Sheehan explains. "But those are not the everyman's cars. There were not really any car shows out there for the regular guy."
Sheehan was discouraged but emboldened.
"I decided to start my own car show, giving the regular guys a place to meet, enjoy their cars and show them off," he says. "I wanted to make a show for the everyman and the everyman's car — not just for people who have a big wallet."
Sheehan, who has lived in the Anthem/Desert Hills area since 2001, approached the owners of Amped Coffee Company about hosting the gathering in their parking lot. After getting proper approval from the landlord, they gave him the green light.
Sheehan created a 6-by-5-inch postcard with the words, "Nice car!" in big, bold letters on one side and, "Join my car show the first Saturday of the month in Anthem," on the other. He then drove around the parking lots of shopping centers, movie theaters and restaurants with his son and placed the postcards on the windshields of every cool car they came across.
From that effort alone, 65 cars showed up to Sheehan's first show in October 2019. Attendance grew to 100 cars the next month and 125 cars the month after that. Today, more than 200 cars show up to Sheehan's Anthem Cars and Coffee event each month, with people traveling from as far away as Gilbert, Glendale, Peoria and Surprise to attend.
Putting the Pedal to the Metal
"My mom always said that I was born with a Matchbox car in my hand," Sheehan says. "I have always been a car enthusiast for as long as I can remember."
After attending Bondurant High-Performance Driving School, Sheehan was offered an opportunity at age 19 to drive the race car of a friend who had suffered an injury and would be unable to finish out the season himself. From that opportunity, Sheehan entered the semi-professional racing scene.
As he continued racing, Sheehan gained more notoriety, more sponsors and more money — enough to buy his own race car. He also partnered with another friend to open up a performance race shop in Scottsdale. Needless to say, cars are — and always have been — a very big part of his life.
Therefore, the opportunity to continue to pursue his passion through Anthem Cars and Coffee is a dream come true.
"My favorite thing about the show is that I am starting to get regulars who now bring their chairs and it is becoming more of a hangout," Sheehan says. "It was originally just a two-hour show but I have since extended it to three hours. And now I have car clubs coming to my show unannounced."
About 24 Corvettes attended Anthem Cars and Coffee in December. Roughly the same number of Mustangs attended the January event.
"All of these guys are using my show as their venue for their clubs and I love that," Sheehan says.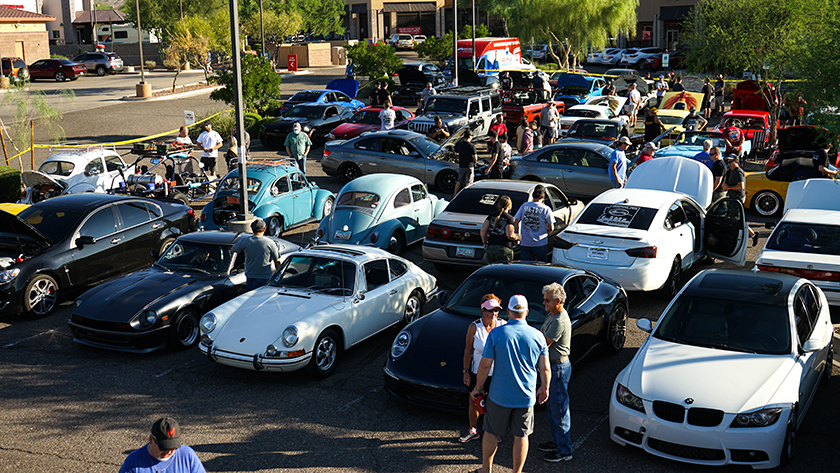 Kicking the Tires
Sheehan paused his Anthem Cars and Coffee event during the first few months of the COVID-19 pandemic out of an abundance of caution. He resumed the event last June and saw record attendance. However, that record was broken the next month, illustrating the community's desire to come together and show off their love for their vehicles.
"It just keeps growing and growing," says Sheehan, noting that Anthem Cars and Coffee benefits more than just the car-enthusiast community. "My original idea was to have it at this location because I saw that the numbers at the businesses were going down considerably. The [shopping center] was almost empty. I wanted to bring it somewhere that it would benefit the businesses in the area."
The exposure that the shopping center receives each month as a result of Anthem Cars and Coffee has been very good for business. Amped Coffee Company owner Jeanine Walashek adds that the show has also accomplished a key component of any community — togetherness.
"Anthem Cars and Coffee has been such a wonderful event to bring our community together, which has been an important part of our mission at Amped Coffee," Walashek says. "We are so grateful that Brian has invited us to be a part of this fun, family event. He works so hard to accomplish this every month and it is evident in how much the car show has grown."
Sheehan adds that as Anthem Cars and Coffee has gotten bigger, it has gained the interest of vendors who have asked him for permission to set up booths for their goods and services at the show.
He has also partnered with various nonprofit organizations in the community to incorporate a charitable aspect into the event, with Daisy Mountain Fire and Medical collecting toys for less fortunate families during the holidays and Youth for Troops collecting items for Veteran care packages. Sheehan is working on obtaining 501(c)(3) status to make Anthem Cars and Coffee an official nonprofit organization so that he can further its charitable possibilities.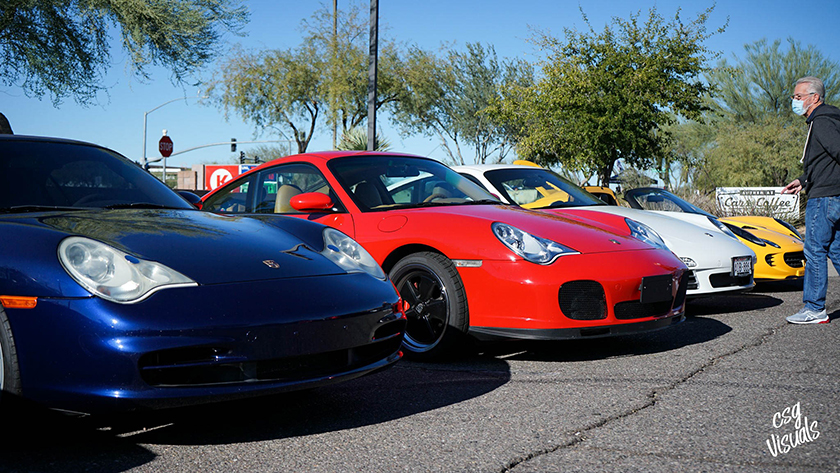 Getting the Show on the Road
Sheehan admits that Anthem Cars and Coffee is bursting at the seams but says that he never wants to discontinue or move the event to another location because he is drawn to the social atmosphere of the home-grown community event.
"It is really a nice show because I now have regulars — devoted guys who come to the show every month and bring their friends and grandkids just to hang out and have a good time," he explains. "That is what the car show has grown into instead of a pretentious rich guys club, which is what I wanted to get away from."
Sheehan is in talks with Outlets at Anthem to possibly hold a larger car show at the shopping center on a quarterly basis while maintaining his monthly event. He will also offer the first of what he intends to be a bi-annual car and bike show this month at New River Kiwanis Park.
That March 6 event — which will bump Anthem Cars and Coffee to the second weekend of the month for March only — will include live bands, a pageant show and a trophy ceremony as well as several activities and vendors.
Sheehan is asking those who want to show their cars and bikes during what he is calling Run to the Hills: Spring Fest Car-Bike Show to provide a $10 registration fee to help cover his expenses. However, he will never ask anyone for money to attend his monthly Anthem Cars and Coffee event. Nor will he ever turn anyone away based on the car they bring.
"I do not care what kind of car is," he says. "I do not care if it is $200,000 or $2,000 as long as it is cool looking and it has a story. If you put wrench-time into it, if it was given to you by your dad and you have had it since you were 16 years old or you saved up all of your life saving and bought it, that is the kind of thing that I want at my car show."
Anthem Cars and Coffee
First Saturday of the month | (Second Saturday in March due to special event) | 9 a.m.–Noon (hours vary by season)
3434 W. Anthem Way, Anthem | Free | anthemcarsandcoffee@gmail.com | facebook.com/anthemcarsandcoffee | anthemcarsandcoffee.com
Run to the Hills: Spring Fest Car-Bike Show
Saturday, March 6 | 9 a.m.–5 p.m. | New River Kiwanis Park | 48606 N. 17th Ave., New River | Free entry; $10 registration fee for show cars and bikes
anthemcarsandcoffee@gmail.com | facebook.com/anthemcarsandcoffee | anthemcarsandcoffee.com