Writer Shannon Severson // Photography Courtesy of The Erin Hanson Gallery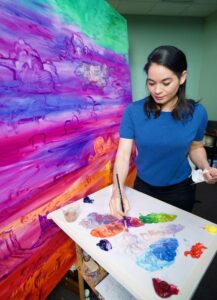 When artist Erin Hanson celebrates the grand opening of The Erin Hanson Gallery in Scottsdale this month, it will be one more celebrated milestone in her lifelong pursuit of creating art and living life by her own rules.
Hanson, who first iterated her dream of becoming an artist on a school application at age 6, developed her own form of oil painting: Open Impressionism. It has become her signature. The textured, impasto technique involves applying paint in a minimalistic fashion, one stroke at a time without overlapping. The effect is almost stained glass-like in appearance with ripples of light and color.
"My style came from painting rocks," Hanson says. "Because I wasn't classically trained as an artist, I had to kind of create my own style; I use thick, heavily pigmented paint and I developed this method of pre-mixing my entire palette.
"Before I ever pick up a brush, I have hundreds of hues and values already laid out on the palette and I work from a limited palette of about five colors. I kind of reverse engineer my painting so that I try not to overlap my brushstrokes. That gives it almost like a mosaic, stained glass look. I have to apply it to the canvas and get it right the first time.
"So this is how I was first painting rocks, because that's how I saw the rocks — with these kind of planes of color meeting up together with these dark lines between. That's how the style developed. I didn't realize I was doing anything unique."
Those rocks she was first painting weren't the small kind one might pick up in the backyard. A California native who now lives in Oregon, Hanson is an avid rock climber. In addition to the Scottsdale location, the artist owns galleries in McMinnville, Oregon and Carmel-By-The-Sea. Her love of landscapes and taste for adventure gives her an enriched perspective of the natural beauty of the American Southwest.
The artist first experienced this in the Mojave Desert and amidst Nevada's red rocks. At a time when she was working in a scientific, rather than an artistic field, those craggy cliffs and rough-hewn boulders inspired her to start painting again.
She now paints the beautiful scenery of the American West. Her Scottsdale gallery, which officially opened its doors earlier this fall, prominently features her shimmering depictions of the Grand Canyon State.
"Arizona, like the whole Colorado Plateau with the four corners and Southern Utah — it's some of the most beautiful landscape to paint, period," Hanson observes. "The thing I love most are very strong compositional elements.
"The saguaro is this very strong piece that I can put in my paintings; the buttes catching sunsets; there's so much color in the depth of the desert. When you're painting the buttes you see the depth and layers of beauty in purples and blues. It's color depth you don't have in other places.
"In the Sonoran Desert you have red rock and all those saguaros; the desert in the spring is so beautiful. Everything is blooming and the ground turns bright green. The big monsoon clouds come in the summer and those are really fun to paint. I love the way it looks when a big cloud is coming in and you can see the shadow of the cloud. It creates this whole atmosphere in the landscapes. You don't see this dramatic, strong light and shadow in California or other places I paint."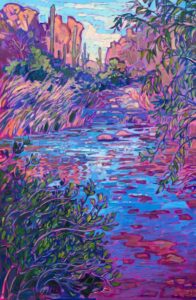 A Gallery of One's Own
Hanson is a lifelong student of painting and drawing and the goal of owning her own gallery was formed early, on a family vacation to the rugged coast of Cannon Beach Oregon.
"We visited this little town and I remember there was an artist — a watercolor painter — there," Hanson recalls. "He had this huge sprawling gallery there in Cannon Beach and I'd never seen anything like it. I thought, 'Wow! There are all his paintings; he is successful; he lives right on the beach, paints all day long and then sells out of the gallery.'
"That kind of stuck in my mind as being the ideal scene for an artist. It's so different from what I was taught growing up — that you relied on the gallery to discover you. Even good artists may never get discovered, but here was a guy who didn't care about being discovered. He just kind of did it all on his own. Seeing that at age 10, it really had an impact on me."
A commissioned artist by the age of 10, she learned every form of painting from oils to watercolor. She even had a job creating murals in acrylic paint at the age of 12.
Hanson graduated high school at just 16 years old and then attended Otis College of Art on a scholarship. But there were times that she was discouraged. She was warned that there was no way to make a living as an artist. Hence, she left the art world for a while, earning a degree in bioengineering from University of California, Berkeley and later working in that field, even owning her own business.
"I had developed this more sensible attitude," Hanson recalls. "I thought I could have my fun with painting, but I also needed to be in the real world. I wasn't making a ton of money, but I was paying my bills and my time was my own. At a certain point, I asked myself, if I could do anything in the world, what would it be? And it was painting. I decided I was just going to do it."
Hanson resolved to complete one painting each week. She didn't attempt to sell them until a full year had passed. She first took her canvases to an art festival with no idea what to expect. The response from collectors and other artists was a huge boost to her confidence and the experience was a revelation.
"There were 250 artists at that show in Boulder City," Hanson says, "Every one of them were full-time, professional artists making a living by doing from 20 to 40 of these shows each year. I got to know them, they were friendly and supportive. It was kind of like being part of a circus or a Renaissance Fair. I would travel all across the country doing shows on the weekend, then taking photos on my travels for inspiration. I did this for 10 years before I ever hired another employee."
By the time she opened the doors of her first gallery, Hanson had an enormous following with several thousand people on her mailing list — many of whom came to that first grand opening. The personal connections she built then and the relationships she continues to build have sustained her and allowed her to expand her business, now to Arizona at her new gallery in Scottsdale.
"I have collectors who have up to 30 of my original paintings in their homes," Hanson says. "They're loyal and passionate and have created this word of mouth that is so valuable."
Hanson adds that sharing her landscapes feeds her own creativity. She finds joy in the way that her art brings happiness to others. At The Erin Hanson Gallery in Scottsdale, her desert depictions will be on prominent display. The gallery will participate in the Scottsdale ArtWalk every Thursday night.
"I'm excited to have a gallery here in Scottsdale," Hanson says. "I've been itching to get back into desert painting; it feels like I'm going back to my roots."
Experience
Erin Hanson // Sunday, Nov. 6 // See website for time // The Erin Hanson Gallery // 7117 E. Main St., Scottsdale. // Free // erinhanson.com