Writer Joseph J. Airdo
Photography Courtesy of Arizona Musicfest
[dropcap]T[/dropcap]hirty years ago, Arizona Musicfest held its first collection of concerts that not only enriched our community's cultural experience but also benefitted its educational arts programs. The nonprofit organization was therefore eager to commemorate the moment — three decades in the making — with its most sensational season to date.
Organizers began booking 30 performances, many of which featured exciting celebrity artists to help celebrate the special anniversary year. Then, just as everything was if not fully planned then at least completely confirmed, the COVID-19 pandemic forced much of the world — especially live entertainment — to shut down.
"Our immediate reaction was to cancel or move all of our fall concerts because, at the time, there was some optimism that perhaps by then COVID-19 would be a thing of the past," says Allan Naplan, executive and producing director of Arizona Musicfest.
Organizers then set their sights on January as the start date for the season, conceiving the idea of fewer, socially distanced concerts with dramatically reduced capacity at its various indoor venues. Whereas Arizona Musicfest concerts typically see attendance of up to 1,500 patrons, each of this season's performances would be capped at about 500.
But as the pandemic lingered on, those plans, too, were scrapped.
"We were seeing a very significant spike [of cases] in our state," Naplan explains. "We knew that the holidays were coming up soon which was going to inevitably create even more concern and spreading. So it became very obvious that even with our reduced plans, indoor concerts were not going to be a reasonable expectation."
However, just when it appeared as though all hope for a concert season was lost, organizers adopted an outdoor programming plan, paving the way for six stellar spring performances — most of which will take place at the newly-created Musicfest Performance Pavilion on the campus of Highlands Church in North Scottsdale.
The venue utilizes two large parking structures with solar roofing, thereby providing ample shade for patrons attending the mid-afternoon and early evening concerts. A full mobile stage, dressing room trailers and luxury port-a-potties have been brought in to accommodate the comfort and enjoyment of performers and audience members, as have all of the production elements to ensure superb sound quality — all while safeguarding patrons with plenty of space and fresh air.
Comfort and Familiarity
"The pandemic has taught us of the importance of music in our lives," Naplan says. "It has served as comfort, solace, distraction and entertainment when we have had our lives so restricted. People have been telling us how music has helped sustain them during this very challenging year. Music has always been the balm for your soul."
Naplan adds that music also creates a sense of nostalgia — something that is in very high demand lately as a result of the pandemic. Arizona Musicfest will meet that demand Saturday, April 17 when The Kingston Trio takes the stage.
In addition to performing hits like "Tom Dooley," "Where Have All the Flowers Gone, "Five Hundred Miles" and "MTA," the three artists — each of whom have intrinsic links to and experience with the original ensemble — will share personal memories that recall the iconic trio's performances and journey as folk music made its extraordinary ascent to the pinnacle of popular culture and the top of the music charts.
"During this extended and tragic pandemic, people are reflective, thinking about their lives, others' lives and potentially lives that have been lost," he explains. "Music has always been that source of comfort and familiarity. We know that people love music in the best of times but it is also that in the worst of times they turn to the comfort of the song that is familiar. That brings them joy or solace. Music has always had that ability to be a vehicle for or extension of emotions."
Before The Kingston Trio has its turn at the wheel, The Black Market Trust will take the stage Monday, April 12. Self-described as a "Smithsonian of American music," the ensemble will perform an eclectic and familiar mix of jazz, swing, rock and blues standards — all infused with a fresh European gypsy sound.
"The Black Market Trust is a group that I had heard a number of years ago and thought I really needed to get to Arizona Musicfest," Naplan says. "They are doing major standards from Frank Sinatra and the Beatles with a flavor of gypsy jazz, which is a wonderful sound with wonderful instrumentation. They are a really exciting ensemble with a Rat Pack type of coolness."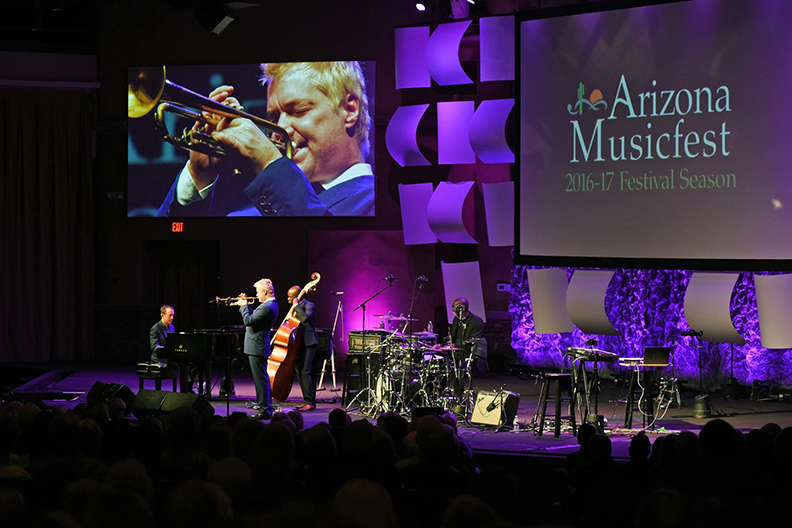 Creating Community
Naplan says that the absence of live music from groups like The Black Market Trust and The Kingston Trio has been a tremendous loss — especially when you take into consideration the effect that a shared musical experience can have on 1,500 people who are all laughing, singing, clapping and cheering with one another.
"Music in a live performance creates community," he explains. "So the fact that we have not been able to engage in live performances means that we have all missed that element from our lives."
Naplan is thrilled that Arizona Musicfest's outdoor series will help fill that void and finally give audiences an opportunity to reconnect not only with live music but also with one another.
"What I am hearing from our very dedicated donors and patrons is great enthusiasm to participate in these outdoor concerts," he says, noting that said enthusiasm is especially high for Arizona Musicfest returnees Ann Hampton Callaway and Tony DeSare.
Callaway, a celebrated cabaret star will make her third appearance at Arizona Musicfest Tuesday, April 20, joined by her quartet for a special performance that will feature hits by some of the greatest female divas of all time.
"Ann Hampton Callaway has quickly become a favorite of Arizona Musicfest's audiences," Naplan says. "She previously did a concert of Barbara Streisand songs. Last year, she celebrated the music of Linda Ronstadt. This year, it will be a mixed bag of repertoire that she loves performing. She has a wonderful reputation for reinterpreting songs."
DeSare — who Naplan describes as an extraordinary pianist, singer, arranger and composer with elements of both Frank Sinatra and Billy Joel — will then perform an exhilarating concert featuring music of the Great American Songbook, rock 'n' roll, Tin Pan Alley and more Saturday, April 24.
Arizona Musicfest will close out its outdoor series Saturday, May 1 with Festival Orchestra Chamber Players — a select group of the nation's finest orchestral musicians, led by Maestro Robert Moody and featuring acclaimed soloist Cathal Breslin.
"That concert will be performed on the Sanctuary Patio at Pinnacle Presbyterian Church, which is a very beautiful space with beautiful stone walls that will create a very nice, natural acoustic," Naplan says.
Touching Lives
In addition to comfort and community, the concerts will also allow Arizona Musicfest to continue to touch people's lives through the unparalleled power of the arts. After all, the money that the nonprofit organization makes from the concerts it produces benefits a variety of music education programs in the Valley.
Programs, which are provided at no charge to area schools, include Musicfest Strings, Musicfest Mariachi, Musicfest Winds, Musicfest Strummers, Music and Sound/Found and Around, Musicfest Jazz and The Music of Arizona — the organization's signature multicultural program.
Meanwhile, Musicfest's Young Musicians Competitions, Young Musicians Performance Series and the Musicfest College Scholarship Program serve the finest young musicians in the Valley, while Music Alive! — a unique lifelong learning and creative aging series — features dynamic programs for the community's older adults.
"The fact that we can touch people's lives from birth through very senior is very important," says Naplan, explaining that music can inspire youth as well as keep older adults cognitively stimulated. "There is enormous value in music and we are grateful to be a vehicle for that as Arizona Musicfest."
As for those previously scrapped plans for Arizona Musicfest's celebratory 30th season, Naplan says they have not gone away; they have merely been postponed.
"Every single concert that was meant to be presented this year will now be presented next year," he says. "I can promise you that we will have a really phenomenal lineup next year, which is coming together extremely well. We have also added many other artists so next year we are planning to get back to our full schedule as if nothing has changed. There will be 30 concerts between November and April and we are very excited about that."