Writer Shannon Severson
Photography Courtesy of Local Jonny's Tavern and Café
[dropcap]I[/dropcap]n the heart of Cave Creek, a little place called Local Jonny's Tavern and Café has welcomed visitors since 2014. Jonny Oughterson and his wife, Lauren Van Winkle, took what began as a small café and bar alongside a bike shop and grew it into a full-sized restaurant and outdoor music venue.
Then, the COVID-19 pandemic hit and the couple had to transform again. Fortunately, they had the support of an appreciative community to help make it happen — and to come back even stronger.
"We are a town whose core is the food and beverage business," Oughterson says. "Every egg we sell directly affects the community and people understand that."
Early in the pandemic, loyal customers would drop large amounts of money into the Local Jonny's Tavern and Café tip jar.
"One gave $1,000," Oughterson explains. "He lives in Colorado during the summer and said he wanted us to be here when he came back. He was in tears telling me that if I needed anything he would help. I was crying, too. I said, 'I want to do this on my own, but just knowing you have our back gives me the energy to keep going and to get through this.' To have people in our corner is all the help I need."
Oughterson and Van Winkle can recount many similar stories of when they have been brought to tears by the generosity of their loyal customers.
"Even the mayor came in for a drip coffee and gave us $100 for the employee tip jar," Van Winkle says. "There were so many people like that. We had so much support without even asking. It's the only way we made it through. We felt so blessed."
Innovation and Tradition
Oughterson and Van Winkle had to get really creative during the pandemic, adding curbside service — which still remains a big part of their business today — as well as selling groceries, amping up social media blasts and shifting from counter-service to full-service. They did everything they needed to do to stay afloat.
Despite the challenges, Local Jonny's Tavern and Café even managed to nab an award last year for the best breakfast spot in the North Valley. Customers eagerly adopted the curbside service the restaurant came up with to meet the demand for their baked goods, veggie breakfast burritos and "Jonny's Famous" pancakes topped with house-made granola and fresh blueberries.
Oughterson, Van Winkle and the entire Local Jonny's Tavern and Café team put in a lot of pre-pandemic sweat equity to open The Tavern at Local Jonny's in 2019, taking over the bike shop space and renovating the side patio at great expense. The front porch now has plenty of seating and the patio is shaded by trees and canvas sails against a backdrop of new redwood fencing that makes for a cozy feel. Oughterson has plans to install a misting system and fans for the warmer months.
Despite the hurdles, increasing outdoor seating was the perfect recipe for adjusting to capacity restrictions as business comes roaring back.
The menu — including happy hour specials — was revamped and expanded, with old lunch favorites like fish tacos, salads and juicy burgers now also available at dinner Wednesday through Saturday nights. In the evenings, diners can tuck into new entrees like pan-seared salmon and barbacoa beef roast.
"From day one, our motto is that we don't want to be pretentious," Oughterson says. "Starting with our coffee experience — I want people to come in and feel comfortable ordering their favorite 'big chain'-style coffee drink or a black coffee. Same with wine. We are upping our wine game, but I just don't want to have people talking about terroir. We have knowledgeable bartenders without the pretentiousness. We want to keep it 'Creeky.'"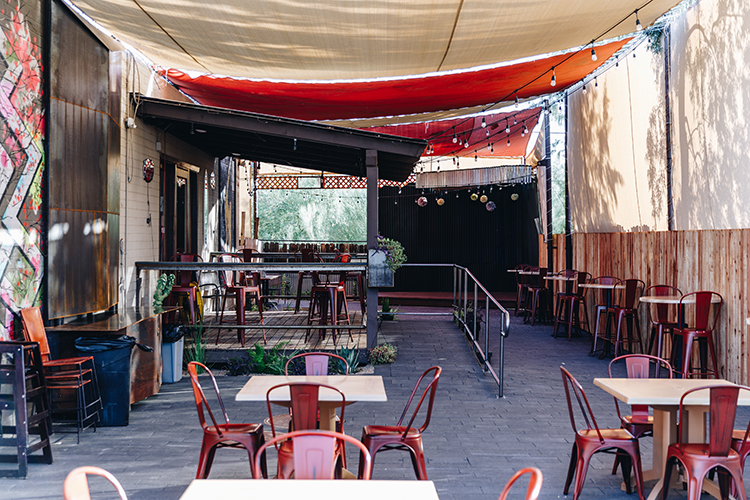 Music, History and Old Friends
The inviting outdoor space now has live music on Friday and Saturday nights, trivia on Thursday nights and a bring-your-own open mic night on Wednesdays.
"We have had a lot of positive feedback, especially from people who are still nervous about going out," Van Winkle says. "We are taking every precaution and we take it seriously because it's our responsibility to operate safely. I'm really grateful that we have been able to continue on as we have been and we will keep going. The Cave Creek community has been so good to us."
The side patio is akin to Cave Creek's backyard, where everyone can feel like a local. The response has been enthusiastic — particularly with the introduction of live music.
It's apropos that entertainment is returning to this, the original location of the legendary Cave Creek Coffee Company and Wine Bar, then affectionately known as C4.
The venue was known for live concerts and Oughterson has a personal connection to it as he worked the bar and security for many years. Now, he's put his own spin on the building, even constructing The Tavern's outdoor tables from the old C4 bleachers. He is excited to bring musical talent from around the Valley back to this historic stage.
On the café side, Fire Creek Coffee — roasted by Oughterson's former boss, Mike Funk — is still brewing. Funk remains a great personal friend and supporter of Local Jonny's Tavern and Café.
"Mike helped us tremendously when we first got this place going," Oughterson says. "He used to let us withhold payment for coffee in the summers so we could catch up on our bills and then we would pay double during the busy season. He used his own personal money to help us with equipment and helped wherever he could. He said, 'I'm investing in you guys because I think you're going to make it.' We are now his second-biggest account."
Passing the Baton
Van Winkle did the lion's share of running the business for the first four years while Oughterson took the lead raising their two young children, now ages 3 and 7. Without business or culinary degrees, she says they learned each lesson the hard way as the little eatery grew bit by bit.
The couple decided to switch up duties last fall, giving Van Winkle some much-needed time to re-center after an extremely stressful year.
"Lauren and I were really lucky," Oughterson says. "She likes numbers and the business aspect and I am very much a people person; taking care of employees and talking to customers is a big thing for me. She ran the show for four years and was ready for a break, but I still rely heavily on her knowledge and experience."
General manager Becca Harding — another long-time local and dear friend — has played a big part in the adjustment and expansion.
"Becca does a lot of work to keep Local Jonny's running smoothly," Oughterson says. "She's taken such a big load off of our shoulders. You can teach someone to do a job, but you can't teach them to care — and she does. It's neat how we are all from this small town and working together in this industry."
Oughterson and Van Winkle say their loyal customers are still checking in on them. Keeping small, family-owned businesses like theirs is now at the forefront of people's minds and has been one of the silver linings of a very challenging year — one that pushed both to their limits. But there isn't an ounce of quit in these dedicated business owners; there never has been.
"We never planned on being restaurant owners," says Van Winkle, a native of Washington state who first met Oughterson when she took his place managing another former town favorite, Fire Creek Coffee, while he worked as a commercial salmon fisherman in Alaska for the summer.
"I say we wanted a coffee shop, but aside from that, we wanted a place where our community and like-minded, friendly neighbors could hang out. We wanted to create a spot where people felt welcomed, taken care of and at home amongst friends."
Oughterson and Van Winkle's dedication to the customer experience and their strong community connections have made their vision a reality as they head into an even more successful future for Local Jonny's Tavern and Café.
Local Jonny's Tavern and Café
6033 E. Cave Creek Road, Cave Creek | Sunday–Tuesday 8 a.m.–2 p.m. | Wednesday–Saturday 8 a.m.–9 p.m. | 480-488-7473 | localjonnys.com