Writer Rebecca L. Rhoades // Photography by Pax Philomena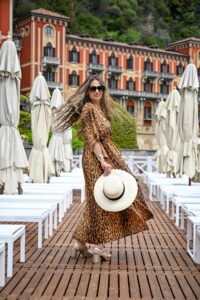 No matter where she travels, Jean Marie Clarke always turns heads.
Tall, slim and elegant, with long wavy hair streaked with gray, she exudes the poise and worldly confidence of a former runway model. But it's her outfits that elicit admiration.
"From Heathrow to Milan, people are always telling me that they love my dresses," the Phoenix-based fashion designer says. "My sister and I were coming back from Israel, and we got off the plane at JFK [International Airport in New York City], and this young guy who took our suitcases was like, 'You two look amazing. I love your dresses.' And he was like 20 years old!
"On another trip to England, the flight attendant said, 'Ma'am, we've been waiting for you to get up because we wanted to see what you are wearing.' I call it the Pax phenomenon. My clothes are unique, colorful and inspiring. And people want to know about them."
Clarke is the founder and creative mind behind Pax Philomena, a seven-year-old line of kaftans, tunics, men's shirts, pajamas, loungewear and more. The effortlessly chic pieces are made from the finest cotton and Italian silk and feature bold florals, paisleys, animal prints and graphic patterns in an array of rich jewel tones, deep primary hues and luscious earthen shades. The cottons are block-printed by hand in India, while the silks are from the same mill that supplies some of the world's top luxury brands.
More than just fashion, they are works of art that are meant as much for everyday wear as they are for being the center of attention at a high-society soiree. And they're a labor of love for Clarke, who wanted to create clothing that would last, that would make people smile, that could be worn by everyone — and that would give back.
Born in Calcutta (now Kolkata), India, to British-Indian parents, Clarke moved to Arizona with her family in 1969 to escape the communist movement that was growing in the West Bengal city. They settled not far from the historic adobe house in north central Phoenix that now serves as an atelier for Clarke's business.
After studying art history at Princeton University, Clarke received a fellowship at the Peggy Guggenheim Collection in Venice, where she met textile entrepreneur Antonio Ratti, founder of one of the world's most influential textile mills, whose clients include leading fashion houses, such as Louis Vuitton, Prada, Hermes, Versace, and Dolce and Gabbana. Clarke began working for Ratti's home furnishings division, selling high-end textiles to such top brands as Ralph Lauren, Holly Hunt and Clarence House. It was here that she became familiar with the multitude of luxurious patterns available in the company's archives.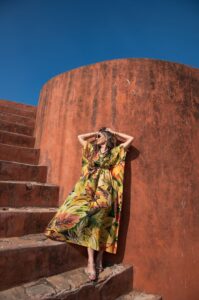 Inspired by her mother, Philomena, who as a plus-size woman often had difficulty finding stylish clothing that fit well and was comfortable, Clarke began creating flowy one-size-fits-all kaftans, which are now her signature pieces.
"Mom had so much trouble finding clothing, especially pieces that were soft and in natural fibers, as she was allergic to everything," she recalls. "With the kaftan, I tried to be all-inclusive. The silhouette is very flattering. I love the fact that I can wear it and that my mom could wear it."
These aren't the boxy, shapeless kaftans or muumuus of the past. Featuring an adjustable drawstring waist, the easygoing shape enhances the figure without being either too clingy or too bulky. The style is available in three lengths to accommodate all heights, sizes and comfort levels: short, or hip-length; midi, or knee-length; and maxi, or floor-length.
In 2015, Clarke incorporated her fashion business. She named it Pax Philomena. "Pax" means peace in Latin; Philomena is in honor of her mother.
Initially, Clarke offered kaftans and tunics in a soft cotton that's handwoven and printed in India. The line now also includes pajamas, dresses, lounge pants, men's shirts and boxers.
Most of the designs are block-printed using centuries-old methods. Natural dyes are stamped onto the fabric with hand-carved wood blocks. Each color requires a separate block, and some patterns, such as the yellow floral Alex, showcase upwards of nine dye shades. Other designs, including the hot pink Fanfare and indigo Isadora, are created by an ancient method called dabu printing. Similar to batik, which uses wax to repel color, this technique applies a mud-resist to white fabric, which is then dyed, leaving behind a white motif.
"All of the block printing is done in Jaipur, India," Clarke explains. "These are artisans that we support. They've been doing this for generations, and I want to keep this art alive."
Many of the patterns are traditional Indian designs that have been given a modern spin with contemporary colors. Delicate metallic embroidery and hand-beaded tassels complete the look.
For something a little more luxurious, Pax Philomena kaftans and tunics also are available in a high-end silk from the Ratti mill in Como, Italy.
"We're bringing you the same quality that you'd find at Valentino," Clarke notes. "In fact, I was at Valentino in the Hamptons a few months ago, and they had a giraffe-print kaftan that's printed at my mill. It was exactly the same quality as Pax's, but it was $2,500. Mine are $815. I'm trying to bring quality to the marketplace."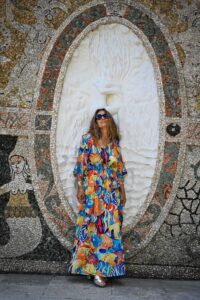 Unlike cheap mass-market silks, the Italian silk crepe is comfortable even during Arizona's hottest days. Absorbent and breathable, it keeps wearers cool when it's hot and warm when it's cold.
"The Italians are about quality," Clarke says. "This will last you a lifetime."
The patterns for the silk line come from the mill's archives, and Clarke has the fabrics dyed to her color specifications.
"I pick what I want, and it's exclusive to us," she explains. "Nobody else will have these prints."
The Black Botanica, for example, showcases a bold, oversized tropical print that was taken from home furnishing textiles; while the Zirafa Girafa offers a playful take on an animal print in vivid midcentury-inspired hues of magenta, olive green, orange and teal. One of Clarke's most popular silk patterns is the Primavera cactus print, a watercolor-esque explosion that embodies the beauty of the Sonoran Desert.
Saguaros take center stage on the cotton Prickly Pax line of kaftans, lounge pants, men's shirts, boxers, scarves and bandanas. The whimsical green print is available on pink or yellow backgrounds or, in a salute to the Phoenix Suns, in purple on orange.
Recently, Clarke expanded her offerings to include boiled wool kimono-style wrap coats, belted coats and ponchos, in solids and patterns, as well as mala necklaces made from silver and semi-precious stones.
"One of my goals is to be able to reach more people with my clothes," Clarke explains. "When you sell a dress for $2,500, you have a very limited clientele. A lot of this is about educating people, teaching them about the natural environment and printing by hand. And it's also about spreading the word of Mother Teresa."
Whether it's the sale of colorful kaftans or comfy lounge pants, an $800 silk dress or a $25 bandana, a portion of each is donated to Mother Teresa's Missionaries of Charity in Phoenix.
"My aunt was a Loretto nun with Mother Teresa, so I grew up hearing about Mother Teresa," Clarke says. "The church in Calcutta where I was baptized is the church where Mother Teresa was laid in state. I have this connection to her."
The floral pattern of the Teresa cotton pajamas was inspired by the Victorian tile found in the Missionaries of Charity motherhouse in Kolkata, and one of the nun's most famous sayings — "Peace begins with a smile" — is displayed on the tags of all Pax Philomena products. Each month, Clarke donates to the Phoenix mission, which offers assistance to the city's homeless.
"Giving back is important to me," Clarke adds. "Our donations help ensure that their air conditioning bill will be paid in the summer or that they continue to help people on the streets. We're doing our part to spread peace without feeling gimmicky.
"Mother Teresa said, 'Peace begins with a smile.' So we can make our own little impact just by smiling at someone. And if I'm spreading beautiful vibes and clothing, I'm spreading smiles. Pattern and color are what make people smile, and my goal is to spread happiness. I mean, just look at all this color. You have to smile, right? You just have to."