Writer Joseph J. Airdo
[dropcap]T[/dropcap]wo decades ago, Beth Ames Swartz had the idea to bring Arizona artists together to develop not only their professional practices but also their bonds with one another.
Since then, the group has grown to more than 180 participants who — as informal members of Artists' Breakfast Club — attend monthly events with the intention of artistic cooperation, mutual support and community.
Scottsdale Public Art is celebrating the spirit of community and support among the group with a virtual exhibition of is participants' creative works poignantly titled Artists' Breakfast Club: 20 Years. Wendy Raisanen, curator of collections and exhibitions for Scottsdale Public Art, calls the community that Swartz and her fellow artists have created incredible.
"The guidance they have given each other is, in part, a reason for their artistic success," Raisanen says. "Artmaking is tough; you never know if you're going to get anywhere with it. What anyone needs is some advice and encouragement — and that is what they are offering each other."
An Amorphous Group
Swartz moved to New York for her career in the late 1980s and enjoyed being part of a breakfast club for artists during her time there. The experience inspired her to start a similar gathering in Phoenix — a place she believed was in dire need of such a thing.
"Everything was just so spread out and artists were working all alone," Swartz says.
In 2000, Swartz enlisted the assistance of her friend and fellow artist Jon Haddock and they invited six other artists to begin meeting for breakfast on a regular basis. Initially, Artists' Breakfast Club relied on word-of-mouth, with artists finding out about it one way or another and simply showing up to the meetings.
Eventually, a mailing list facilitated better communication and organization. Attendees would bring a friend or two and those friends would later bring their friends until the group grew to more than 180 participants.
"It is a very amorphous group," Swartz says. "There is no real structure to it and we do not necessarily meet for breakfast."
Artists from all over Arizona — from Phoenix, Scottsdale, Mesa and Tempe to as far away as Tucson, Gold Canyon and Oracle — attend monthly events that feature museum curators, university deans and professors, top gallery directors, technical experts and other individuals who inspire and support them.
"I think of it as an extension of my art practice, which is all about interpreting different religions and wisdom systems and gleaning the commonalities in order to show that we are all connected and to help evoke a common compassion among people," says Swartz, noting that she has often heard artists state that they crave connection. "This was a way to bring people together in a cooperative, collaborative, warm and loving way every month."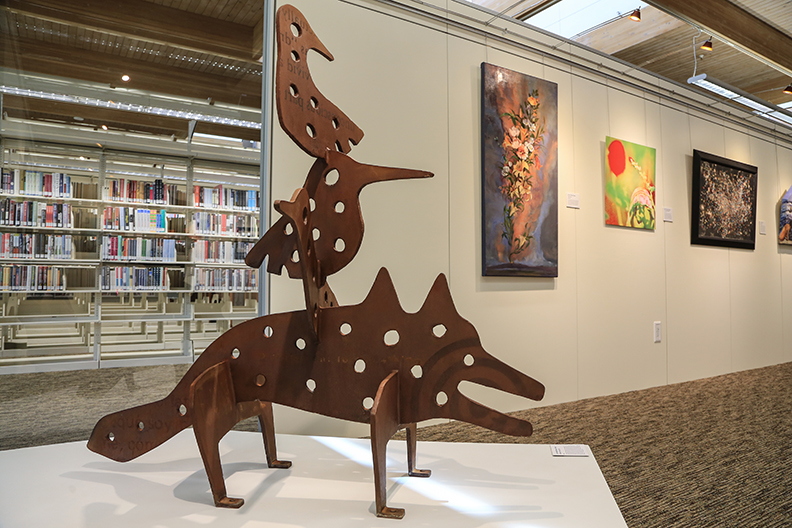 No Longer Strangers in Paradise
Artists' Breakfast Club evolved over the years as Swartz thought about how it could most greatly benefit her fellow artists, with between 20 and 60 attending each event depending on their particular need and interest.
"We meet in all kinds of places — from FOUND:RE Phoenix Hotel to people's homes and museums," Swartz says. "I have introduced our artists to all of the museum curators and directors. I think that it has been very helpful. It gives them access where they otherwise might not have had access."
Jill Friedberg, who has been attending Artists' Breakfast Club's events since shortly after moving from Chicago to North Scottsdale in 2002, says that access and the experiences it has afforded her have been invaluable.
"Including artists of many disciplines, Artists' Breakfast Club has provided me with a seemingly endless variety of artist discussions, studio visits, exhibitions and other stimulating events — each advancing my creation of meaningful art," Friedberg says.
Swartz adds that Artists' Breakfast Club attendees have made a lot of friends through the group, which has also led to a lot of interesting collaborations.
Art Levy can attest to that. He joined Artists' Breakfast Club about 17 years ago after he met Swartz at an Aspen, Colorado art gallery.
"This chance meeting opened the door to joining the breakfast club and becoming part of this diverse and remarkably talented art community," says Levy, who had moved from Atlanta to North Scottsdale after retirement from a 27-year career as a cardio-thoracic surgeon.
Being a new arrival to Arizona, Levy felt "like a stranger in paradise" until Artists' Breakfast Club altered the dynamic, introducing him to friendships, support, education and exhibits.
"Working alone in my studio could be quite isolating," he explains. "Artists' Breakfast Club became an important part of my community and social life."
Swarts says Artists' Breakfast Club has helped her as well. The 84-year-old Paradise Valley resident lives her life by the Jewish concept of Tikkun Olam — performing acts of kindness to repair the world.
"I just get a lot of joy and pleasure out of it," she explains. "It helps me to feel connected to the community. And I feel like I have been building community. It also allows me to exercise my creativity as I wrack my brain to figure out things that will be interesting to the artists that will also keep them inspired and engaged."
Since the start of the COVID-19 pandemic, Swartz has been inspiring and engaging Arizona artists through virtual Zoom tours of New York artists' studios — including those of her daughter and her son-in-law.
Kindness and Cooperation
Swartz says the lineup of artists whose work is represented as part of Scottsdale Public Art's Artists' Breakfast Club: 20 Years virtual exhibition includes everything from accomplished artists to younger, less prominent ones — a pairing that illustrates the kindness and cooperation of the participants.
"We need that kindness and cooperation in the world today," Swartz says. "There is so much dissension and anger. It is like a bomb to the soul when you go through this show and read all of the artists' statements."
Levy's piece — "Cultured" — is based on his interest in cellular life, both form and function. Featuring 1,500 cells, varied colors and forms layered in wax, the encaustic artwork took him two months to complete.
"Although I was an art student in undergrad school, I had always planned to go on to medical school," he says. "Histology — the study of cellular form and function — became a secondary interest. I was always amazed by the beauty of stained specimens and wanted to express this concept as an artist."
Friedberg also has a piece featured in the exhibition.
"'Distant Future' expresses concern for humanity endangered by current struggles in our tumultuous world," Friedberg says. "It is composed of photomontage and acrylic paint with textiles and thread on a shaped canvas, which represents a future haven of peace and safety."
Swartz's entry — "And so, it was I entered the broken world to trace the visionary company of love" — is one of 12 paintings that the artist completed while practicing social distancing this year. She says that although artists are competitive, operating with kindness and cooperation is the only way they can stay afloat nowadays.
"It is a struggle to be an artist in this culture — to do the work of your own vision, of your own heart and of your own soul," she explains. "And I am not talking about people who do art just to sell to or please other people. I am talking about people who do art when they feel called to be creative and to produce art from their inner beings. So it is great to see this happening."