Writer Joseph J. Airdo
Photography Courtesy of Rob Mains Photography
[dropcap]T[/dropcap]he only thing about which North Scottsdale resident Alpio Barbara is more passionate than cars is community. That is why more than three years ago he began organizing Cars and Coffee at Pinnacle Peak — a monthly event that not only brings the community together to appreciate automotive excellence but also raises money for a very important cause.
"It started as just a bunch of car guys who got together and wanted to do something on a Saturday morning for a couple of hours," Barbara says.
Now, for three hours on the second Saturday of each month, Barbara hosts the event which has become about so much more as it is a vehicle for humanitarianism — making a much-needed difference in the lives of children.
Barbara owns and operates Alpio's at Troon — a unique event venue that has been used for weddings, birthday parties, club meetings and parties, business and association socials, bachelorette parties, holiday parties and more.
About five years ago, Barbara bought a building in the Villages at Pinnacle Peak shopping center and designed it to resemble a classic 1950s diner with the intention of using it to store and display his incredible collection of cars and motorcycles. The venue also features several life-size mannequins of the era's celebrities — such as Marilyn Monroe and members of the Rat Pack — as well as vintage gas pumps, large-scale models of military aircraft and neon signs.
People from clubs and organizations heard about the unique setting and approached Barbara about renting it for themed events. A double mezzanine level provides lounge seating and a pool table as well as video and pinball games. Barbara offers to handle catering or the renter can provide their own.
Barbara is also a member of the North Scottsdale Coffee Group, a handful of car enthusiasts who get together at AJ's Fine Foods twice a week to "shoot the breeze" and enjoy some java. During one such gathering, Barbara proposed starting a monthly automotive event at his venue. He knew that between the six or eight of them, they would be able to get at least 20 cars together for such an event.
The North Scottsdale Coffee Group put Barbara's idea into action in November 2017 with the intention of simply giving the car enthusiast community a place to mix and mingle.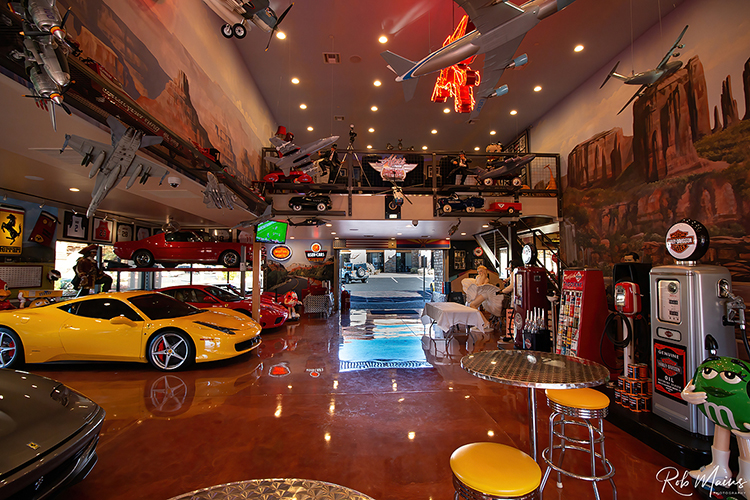 Of course, some refreshments were needed and Platinum Companies, Inc. — a custom home builder, luxury home renovation company and commercial and residential property maintenance company — graciously offered to provide complimentary coffee during the event. Meanwhile, Kimberly Adams of Remy Grey Insurance offered to supply complimentary doughnut holes.
When one attendee offered Sue Pille — Platinum Companies' director of property maintenance — a $2 tip, she assured him that it was not necessary. He left it anyway, prompting Barbara to make a tip jar a permanent fixture at the event with all proceeds going to the Phoenix Children's Hospital Foundation via Golf-Fore-Charity, which Platinum Companies had supported for several years.
Barbara also offered to match all funds.
"At that first event, we raised $64," Barbara says. "I matched that so it turned into $128. The first year, we raised $7,777. Last year, we did $40,000."
During the Dec. 12 Cars and Coffee at Pinnacle Peak event, Barbara and Pille presented the Phoenix Children's Hospital Foundation with a check in excess of $53,000 for 2020 — a remarkable figure considering the year's unique obstacles.
Matching donations has become the norm for Cars and Coffee at Pinnacle Peak, with real estate agent Mike Dobbins, Cactus Tint and Bob Smith with Burger King being just a few of the community members who have done so in the past.
"We have a lot of community people who help us sponsor this event," Barbara says. "There are a lot of moving parts. We are all doing it together. I just happen to have the location."
Other notable individuals who have contributed to the success of Cars and Coffee at Pinnacle Peak's charitable efforts include two gentlemen who donated a bunch of memorabilia and car parts to the cause. Last March, Barbara organized a breakfast auction of the items and raised $28,413.
In October, racecar driver and entrepreneur Kevin Buckler helped to host an auction of his Adobe Road wines from which $7,500 was raised. Speed painter Katie Von Kral donated a pair of paintings — one of Buckler's racecar and one of late actor Steve McQueen — to be auctioned off. Paul Phillips of Toy Barn Storage bought the Steve McQueen painting and donated it back to Barbara so that he could auction it off again next year.
Barbara had begun organizing a formal dinner auction for the third Thursday in March but those plans are currently on hold, awaiting an update on the health and safety restrictions associated with the COVID-19 pandemic.
Pille notes that Barbara's charity extends far beyond Cars and Coffee at Pinnacle Peak. He also organizes car rides via North Scottsdale Coffee Group throughout the year.
"Everyone puts in $20 and eight or 10 cars go on a road trip for the day, eat lunch and come back," Pille explains. "All of that money goes to the Phoenix Children's Hospital Foundation fund. Alpio has got a big heart. He has a passion for kids, cars and the community."
She adds that the growth of Cars and Coffee at Pinnacle Peak over the past three years has been truly tremendous.
"There are a lot of car enthusiasts in Scottsdale," Pille says. "It is huge. There were more than 185 participants at the November [2020] event."
Barbara encourages people to continue to come out to Cars and Coffee at Pinnacle Peak 7–10 a.m. on the second Saturday of each month to support the Phoenix Children's Hospital Foundation. He is also seeking more sponsors to match funds.
"The success of this event shows me that there are a lot of people out there in our community who really care," Barbara says. "They have the same passion that I have. We are so privileged. We are out driving around in our nice cars and these poor children need our help. We are fortunate that we are able to do this kind of stuff while helping them."
Cars and Coffee at Pinnacle Peak
Second Saturday of Each Month | 7–10 a.m. | Alpio's at Troon | 10452 E. Jomax Road, Scottsdale | Free | 650-955-4653 | alpiosattroon.com