Writer Lynette Carrington
Photography Courtesy of Wrigley Mansion
[dropcap]C[/dropcap]hef and culinary mastermind Christopher Gross has never been one to let the grass grow under his feet. The James Beard Award-winning chef is constantly working on new menu items, his restaurant concepts and being an integral part of the gastronomy landscape of Arizona.
For many years, Gross's company Gastronomy headed up Wrigley Mansion with the chef's business partner Paolo Embry having reworked the wine program and managing a bit. Since joining the iconic property, Gross has revamped and breathed new life into the culinary program at Geordie's at Wrigley Mansion — one of the finest dining establishments in Arizona.
Gross's duties will soon shift toward Christopher's at Wrigley Mansion — the chef's latest venture that is set to open this month. He has focused his culinary vision and created a new concept built on the site of a prior outdoor patio and terrace that was used somewhat infrequently.
The resulting structure is a dramatic and aesthetically stunning restaurant constructed of glass surrounds and a retractable roof punctuated with design element ideas that Gross has collected over the past several years from some of his favorite restaurants around the world. He has even incorporated some fun design ideas into the restroom.
"We went through several searches for architects," says Gross, noting that he spoke with his life partner and Wrigley Mansion owner Jamie Hormel about utilizing nationally and internationally renowned architects that live in the Valley.
They selected Wendell Burnette, whose other high-profile projects include Jervis Inlet Resort and Amangiri.
"I also wanted to be able to cook in front of everybody on a big wood hearth and we found a company that builds them all over the United States," adds Gross, noting that the restaurant is set up as an elongated triangle and allows for an intimate dining experience where he can see all of his guests. "I'm going to get to see everyone again and that is what I love about it."
Whereas Geordie's has a bit of a Mediterranean influence to its menu, Christopher's will have a different feel that hearkens back a bit to the Christopher's of the 1990s.
"I did a play on some branding," Gross explains. "Last Christmas, we had that little side room of about 10 that had higher bar-type seating and you could look into the kitchen, enclosed in glass as well. It was called C144. That was sort of our chef's table. 'C 'could be for 'chef' or 'Christopher' and '144' is 12-dozen, which is called a 'gross' — and that's my last name. This is imagining we took our chef's table, brought it up to the mansion and just made it a little larger."
The restaurant flow is designed to handle no more than eight people per half-hour, keeping it a more intimate dining experience.
"We'll be open five nights a week and we're having a different type of service," Gross says. "We'll be cooking for you and serving you. There are no waiters; the cook is the waiter as well. The person who made your first course will be bringing it out to you. They'll know everything about the dish and you'll never hear, 'I'm sorry about the wait; the kitchen was backed up.'"
One specific reason Gross chose this unique approach was to engage diners and teach the culinary crew.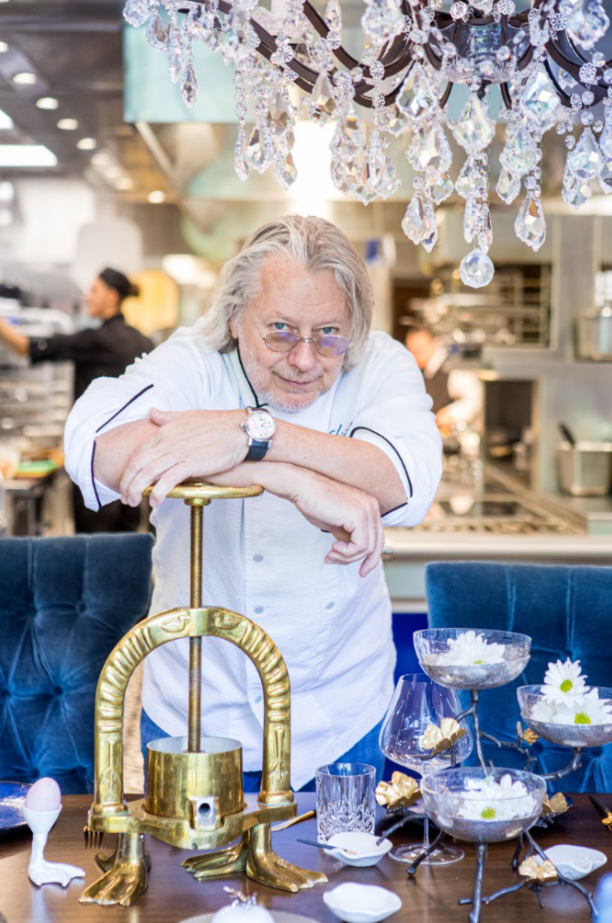 "So many young culinarians get into the business and they get to be a cook or chef but then they know nothing about the dining room," he explains. "Then they go out and open their own place and they don't have a clue, sometimes. Or they know nothing about wine or proper service."
The fully integrated style of Christopher's offers a unique level of service rarely seen elsewhere. Reservations are taken exclusively through Tock and dinner is pre-paid via the app, allowing for more quality time to be spent at the restaurant.
"Theoretically, you could walk out without handling a bill," Gross says. "But if you said, 'I want to choose a bottle of wine,' then that's the only service fee built-in on top of what you ordered. Basically, there's no tipping — except for the service fee from anything you order on-site, and then that all goes to the team, right down to the dishwasher. Everyone working can take pride in everything they do."
Art is also incorporated into Christopher's, including works by Rotraut Klein-Moquay. One special artistic touch comes via Cosanti — the world-famous maker of bells. Cosanti has designed custom domes for some of the food that will be served at the restaurant, adding an extra touch of distinction.
On Monday and Tuesday nights, the restaurant transforms into a concept showcasing Gross's classic and previously award-winning or TV-featured dishes at a lesser price point. Reservations will also be made via Tock.
"We're trying to book all of your senses in the restaurant," Gross says. "You'll smell the wood-burning fire, you'll see the stars and the historic mansion and you'll be surrounded by art in a structure that architect Wendell Burnette built off my vision."
Christopher's at Wrigley Mansion
2501 E. Telawa Trail, Phoenix
602-955-4079