Writer Shannon Severson
Photography Courtesy of Amber Standerfer
[dropcap]W[/dropcap]ith piercing blue eyes and his skin bronze from long days spent working in the sun, Jim Gath looks like he's always lived the life of a cowboy. As the founder of Tierra Madre Horse and Human Sanctuary in Cave Creek, he has found his life's purpose — even though it's not at all how his story began.
The Saranac Lake, New York native says he's lived about five lives with stints in New York City and Los Angeles, as a writer (he has authored five books) and as one of the founders of USA Today. He found that all the career success wasn't ultimately making him happy and, at one point, he lost everything.
But here, in this little corner of the desert, he's living out his early, happy memories of growing up around his grandfather's horses and, in doing so, has created a nonprofit sanctuary that shelters horses — and heals humans by way of the very special bonds formed with these beautiful creatures.
A Sacred Responsibility
When Gath first left Los Angeles 16 years ago, he opened then-named Rancho Tierra Madre as a boarding facility.
"I had a friend who owned a horse rescue," Gath says. "She kept sending over horses to me that couldn't be adopted out. I would take the ne'er-do-wells, if you will. One day, I was on the phone with her about taking another horse and I said, 'Jeez, I'm upside down here; I have 13 of my own horses and only 11 boarders.'
"She said five words to me that changed everything: 'Jim, you're all they've got.' That hit me like a God shot and I suddenly realized that maybe my mission in life was to take horses that have a lot of challenges. Whether they were abandoned, neglected, injured, abused — whatever it was — take them in and give them the happiest, healthiest home they could imagine and lives beyond their wildest dreams because they have been through so many challenges."
Slowly but surely, as the boarders moved on, Gath continued to take in more horses that were considered "undesirable." By 2015, the ranch officially became a horse sanctuary with 501(c)3 status. He and a dedicated team of volunteers have now rehabilitated and lovingly cared for 60 horses — with 29 currently in his care.
Gath takes the shepherding of horses from frailty to health — and, ultimately, through their last days — as a sacred responsibility. The walls of his home are adorned with paintings, carefully bound tail strands, and placards from the stalls of those who have passed on. As heartbreaking as it is to say goodbye, he says it is ultimately his last act of love to not let any horse suffer.
This desire to ensure their complete safety and happiness is a prime reason that Gath decided against operating his ranch as a rescue.
"They've been shuffled around and treated like bicycles," he says. "I didn't want to wonder what might happen to them next. With this sanctuary, I'm able to say to them, 'When you get here, you're home.'"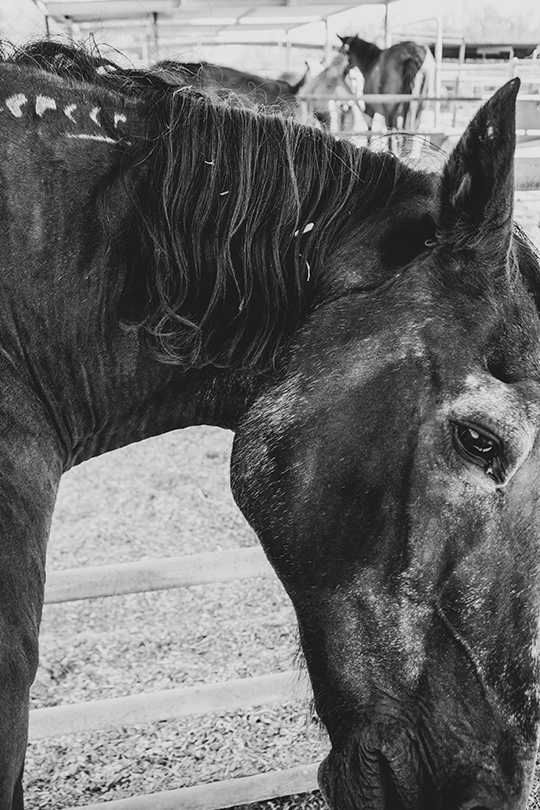 A Heart Connection
As it turns out, home is an awful lot like what it feels for the many humans who lend a hand at the ranch, too. They muck stalls, clean and fill every water tub, groom and turn out the horses into the arena to walk and play with them. Each volunteer tends to instinctually gravitate to a particular horse or horses.
One of Gath's volunteers, Susan Dodge heads to the barns to see her favorite mustang two mornings each week before work as the department chair for special education at Greenway High School. During non-pandemic times, the ranch hosts classes of children and adults on the autism spectrum from Greenway High School and Southwest Autism Research and Resource Center.
Dodge says that she has seen her students make great strides in learning vital social and soft skills at the sanctuary.
"It has made a tremendous difference for all of our students," explains. "Jim allows them as much access to the horses as they are comfortable with. We feel so welcomed. The students can have one-on-one encounters with horses and participate in reading feedback; what is the horse telling them about their energy or actions? We have seen so many lightbulbs go off. It has really been such a blessing. They're learning skills that will benefit them for the rest of their lives."
So many people have recounted to Gath that what began as volunteering for the benefit of the horses soon impacts their own wellbeing. Gath says horses speak the language of "Equus" with their bodies, minds and even vocalizations. The horses of Tierra Madre teach humans that language in a way that is mutually healing.
"We realized this had become a sanctuary for people, so we added the 'and Human' part of our name," says Gath as his voice fills with emotion. "We heal horses and the horses heal the humans and then the humans turn around and help heal the horses again. That's the best thing I could ever do in my life."
Gath tells the story of a horse named Birdie, who arrived in August after an urgent phone call from his veterinarian and best friend.
"She called me one afternoon and said, 'Jim, you have to take this horse right now,'" Gath recalls. "She was out in 115-degree heat with no water. She was skin and bones, running a fever of 105, and the owner called the doctor to put her down. Well, the doc took one look at her and said, 'This horse doesn't deserve to die.' We rolled into action and she was here within an hour and a half.
"We got her medical care and began feeding her. She's gained 200 pounds and she's like the queen of the ranch. At 30 years old, she is teaching people. All the volunteers are in love with her; they start walking her and spending time with her and suddenly they realize they've learned. Birdie is helping a lot of people learn Equus. Each of the horses, like every creature or tree on earth, has its own distinct spirit, soul and personality. Horses make a heart connection."
A Better Place
As he spares no expense to give the best care, Gath's budget runs close to $200,000 annually — with veterinary bills accounting for about $50,000 of that. Traditionally, there are several fundraising events each year. But this year required some extra ingenuity so Gath produced a premier videocast that was quite successful.
Looking back on his life, Gath recalls an important conversation with his mother that he had as a teenager.
"I asked her what she wanted me to be when I grew up and her answer was, 'I want you to be happy,'" he says. "It wasn't the definitive answer I wanted to hear at the time. It took me 50 years to realize it was the right advice.
"I think I've made the world a little bit better place. If you don't do that, you're stealing oxygen as far as I'm concerned … I know that sounds harsh, but it's the way I see it. I never want to lie on my deathbed and not have done something meaningful."
As he says this, the horses outside in the arena are frolicking about, volunteers are smiling, the sun is shining and the world is, indeed, a better place.
Tierra Madre Horse
and Human Sanctuary
27115 N. 45th St., Cave Creek
480-469-9166