Canal Convergence: Reconnect Illuminating Creativity and Healing Divisions
Writer Joseph J. Airdo
Photo by Koros Design
This year has seen several situations and incidents that have torn us apart from one another to a degree that our world has never experienced. Between social distancing, racial tensions and political discord, the divisions appear to be as insurmountable as they are innumerable.
Scottsdale Public Art hopes to heal some of those divisions by showcasing several enchanting, light-based works of artists from four U.S. states and three foreign countries that offer the public a way to reconnect with themselves, their neighbors and their urban and natural environments.
"We want to explore how to use art as a forum to come together in a time when humankind is divided both physically and ideologically due to the COVID-19 pandemic and political, social, economic and cultural upheaval," says Kim Boganey, director of Scottsdale Public Art.
Scheduled for Nov. 6–15, Scottsdale Public Art's Canal Convergence aims to provide an authentic and immersive art experience in and around the Arizona Canal. Now in its seventh year, the free, 10-day experience helps to make Scottsdale a premier destination — using art, water and light in ways that celebrate the arts and boost tourism.
Thematically titled "Reconnect," this year's event aims to find common ground and shared humanity through public art, addressing themes of inclusion, communication, collaboration and community engagement.
Building Bridges
Instead of Walls
Canal Convergence's public art manager Jennifer Gill says that although the theme works incredibly well given the unique events of 2020, it was actually developed long before this year's pandemic or upheaval.
"At the close of 2019, we felt that the world's social and political climate was arguably one the most contentious it has been in recent history with subjects like climate change, immigration, gun control and election politics," Gill explains. "Divides had been created across both the United States and countries around the world."
With Canal Convergence's opening day occurring three days after the 2020 U.S. presidential election, Scottsdale Public Art officials knew that all of those important issues would be at the forefront of people's minds.
"In a time where it is easier to build both literal and figurative walls between ourselves instead of bridges, Canal Convergence decided to challenge artists to find our collective common ground and offer an inclusive way to reconnect with one another through public art," Gill says.
When the COVID-19 pandemic and civil unrest occurred, the theme's significance suddenly skyrocketed.
"With everything that is happening now and more to come on the horizon, hopefully, people of all different backgrounds and opinions can come together and enjoy all the ways that art brings us together," Gill adds.
Of course, the COVID-19 pandemic also posed a challenge to organizers who had to redesign the event for a socially distanced world. Boganey says that Canal Convergence's presence at the Scottsdale Waterfront will be minimized in order to ensure patron safety.
"Many of the festivities viewers expect when attending Canal Convergence at the Waterfront will not be present this November," she explains. "Several artworks will still be located on or near the canal, but the rest will be viewable throughout Old Town Scottsdale in order to minimize crowding and allow for safer social distancing."
Additionally, Scottsdale Public Art and Scottsdale Arts Learning and Innovation will use technology to enhance this year's event with a smartphone app. Activities associated with previous years' events — including workshops, artist talks and public art tours — will be accessible via augmented reality.
Entertainment will still be a part of this year's Canal Convergence, though. Livestreamed performances will mix with in-person events held at Scottsdale Center for the Performing Arts, where COVID-19 safety protocols will be in place in a controlled environment.
"Finally, since we will not have a beer garden this year, it is a great opportunity to partner with retail and restaurants near the artwork locations and drive business to them instead," Boganey says.
Shaping Our Future Together
Gill says each of this year's artworks offers different types of experiences to the public as well as unique and meaningful interpretations of the "Reconnect" theme.
The COVID-19 pandemic's influence can be felt through each installation, but it is perhaps most clearly represented through "Together! Responding to COVID-19" — a 32-foot-high light sculpture by OGE Group of Haifa, Israel.
"Inflatable hands of different sizes, shapes and colors all come together to form a heart, which represents the love and gratitude the artists — as well as many people in Arizona and around the world — feel for those impacted by COVID-19 and the doctors, nurses and first responders who have been on the frontlines fighting this pandemic," Gill says.
Gaston Zahr of OGE Group says that difficult times require big symbols of hope, togetherness and resilience.
"The COVID-19 pandemic, the Black Lives Matters movement and so many other events are making it clear," Zahr explains. "We can shape our future only together, with love and empathy, supporting each other, uniting in all our varieties. Nobody is alone. As families, neighborhoods, communities and mankind, we stick together and help each other. That is the underlying message about this artwork."
"Together! Responding to COVID-19" will also be paired with a website where the public can share their stories, gratitude and words of encouragement relating to the COVID-19 pandemic. The comments will be presented each night of the installation via augmented reality, allowing the public to reconnect with those who have helped them, their friends and their family through this difficult time.
One of the most prominently featured installations is "Massively Distributed" by MASARY Studios of Boston, Massachusetts. Located in three sites around Old Town Scottsdale, the artwork features nightly compositions of audio and video that will be presented on building facades.
Gill says "Massively Distributed" will offer the public a chance to reconnect with their city in personal expression. Each piece will be created by members of the public via a web-based app.
"People can use the sights and sounds of Scottsdale — which have been collected over the summer and translated into a digital creation platform — and submit their own video art piece to be exhibited during Canal Convergence," Gill explains.
Ryan Edwards of MASARY Studios says the artwork was conceived as a response to our having been forced to be "distributed" throughout the COVID-19 pandemic with gatherings in public places curtailed.
"'Massively Distributed' addresses our need to connect with community and with public spaces," Edwards explains. "We hope the public is surprised by their own city and by their own creativity playing with the sound and visual textures of Scottsdale.
"And then, ultimately, we hope the aggregate compositions — the 'meta-compositions' of the public's submitted work — is experienced like a quilt, each piece its own unique statement, stitched meaningfully to a whole, massively experienced."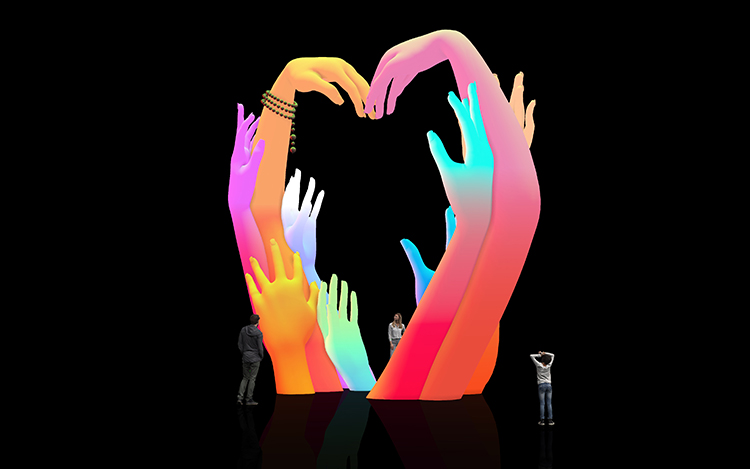 Our Changing Relationship to Space
Other installations featured during this year's Canal Convergence represent more general interpretations of the "Reconnect" theme.
"Fences" by Philadelphia's Immerge Interactive is a 72-foot-long wall made up of more than 9,000 LED lights. Gill says the artwork reacts to people's movements as they walk, hop, skip or jump by in a safe and socially distanced manner.
"This installation will mirror your motion with colorful lights and continue to do so even after you are gone until the next body comes along," she explains. "'Fences' depicts a more physical representation of 'Reconnect' by making you aware of your own body's movements and the movements around you through light, presenting a different kind of self-awareness."
Nicholas Lavella, president of Immerge Interactive, says the generative patterns created within "Fences" visualize both the current viewers and the history of all those who have visited the space.
"These patterns explore how we relate to each other in real-time, drawing connections, shapes and colors through the simple act of movement," Lavella explains. "The layered nature of the patterns provides a deeper exploration into the history of the space. Each viewer can have a personal experience while contributing to the overall nature of the work."
Meanwhile, "Across the Divide" is a generative video installation by Phoenix artist Casey Farina that uses projection mapping across multiple windows to produce visual habitats where abstracted human forms reside. Farina says his artwork explores our changing relationship to space over the last nine months.
"As the pandemic has continued, I have spent an increasing amount of time considering our relationship to living space through a durational lens," Farina says. "I am asking viewers to consider how the incredibly intricate biological processes influence our everyday experience."
Other installations include "Hidden Garden," a series of four inflatable light sculptures where artistic flowers wrap around real trees; "Spectrum (Frame Version)," a luminous installation of 20 suspended LED frames that stretch 40 feet across Marshall Way Bridge; and "Kukulkan's Portal," a light-based, geometric sculpture featuring 10,000 individually programmable LED lights, honoring new discoveries in mathematics and science through its modular design.
Sustainable Symbiosis with the Digital World
If one thing is for certain, the challenges associated with this year's incredibly unique circumstances have forced each of Canal Convergence's artists to think outside the box — especially when it comes to technology.
That is perhaps best illuminated by "Information Flow," an interactive light sculpture by Phoenix artist Justin Winters and Walter Productions that represents the hidden digital network of communication surrounding us. Winters says the artwork is an attempt to draw both literal and metaphorical references to the function of technology in our daily lives.
"It holds great power to connect people and to make information widely available in an instant, while also being a filtered version of reality that can never truly represent the world with complete accuracy," Winters explains. "Information is lost in translation, misinformation is widely proliferated and no app can truly replace the experience of one-on-one human interaction."
Winters adds that technology is still an ever-evolving tool, though, and that we have the ability to guide where it goes in the future.
"With this artwork, I hope to ignite a spark of interest in the aspects of technology in our lives that lay behind the screens that we use on a daily basis so that the next generation of apps and devices might find ways to return some of the humanity that has been lost along the way.
"We are more than the aggregate of our online profiles, and I am optimistic for a future where a healthy, sustainable symbiosis with the digital world can be achieved through human creativity and innovation."
That creativity and innovation has never been illuminated so brightly than through this year's Canal Convergence, which makes remarkably impressive use of that ever-evolving tool of technology about which Winters speaks.
Edwards, whose "Massively Distributed" is largely dependant on its own custom app, says that this year has challenged artists to think differently and to create work that is durable and safe even in the midst of a pandemic.
"But as public artists, we are already in that space, for the most part," he says. "Our work has long been about reconsidering sites — how to think in new ways about the images, textures [and] sounds around us. I think this pandemic is emphasizing how important public art really is — and the artists and presenters who embrace that are really thriving."
Canal Convergence: Reconnect
Nov. 6–15 | Old Town Scottsdale | See website for installation locations | Free | canalconvergence.com