Writer Joseph J. Airdo // Photography by Pamela Littky and Jeff Andersen, Jr.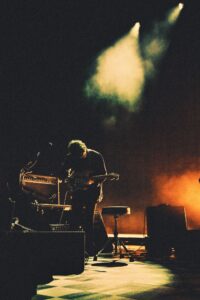 Over the years, Arizona has gained a reputation for being a hub for the hottest music concerts with Arizona Musicfest, M3F and Pickin' in the Pines sending sweet sounds echoing throughout the Sonoran Desert. This fall, local melomaniacs will have yet another euphonious event to add to their schedule as ZONA Music Festival presses its musical footprint into the state's astonishing terrain.
The new two-day boutique music festival — set for Dec. 3 and 4 at Margaret T. Hance Park in downtown Phoenix — will feature a diverse range of national and local alternative, indie, pop and rock artists in addition to highlighting several nearby businesses and vendors.
Having been promoting concerts in the Phoenix area since 2000, Psyko Steve Presents founder Stephen Chilton makes it a point to always place an emphasis on developing local talent and incorporating Arizona-based artists into his company's events. That remains his goal as producer of ZONA Music Festival.
"A lot of these acts are artists who we have worked with for years," Chilton says. "The goal here is to really make sure that Arizona is front and center in this festival and that it really is Phoenix's festival. We put a lot of emphasis on local artists up and down the lineup. We are going to have Arizona artists on every stage."
Among the many local acts that will take the stage as part of this year's ZONA Music Festival are Black Carl, Breakup Shoes, Diva Bleach, Glixen, Miniature Tigers, Pariah Pete, Phoenix Afrobeat Orchestra and Playboy Manbaby as well as singer-songwriters and multi-instrumentalists Sydney Sprague and Upsahl.
"In fact, the first acts we reached out to when planning the event were some of the local artists that we knew we wanted to be part of this festival," Chilton adds.
Further emphasizing the local-first approach, $1 from every ticket sold will be donated to ZONA Music Festival's charitable partners, including Hance Park Conservancy — a nonprofit organization that aims to activate and promote the creative use of Margaret T. Hance Park in support of a vibrant arts and cultural experience.
Of course, the music festival will also feature a number of artists from throughout North America. Canadian indie pop duo Tegan and Sara — one of the event's headlining acts — is beyond thrilled to be among the inaugural event's lineup, noting that Phoenix is one of its favorite cities across the entire U.S.
The members of California-based punk trio Destroy Boys agree, adding that many "killer bands" will be taking the stage during the two-day music festival. Other headliners include Beach House, Portugal. The Man, Bleachers and Japanese Breakfast — an alternative pop band that, led by Korean-American musician Michelle Zauner, is fresh off an appearance as the musical guest on the season finale of long-running sketch comedy series "Saturday Night Live."
Citing Japanese Breakfast's explosive success story, Chilton says that many of the perhaps lesser-known artists at this year's ZONA Music Festival are poised to become big headliners within the next few years. Bartees Strange and TV Girl are among those acts the producer believes are set for sudden stardom.
"A lot of these acts are developing artists," explains Chilton, describing the lineup as an eclectic group of indie rock acts that are diverse enough to be interesting and coherent enough to make sense. "And we are definitely doing everything to set ZONA Music Festival up as a recurring annual event.
"My goal is that it becomes a big vehicle for artist discovery — an event at which people expect to see the best up-and-coming bands and then be able to say, 'I saw them there first!' That has always been the part about festivals that has intrigued me most. Hopefully, it will develop a life of its own and, in ten years, will be where all of the best new bands are playing."
zonamusicfest.com
Experience
ZONA Music Festival // Dec. 3 and 4 // See website for schedule // Margaret T. Hance Park // 67 W. Culver St., Phoenix // $165+ // zonamusicfest.com