Writer Joseph J. Airdo // Photography Courtesy of Anthem Cares Through Service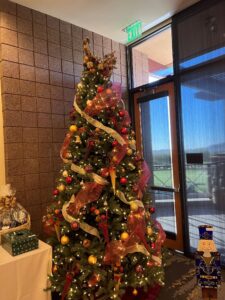 If you step outside and find it hard to believe that it is actually autumn, you are not alone. No matter how long you have lived in Arizona, our toasty temperatures make it nearly impossible to get into the holiday spirit.
Therefore, anything that gives us that little extra nudge that we need to feel festive is very much appreciated — especially when that thing is simultaneously assisting our neighbors in need.
Last year, Anthem Cares Through Service — a nonprofit organization that brings hope and encouragement through volunteer service — hosted its first annual Festival of Trees. The small three-hour luncheon featured a celebratory showcase of 15 beautifully decorated Christmas trees as well as wreaths, centerpieces and themed baskets. Attendees had an opportunity to bid on each of the items, with which they could instantly and effortlessly festoon their homes.
More importantly, all funds from the event went toward the nonprofit organization's mission to help Anthem residents in need of some type of assistance — be it help with utility bills, meal preparation, grocery needs or projects such as home or yard cleaning. It also awards scholarships to local students to further their education.
"All of the money that we raise stays right here in the Anthem area," says Sarah Omer, one of three Festival of Trees co-chairs, noting that St. Vincent de Paul vets each of Anthem Cares Through Service's clients to ensure that funds are appropriately allocated.
Omer's co-chair Laura Bellante adds that last year's event was not only a successful fundraiser for the nonprofit organization but also a joyous sight to behold.
"Last year, looking at the Ironwood Ballroom after the trees were set up, all I could feel was awe," Bellante explains. "We were working in a warehouse for weeks on individual trees and baskets but the 'wow' happened when they were all set up in one place. I think that everyone who attended the event would agree that it was pretty spectacular."
Anthem Cares Through Service is making it possible for the entire community to experience the decorated display this year, extending its Festival of Trees to a four-day event. Following a Nov. 16 dinner that features live and silent auctions, the public will be invited to stroll through the showcase Nov. 17–19 at Outlets at Anthem.
Having started planning the event earlier this year, Omer is hoping to see upwards of 30 trees on display — all of which will be up for grabs, which is good news for those who may not consider themselves to be creatively inclined.
"A lot of people are just not creative," Omer says. "So they can walk away with a tree that has been completely decorated by someone who enjoys doing it and does a good job of it. Even if you cannot afford a whole tree, you can buy a raffle ticket and have a chance to win one."
Founded in 2009, Anthem Cares Through Service is certainly no stranger to holiday displays as the nonprofit organization has, in previous years, organized the community's infamous holiday home tour. However, Festival of Trees makes it possible for people to experience the magic of Christmas all in a single space.
Bellante notes that the Festival of Trees concept has been utilized by various nonprofit organizations all across the country in one form or another.
"I think that it is successful because most people love this time of year and all of the festive decorations that go with it," she says. "It is a time for people to come together. And who does not love a pretty Christmas tree?"
However, this Festival of Trees is Anthem's time to shine, flaunting a festive indoor forest that is created by the community, for the community.
Retired interior designer Evelyn Wright — the third of the event's three co-chairs — says that she thoroughly enjoys working with Anthem Cares Through Service's other volunteers on creative projects that benefit community members who are struggling financially.
"I believe that Festival of Trees is a great project which allows people to enjoy the tradition of celebrating the holidays in a meaningful way, evoking memories of past holidays and inspiring ideas to create new memories for today," Wright adds. "It is my desire that, as people view the beauty of our Christmas trees, they will remember the joy of the holiday season while also knowing that they are benefitting others."
Experience
Festival of Trees // Dinner // Wednesday, Nov. 16 // 5:30–8:30 p.m // $50 // Showcase // Nov. 17–19 // 10 a.m.–6 p.m. // $5 donation; $10 three-day ticket // Outlets at Anthem // 4250 W. Anthem Way, Phoenix // 602-228-2579 // anthemacts.org